Dealing with Second Job Interviews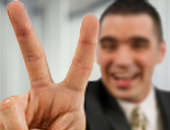 Any job interview is a fresh start of a career, whether it is the first, second, third, and so on.Whether you are first or second in line, you need to show that you are the best among the others in all aspects.
There are factors why employers and hiring managers request a potential job candidate to come back for a second round of interview.
Possible reasons
The reasons can be anything one can think of, but the most common of which are the following:
Verify a specific information regarding the job candidate's application
Make some follow up or in-depth questions that probably came from other people involved in the hiring process
Introduce him/her to members of a team or department, who need to have a say about the job candidate's personality or technical know-how
Reach a consensus on your case if there are many interviewers involved
To evaluate a second choice candidate, who is now preferred to fill the job position after the first choice candidate backed out
To consider a job candidate in a position other than the one he/he is applying for
To address a specific concern about the job candidate's qualifications
Prepare for second chances
Sometimes, employers will think twice about a job candidate. As a job seeker, what should you do if you are asked to return for a second interview?
No matter what the explanation is, as a rule you should always prepare to prove that you're the best candidate for the job.
A second interview is like the first interview in a sense that it is just another shot. Therefore, you should not become overconfident or egocentric.
Be humble by being watchful of the words you use. It will make you look arrogant if you question the abilities of people around you even when you are sure of your own.
Like the first time, treat all your interviewers with civility so you can eventually earn a job offer.
Rather than speculate, ask directly the interviewer of his/her concerns about you and your application, so you can offer anything to help them make a decision,