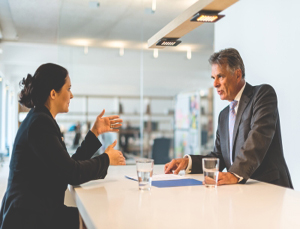 A person working in a company for a while tends to ignore articles about job interviews and how to pass them because "he's already been there and done that." But then a great job position opens up, and he decided to apply for it. Surprise! There's an internal interview waiting with his name on it. What now?
Unfortunately, most employees applying for internal positions think of interviews as "a formality" and take it nonchalantly. This is a one way ticket to doom.
So how does one handle an internal interview?
How to Ace Your Job Interview
1. Let your manager or immediate supervisor know.
As a sign of respect, you must tell your manager of your intention to apply for a certain position. A superior who truly cares for your career will support you all the way, but a selfish one will try to discourage you in doing so. No matter what kind of supervisor you have, keep in mind that you're simply asking for their permission—blessing, if you will—and you do not have to apologize for wanting more for yourself.
2. Don't presume that the job is yours.
It's one thing to be optimistic, and it's another to be lax because you think you're better than the other candidates. Don't think that you have an edge over your competition because they might also have an edge over you.
3. Be prepared.
You must come to the interview looking impeccable and professional. Show the hiring managers you're taking the process seriously and that you want to make a wonderful impression. It's also important that you research about the job post's description and responsibilities. You must also be ready to let the interviewer know of your accomplishments and how you've been an asset to the company.
4. Know everything you need to before going in the room.
Talk to the interviewer beforehand and ask him/her how he/she wants to do the interview. If you're friends, you must be detached yet professional at the same time. Act like it's the first time you two talked.
5. Cover your bases—especially the bad ones.
Unfortunately, no professional has a squeaky clean record. If you know someone who does, you better start questioning him/her. It's important that you know all your "career blemishes" and address them appropriately. You must also know how your colleagues see you so you can assess whether they find you someone worthy of being promoted or not.
Last but not least, you must have a resume and cover letter with you. You need to update your current one, or you can choose a resume template to serve as your inspiration.
Keep in mind; you are applying for a new position. Take the entire process seriously and act professionally the entire time. That is your key to career success.
Sources: Forbes, Harvard Business Review
Photo by franky242 at FreeDigitalPhotos.net