Whether it's your first day or 5th year in the company, you will be in the middle of at least 3 of these incredibly awkward situations.
When You Ask Someone Who He is—and He Turns Out to be the CEO
Common rookie mistake… sort of. AVOID IT.
*****
Taking the Elevator with Said CEO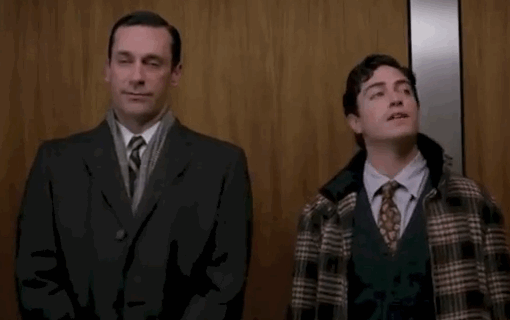 *****
When You're Behind the Same Person (the CEO) through a Succession of Doors

You're just on a roll, aren't you?
*****
Stressing Over a Handshake vs. Hug Situation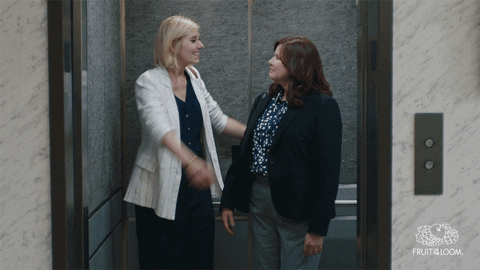 And you sort of just do whatever.
*****
Trying to Open the Closing Elevator Doors but it's Too Late

*****
When Someone Else is Riding the Elevator with You and You Try Hard Not to Look at Your Reflection Like You Do When You're Alone
*****
When You Can't Understand a Coworker's Accent

And you've ran out of socially acceptable "come again's".
*****
Asking Someone to Repeat Everything They Just Said Because You Were Busy Thinking of Something Else

*****
Going into a Toilet Cubicle After a Co-Worker Who Just Disposed of a Very Stinky Bomb

*****
Bumping into a Co-Worker After YOU Took a Number Two
What are you doing here?!
*****
Having to Endure Someone's Selfish Choice to Eat the Most Smelly Lunch in All of Mankind

Try to keep your lunch down.
*****
Your Boss Asking You on the Spot About Your Workload
*****
When Your Boss Notices You're Surfing the Net Instead of Working

It's for research.
*****
Being Praised by Your Boss for Work You Didn't Do

*****
Seeing Someone be Praised for the Work You Did

*****
When Someone Hovers Over Your Shoulder Just Watching You Work

*****
"Accidentally" Staring at an Attractive Co-Worker

Uhm…I didn't even see you. *awkward laugh*
*****
When You Can't Make the Printer Work but it Magically Works for Someone Else
You…unfair…piece of…
*****
When Everyone Goes Out for Lunch…Except You
I'm okay. I have food.
*****
Conference Calls…All of Them
Hello! Can you hear me? Can you see me? Hello?
*****
We are faced with uncomfortable situations almost every day at the office. These things add color to work-life, so just take them in stride. Are you still looking for a job? Check out our array of sample resumes to help give you an idea on what your job hunt tool should look like.
Source: The Muse, Thought Catalog, Buzzfeed, Cosmopolitan UK