Are you an aspiring film and video director? As creative film directors must be, your job application tools must bring out your passion in the film industry. This means your film director resume should put light on your goal to land the job. One way to write a stronger resume is to check out film and video director resume examples. Why? Read on and find out more.
Part of the film director job description is to use their creative minds and artistic vision to turn scripts into reality. With this, some film director skills you should have are strong leadership, patience, and creativity. You must put these details in your resume to convince hiring managers you're fit for the job.
Why Check Out Resume Examples
What can you get out of reviewing film and video director resume examples?
Resume samples guide you on how your resume should look like;
Sample resumes let you compare various approaches in writing resumes; and
Resume examples show you what and what not to put in your own resume.
Without further ado, check this film and video director resume sample and see how you should write your own resume.
---
Film and Video Director Resume Example
Complete Name
Complete Address
Phone # / Cell Phone #
E-mail Address
QUALIFICATIONS PROFILE
Highly motivated and talented professional powered with progressive experience in editing and directing documentary film and video production while ensuring the highest quality. Well-versed in coordinating pre- and post-production activities, with comprehensive skills in talent coordination as well as visual effects. Excel in managing multiple projects from concept development through execution and delivery while meeting all budget and schedule requirements. Commended in establishing win-win relationships with people of diverse cultures with proven ability to multitask in a fast-paced environments.
Notable Achievements:
Displayed unsurpassed expertise in capturing all 10h material, selecting appropriate music, and editing a 10-minute documentary
Earned the International Brooklyn Film Festival Official Selection of Short Documentary "The Queen of Williamsburg"
Received Bridging Cultures Certificate in Chennai, India in 2009
Obtained the City College Film Award for Best Production in 2009
Recognized as one of the four students chosen to represent Borough of Manhattan Community College (BMCC) at

National Association

of Broadcasting (NAB) Las Vegas in 2007 sponsored by Avid Technologies
Received first prize for Best Documentary at the BMCC Video Festival
Received the Joshua Smith Award for Best Short Documentary in 2006
KEY STRENGTHS
Documentary Film and Video Production
Documentary Films Videography
Audio Engineering and Design
Crew and Staff Management
Script Development and Collaboration
Location, Talent, and Casting Coordination
Budget Control and Implementation
Content Management Systems
Problem Resolution and Decision Making
Time Management and Prioritization
EDUCATION & CREDENTIALS
BACHELOR OF FINE ARTS (BFA) IN FILM PRODUCTION, GPA: 3.8
Graduated summa cum laude
University of NOPQ, City College of NOPQ, Manhattan, NY: 2015-2018
Overseas Studies Program:
Study Abroad India program, focusing on documentary production in collaboration with the Prasad Film and Television Academy in Chennai, Tamil Nadu, India
ASSOCIATE OF APPLIED SCIENCE (AAS) IN VIDEO ARTS AND TECHNOLOGY
GPA: 3.9, Graduated with honors
LMN College, Manhattan, NY: 2013-2015
CAREER PROGRESSION
ASSISTANT DIRECTOR / ASSISTANT EDITOR
ACZEL TAMAS PRODUCONS, BUDAPEST / HUNGARY | 2018
Rendered high level of assistance in directing music videos while ensuring its completion in a timely manner
Regularly interfaced with the producer and held responsible for handling all equipment for the day shoot
Maintained all equipment and ensured all tapes were labeled and

on

the safe place
Worked collaboratively with all musicians and crews and delegated specific duties and responsibilities
Instrumental in logging and capturing the shot material, making a rough cut and giving feedback to the editor
DIRECTOR
48-HOUR FILM FESTIVAL, NEW YORK, USA | 2018
Assembled cast and crew together in collaboration with the assistant director and producer few weeks prior to the date of the shoot
Displayed unsurpassed expertise in managing

project

life cycle from analyzing the theme, creating the scripts, choosing the locations, directing actors / cameraman, and editing the film
ASSISTANT DIRECTOR, "THE END OF EVOLUTION"
BCD PRODUCTION, NEW YORK, USA | 2017
Created an elaborate futuristic set in a studio while handling cast and crew scheduling
DIRECTOR
72-HOUR FILM SHOOTOUT COMPETITION, NEW YORK (ASIAN AMERICAN / ASIAN RESEARCH INSTITUTE) | 2017
Presided over the conceptualization and distribution of content, including pre-production to post-production needs through final delivery
DIRECTOR / VIDEOGRAPHER / EDITOR, "THE QUEEN OF WILLIAMSBURG"
QRST PRODUCTIONS, BROOKLYN, NEW YORK, USA | 2017
Primarily held responsible for planning, scheduling, managing, and delivering all aspects of digital production for visual effects
Oversaw the entire production workflow in order to deliver the contracted work on schedule
ART PRODUCTION ASSISTANT, "LONG SHADOWS"
GHIJ PRODUCTIONS, NEW YORK, USA | 2017
Created high quality creative visual content and generated new and innovative ideas by collaborating with the art director
Assisted the art director in completing all the stuff needed for the shoot, decorating the room where the shots

will took

place, and cleaning up the place
DIRECTOR, "THEY PUT A BAND-AID ON MY HEAD"
PQR FILM ACADEMY, CHENNAI / INDIA | 2017
Scouted a school

of

special needs children diagnosed with dyslexia for the short documentary in conjunction with the cameraman and producer
Conducted

interview

with the teachers and director in small and crowded building to gather informative data
Addressed technical audio problems that arose on the scene on and before shooting sessions
Proactively responded to cameraman, lighting crew, and all the production assistants' questions and inquiries
Oversaw the entire editing process and delivered

informative presentation

to live audience
DIRECTOR / EDITOR, "DR. HALUSHCA" SHORT NARRATIVE
NEW YORK, USA | 2016
Applied dynamic leadership talents to actors and crew to achieve their maximum potential
Pivotal in recreating an elevator scene where the elevator

brakes

down, without having a real one at

display

Shot with 16mm film and successfully coordinated lights, actors, and camera

to make

the breakdown believable; edited the scene to create a suspense
PRODUCTION ASSISTANT, "TRIPTOSANE"
SUPERNATURAL PRODUCTIONS, NEW YORK, USA | 2016
Supported the crew in placing

camera

, handling

stuff

to the Director of Photography, helping the assistant director with crew and other small details that arose on the scene of the shoot of an independent feature film
ASSISTANT DIRECTOR / EDITOR
THJ STUDIO, BUDAPEST / HUNGARY | 2015-2016
Regularly interfaced with the director for corporate and theatre shoots
STUDENT REPRESENTATIVE
ABC TECHNOLOGIES/ BMCC | 2015
Shoot interviews with professionals that used the software; edited it and played it the next day on the TV displayed on the floor of the exhibit
STUDIO DIRECTOR / SWITCHER
CDE COLLEGE (BMCC), NEW YORK, USA | 2015
Assumed full responsibility in conducting interviews

to

3 to 4 people with 3 cameras, intended for Studio Internship Producing segments for CUNY TV
Seamlessly produced, shot, and edited news stories
DIRECTOR / VIDEOGRAPHER / EDITOR, "FOUR WHEEL PASSION"
SHORT DOCUMENTARY, NEW YORK | 2014
Examined and determined

availability

of venue and audio-visual equipment, as well talents and crew
Developed and cultivated positive working relationships with production staff that includes artists, directors, and others
ADDITIONAL EXPERIENCE
NANNY / PERSONAL ASSISTANT
Company Bcd: Senior Executives, New York, New York, USA: 2010-2014
OFFICE ADMINISTRATOR / ACCOUNTANT
Company Abc, Budapest, Hungary: 2001-2007
PROFESSIONAL AFFILIATION
Member, Society of Motion Picture and Television Engineers (SYMPTE)
TECHNICAL PROFICIENCY
OPERATING SYSTEM: Windows 2000, Vista and Macintosh
SOFTWARE: Adobe Photoshop, Final Cut Pro, AVID, DVD Studio Pro, Soundtrack Pro After Effects, Microsoft Office Suite: PowerPoint and Excel
SINGLE-CAMERA VIDEO EQUIPMENT: Sony HVR-V1U-Digital HD Professional Video Camera and Panasonic HDV
MULTI-CAMERA STUDIO EQUIPMENT: Camera, Switchboard
FILM EQUIPMENT: Bolex 16mm Film Camera
MICROPHONES:Handheld, Boom, Lavaliere
LIGHTS: Fresnel, Scoop, Tungsten
---
Film and Video Director Resume Examples: How to Tell If They're Effective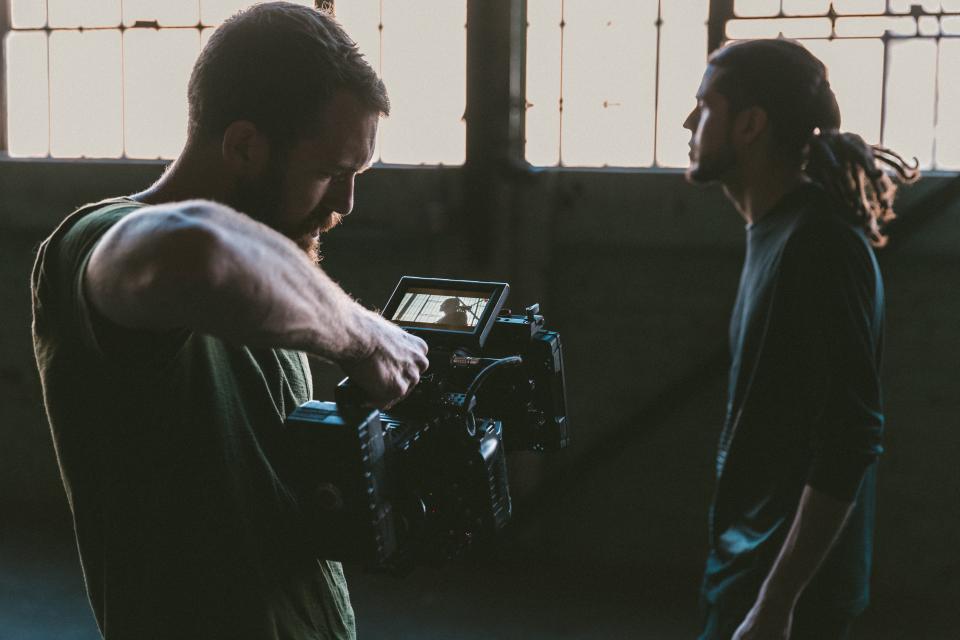 Now, what makes an effective resume example? Heed these signs of a great resume example:
It has a concise qualifications profile;
It lists notable achievements;
The film and video director resume example also includes key strengths;
It highlights the educational background and credentials;
The resume example details the work history; and
It lists other technical proficiencies.
Keep these signs of great film and video director resume examples in mind and apply them to your own. Doing so allows you to craft a better application tool to ace your job hunt game. However, if you need help to write your resume, see our professional resume writing services now or contact us today for more details.