Do you have ample years of experience in the US army? How about the heart to serve your country? Consider applying as a first sergeant. This is quite a big role to fill, and many are aiming for this position. But don't worry. With your skills, relevant experience, and a well-written resume—everything is achievable. Communicate your qualifications through your first sergeant resume. So, check out our first sergeant resume examples and our resume writing tips to guide you.
First Sergeant as a Job
The job of a first sergeant carries big responsibility and authority. Known as the heart and soul of the U.S. Armed Forces, first sergeants serve as the senior noncommissioned officer (NCO) of the army. They are the primary liaison between the commander and the platoon sergeants. So, their main duty is to receive orders from the company commander and distribute these to the platoon sergeants.
Aside from this, here are other first sergeant duties:
Discipline and train cadets
Conduct company formations
Train and execute drills and ceremonies
Therefore, the army needs the most experienced, tactically, and technically competent NCOs.
Now, how much does first sergeant pay?
According to FederalPay.org, a first sergeant's monthly base pay ranges from $4,136.10 to $5,898.90. Their drill pay costs $137.87 per drill if their paygrade is E-8. Want to know yours? Use the Military Pay Calculator.
Are you even more excited to take on this role? Check out our air force first sergeant resume examples.
One of the Best Air Force First Sergeant Resume Examples
---
First Sergeant Resume Sample
Complete Name
Complete Address
Phone # / Cell Phone #
E-mail Address
FIRST SERGEANT
Air Force Reserve
Dedicated, reliable, and highly accomplished police officer, with solid academic foundation and comprehensive years of experience in security management, tactical training, and law enforcement; complemented with broad-based knowledge of personnel management, focusing on quality force indicators, personnel, and administration. Demonstrate quality performance in public safety and emergency response. Possess outstanding observation, sound judgment, and resourcefulness in identifying and resolving problems in a timely and efficient manner. Capable of providing visionary leadership in supervising police officers, with proven adeptness in designing press, media, publicity, and public relations kits.
Received commendation for outstanding performance through exemplifying exceptional situational problem-solving and analytical skills, professionalism, and integrity at all times.
Acquired expertise in adhering to safety procedures and policies implemented in the Department Safety Manual.
Diplomatically collaborate with various officials in developing and implementing operational procedures toward successful completion.
AREAS OF EXPERTISE
Law Enforcement Principles
Investigative Research and Techniques
Crime Prevention and Community Control
Regulatory Compliance and Standards
Emergency Preparedness
Data Management
Leadership and Supervision
Rapid Conflict Resolution
Public and Executive Relations
Communication and Coordination
KEY ACCOMPLISHMENTS
Recognized as the department's first female promoted to the rank of Sergeant.
Personally selected by General Black to attend and participate in his retirement ceremony.
Facilitated the recruitment of program participants for the Citizen's Academy; coordinated staff, multiple venues, and resources to implement a 16-week public involvement program.
Gained the ability and confidence to speak in public, delivering speech, instructions, and announcements before a large audience.
Developed brilliant solutions and got accustomed to problems that arise out of the normal schedule of events.
Coordinated all aspects involving the yearly National Night Out event, including assigning employees in handling event-specific tasks and securing support from sponsors in the form of money, products, and prizes for a large-scale public event.
Closely monitored and supervised the development of e-mail newsletter through gathering ideas and information from staff on topics to be written and included in the newsletter. Handled proofreading and editing following strict timeline, ensuring newsletter is released in a timely manner.
Applied effective marketing skills in promoting the event within the community and encouraged

participation

of outside agencies.
WORK CHRONOLOGY
SECURITY MANAGEMENT AND OPERATIONS
Assumed leadership role and accountability in executing base security tasks; provided exemplary support to Operation Enduring Freedom.
Provided security expertise and strong leadership skills in supervising a small agency servicing a base population of 12,000 and over 100,000 tourists during peak season.
Developed productive relationships with officers by conducting roll call and briefings on daily work assignments.
Exemplified versatility and multitasking skills in performing diverse tasks, such as police patrol, investigation, traffic regulations, and related law enforcement activities.
Immediately responded to irregular or impaired behavior; detained and confined unstable or combative individuals.
Strictly monitored and secured the major

healthcare

facility servicing thousands of patients; regularly performed facility and

grounds

patrols.
Assigned and deployed to Operations Iraqi Freedom; performed base security assistance.
Rendered unparalleled service in providing prompt response to all emergency calls.
INVESTIGATION PROCESS AND PROCEDURES
 Collected evidence and conducted intensive investigations.
Handled the integration process; sustained constant communication with suspects, witnesses and drivers to gather information and necessary facts.
Thoroughly reviewed and analyzed

facts

of incidents to determine criminal acts and statue violations; documented facts and prepared reports for incidents and activities.
Administered the creation and completion of comprehensive incident reports.
Strategically identified crime perpetrators and guaranteed successful prosecutions.
Meticulously led the investigation of criminal law violations.
REGULATIONS COMPLIANCE AND STANDARDS
Ensured overall compliance of officer's appearance as well as their morale; maintained all applicable laws.
Utilized broad-based knowledge of all applicable laws to ensure consistent compliance with state regulations.
PUBLIC SERVICE, COMMUNICATION, AND COORDINATION
Sustained constant communication with other service officers while keeping aware of any suspicious activity.
Interfaced and sustained constant communication with the public.
Coordinated and facilitated community-oriented police work.
WORK CHRONOLOGY
POLICE OFFICER
Cocoa Beach, FL | 2012-Present
AIR FORCE SECURITY FORCES CRAFTSMAN
U.S. Air Force, Charleston| 2016-2017
POLICE OFFICER
Maitland, FL | 2012
PROTECTIVE SERVICES OFFICER
XYZ Medical Center | Orlando, FL | 2011-2012
AIR FORCE SECURITY FORCES APPRENTICE
U.S. Air Force, Charleston AFB | Charleston, SC | 2010-2011
CLAIMS SPECIALIST
ABC International Group | Maitland, FL | 2009-2011
EDUCATION
BACHELORS DEGREE IN CRIMINAL JUSTICE (ONGOING)
GHIJUniversity | Kansas City, MI
ASSOCIATE OF ARTS IN CRIMINAL JUSTICE (ONGOING)
Community College of the Air Force | Charleston Air Force Base, SC
BASIC LAW ENFORCEMENT RECRUIT (2009)
BASIC EMERGENCY TECHNICIAN CERTIFICATE (2008)
STUV Community College | Sanford, FL
PROFESSIONAL TRAINING
USAF First Sergeant Academy Additional Duty Seminar, MacDill Air Force Base, FL, | 2019
AFRC NCO Leadership Development Course, Charleston Air Force Base, SC 26 | 2015
First Line Supervisor
Legacy Leadership Training
Basic Law Enforcement Recruit Academy
Basic Emergency Technician Certificate
PROFESSIONAL AFFILIATION
Member, Fraternal Order of Police
AWARDS AND HONORS
Outstanding Traditional Reservist Security Forces Reserve Component Airman Award
Air Force Commendation Medal for an Act of Courage
Unit Top Female Fit to Fight Award, 2016 and 2018
Air Force Achievement Medal for Outstanding Achievement Airmen of the Quarter Award, 2011
Civilian Achievement Award and Perfect Attendance Award
TECHNICAL SKILLS
Microsoft Office Suite: Word, PowerPoint, and Excel
---
Use our resume builder now!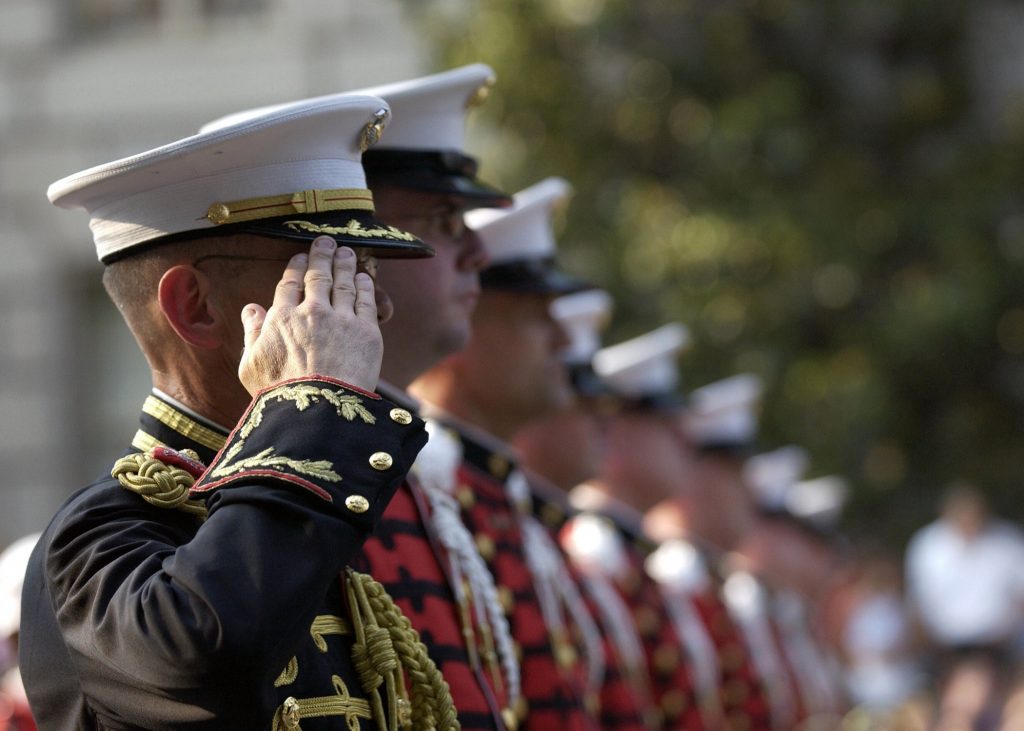 What Makes a Good First Sergeant Resume
Before you become a first sergeant, you need to have at least eight years of experience. Apart from this, you must be an expert in public speaking and military or civilian law. But how will you show these to your employer? Through your first sergeant resume. Read on and heed our tips before you write your resume.
Write a noticeable and keyword-filled summary.

Capture the employer's attention in just 6 seconds. Do this by placing the summary section on top of your resume. Sell your most impressive qualities and experiences here. Also, itemize the career highlights to ease the reading.
Highlight your work experience.

Since this job requires years of experience, your resume should show it effectively. If you don't have a work history gap, use the chronological resume type. This way, your employer will see your career progress. Just don't forget to use power verbs!
List your training and awards.

Entice your employers by writing your training and awards. This will spice up your resume. It will also improve your credentials. This will show your passion in your line of work and your love to serve the country—which is a plus!
Finally, do you want to secure this job post? Write your resume through our first sergeant resume examples and tips. Resum4Dummies has a resume builder for newbies. We also have more resume templates to further guide you. Need your resume right away? Seek help from the experts. Hire our best resume writing services which help job seekers receive callbacks. Read our career tips as you prepare for your interview. Call us now for more details.