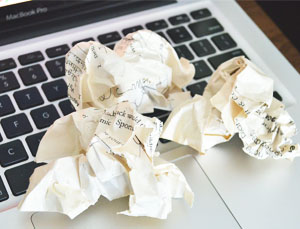 "You should never have typos on your resume." How many times have you read or heard this advice? But then you find the perfect job post, send in your resume with cover letter, and BOOM! But then you realized you didn't proofread your resume and saw it has a typographical error. *insert scream here*
Don't fret just yet, because there are ways for you to solve this problem. Just be calm, have a clear mind, and heed these tips.
Don't Stress Too Much About It
If the typo on your resume is minimal (i.e. a misplaced comma or period, misspelled word, etc.), there's a good chance the hiring manager won't even notice it. That is if you're not applying for a position wherein perfect grammar, spelling, and keen attention to detail is needed (e.g. writers, editors, proofreaders, etc.)
Update and Re-send for Glaring Errors
If there's no way the errors wouldn't go unnoticed, you have to fix your mistake and re-send it. But there is a proper way to do this to appear calm and professional. Here's an example:
Good day, [Name of Hiring Manager];
I have attached an updated copy of my resume which I have sent you last [day of the week], conveying my deep interest in [job title]. Please refer to this version for the evaluation of my qualifications for the position.
Thank you,
[Your Name]
This is an effective email as it doesn't draw attention to your mistake while respectfully informing HR that this is a better and more reliable copy.
A couple of valuable advice for your resume:
Avoid mistakes as much as you can. No matter how excited or flustered you are, you must proofread your resume and cover letter at least 3 times. You can also ask a detail-oriented friend to check it for errors.
If you've been called for an interview and have been asked about the typo on your resume, own up to it. Be honest and don't come up with a lie that'll hurt your chances more.
Ask for help from a professional resume writing service. They are trained to do one thing; craft excellent job application tools; so it's guaranteed that your resume won't have mistakes.
Resume 4 Dummies houses a variety of free resume templates you can use on your job hunt. Check them out now!
Source: Simply Hired, Pongo, Volt