Ever encountered slow trucks on the road? Those you dread coming across because it'd feel like years before you can pass them. Couldn't they have scheduled these vehicles at another time? Truth is, they can. But it's more complicated than that. There are many factors to consider when it comes to deploying these vehicles. That said, they undergo careful planning and timing.
Logistics managers deploy these vehicles. They need to take strict considerations to decide the perfect time to do so. With these, they arguably have the most important job in the firm. Their duties directly affect the firm's bottom line of the process. A mistake can cause a more negative and instant impact than necessary. Are you up for the challenge? Do you think you're ready to leave your entry-level job and become a manager? Then make sure your logistics manager resume is competent enough! Read through this article for a guaranteed job-winning resume!
What is a Logistics Manager?
Logistic managers are responsible for the flow of goods or materials. They also oversee departments involved in receiving supplies. Further, when a firm's supply chain is effective, it meets the client's demands. Goods are also shipped on time and within funds.
Once a trading firm has no goods, they have nothing to sell. With nothing to sell, they won't have profits, causing the firm to collapse. With every transport of goods and supplies, the logistics manager does the most crucial role in a firm. Thus, they keep the firm running. This is why a logistics manager is one of the most important roles in a business.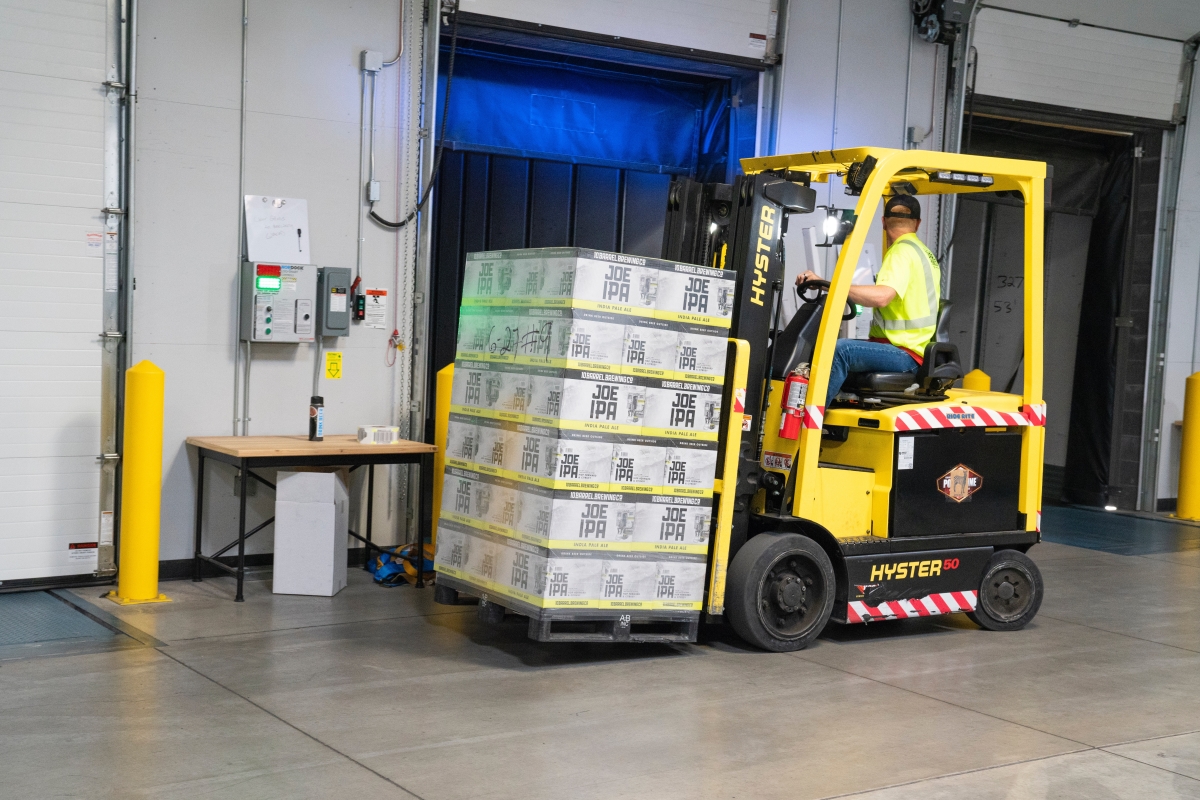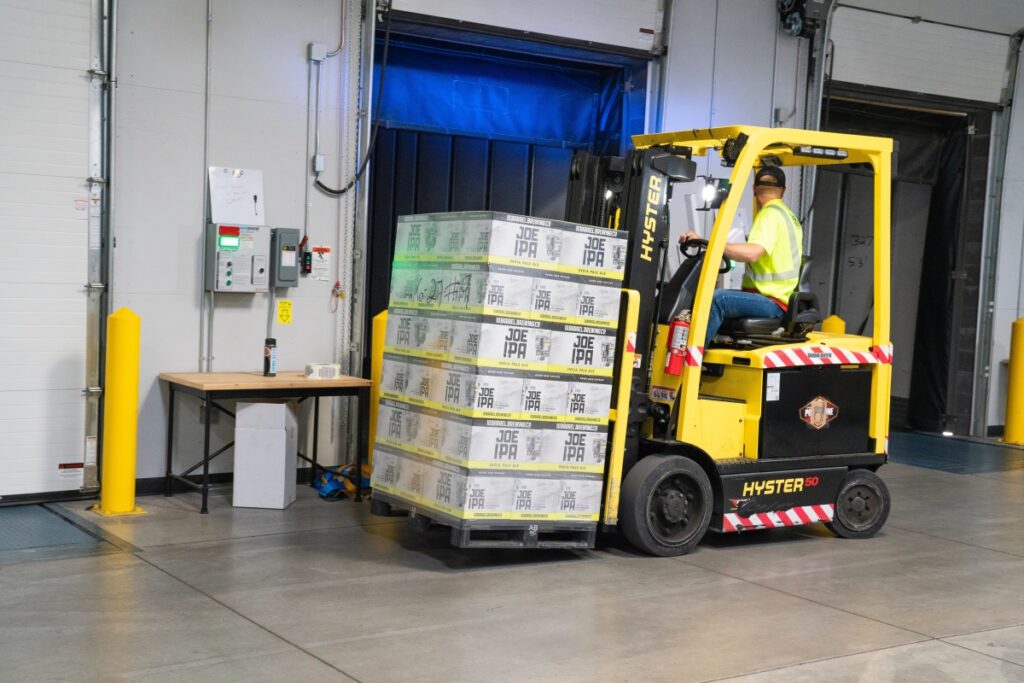 What Does a Logistics Manager Do?
Generally, they oversee the supply chain. They also make sure the products reach the firm's clients safely and on time. Likewise, they carefully plan how to get goods the most efficient way and deliver them to their clients. Further, they closely work with truck drivers, and warehouse chiefs to maintain good relationships and improve their output. They also report to a more senior manager and director-level employees. Listed below are more duties of a logistics manager.
Plans systems for storage and deployment of goods
Fixes vehicle deployment schedules
Sets up operations services
Tracks flow of goods to and from storages
Limits transport costs
Maintains workplace safety
Heads the work of the logistics team
Logistics Manager Salary
Logistics managers can work within a company's logistics team, or with a firm that outsources logistical tasks to other companies. Factors such as place, experience, skills, education, certifications, and sector affect a logistics manager's salary. As per salary.com, logistics managers make $112,004 on average and can reach as high as $134,932.
Effective Logistics Manager Resume Tips
The key to getting those long-awaited phone calls is a resume that has all the crucial info. Along with the right format, your resume should also contain all the right keywords to attract hiring managers. Doing this will also beat your target company's ATS. Overall, these make up an exceptional resume that will get any hiring manager's attention. Hence, here's a list of more helpful resume writing tips for your job hunt.
Tailor your resume to the job description.
Only include information relevant to the job post.
Choose the best resume format.
Use simpler font.
Use bullets.
Add a profile summary.
Write the most relevant information first.
Use strong action verbs.
Make it brief.
Proofread and edit.
Logistics Manager Resume Sample
Are you ready to say goodbye to your comfort zone and finally advance your career? If you're all set to pursue something greater, then maybe it's time to take a step forward from your current entry-level job. But can your logistics operations manager resume help you with your job hunt?
With hundreds of applications firms receive each day, can it aid you to stand out from the rest? Luckily, we have an effective logistics manager resume sample for you! Its resume format gives you the chance to showcase your skills and qualifications in the most effective way. Likewise, this sample is sure to pass your target company's ATS. You won't have a problem getting into the top 25% of applicants when you follow this resume sample. Read through it below!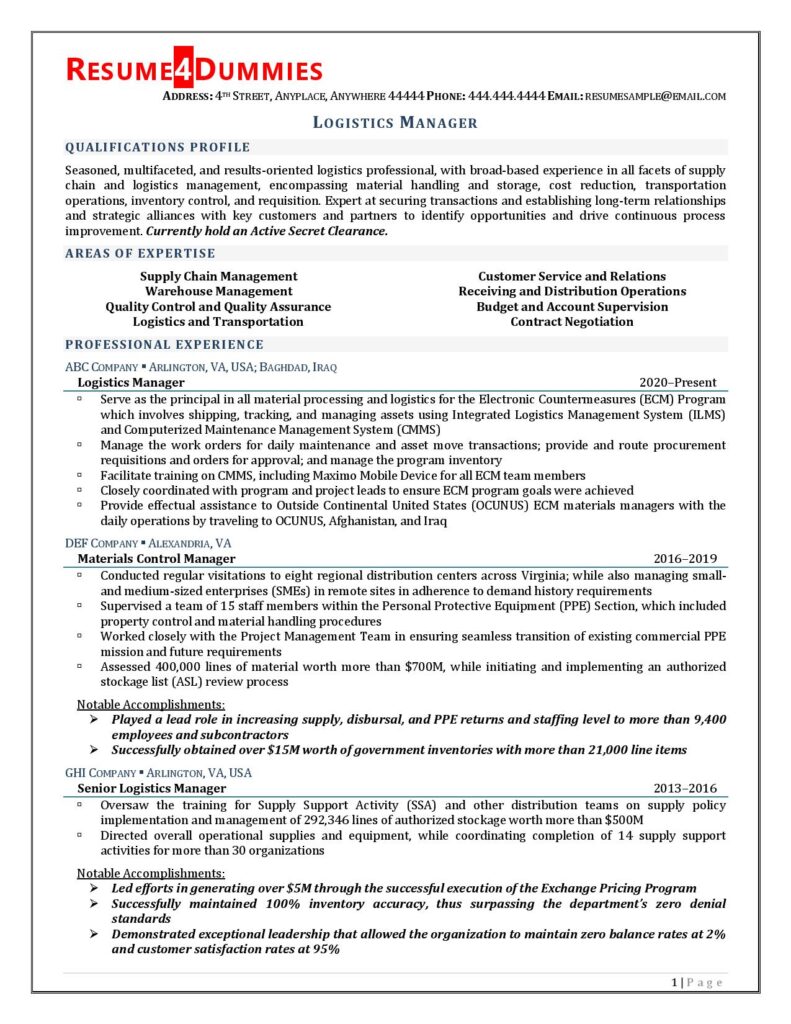 Page 1 of Logistics Manager Resume Example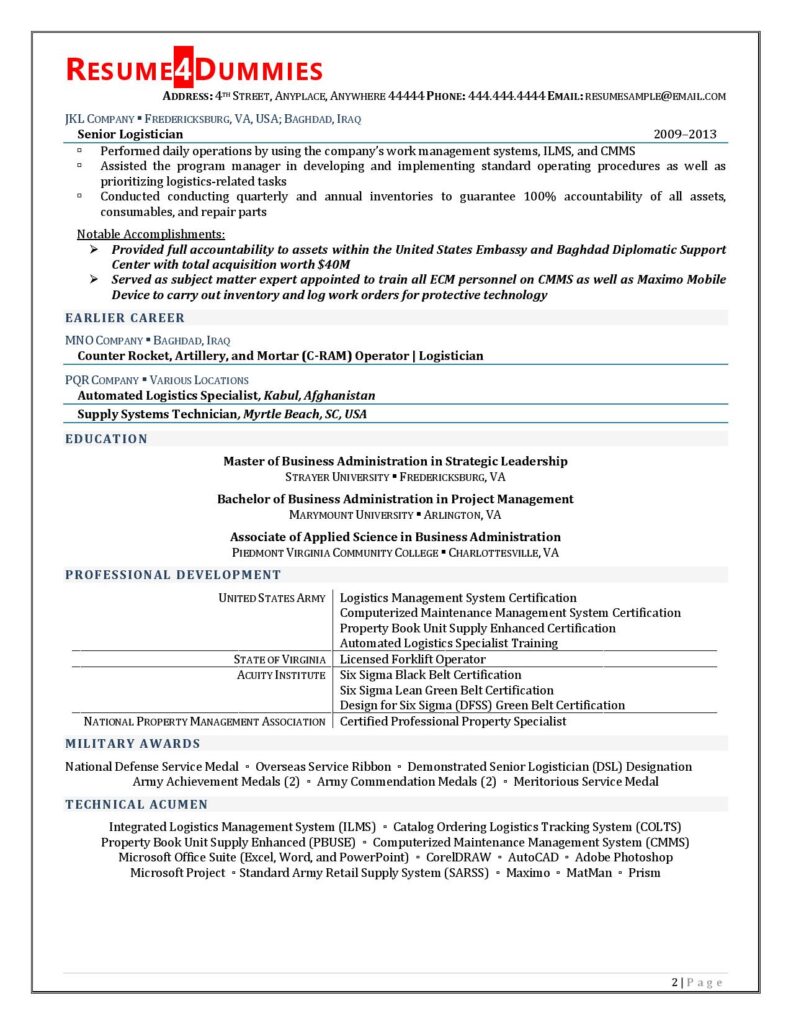 Download our Logistics Manager Resume example now!
Last Check on Your Logistics Manager Resume
Before sending out your resume, do a final resume check through this list.
Make sure your resume contains your contact details.

Write a striking summary statement.

List your areas of expertise, skills, or core competencies to further prove why you're fit for the job.

Highlight your work history relevant to your target job.

Mention your achievements to serve as support for your work experiences.
Need further help with your resume? Resume4Dummies can do the dirty work for you! Our expert resume writers have been in the industry for years. Trust us, we know how to get you a job in an instant! Browse through our resume writing services and use our resume builder. Contact us so we can attend to your career needs.