If you'll apply for a job as a medical assistant, you must know that you're up for a variety of job duties. However, you also have to take note that these may vary from one firm to another. So if you're getting ready for your job hunt, go and check this sample of a medical assistant job description (plus the job's top skills, duties, and more).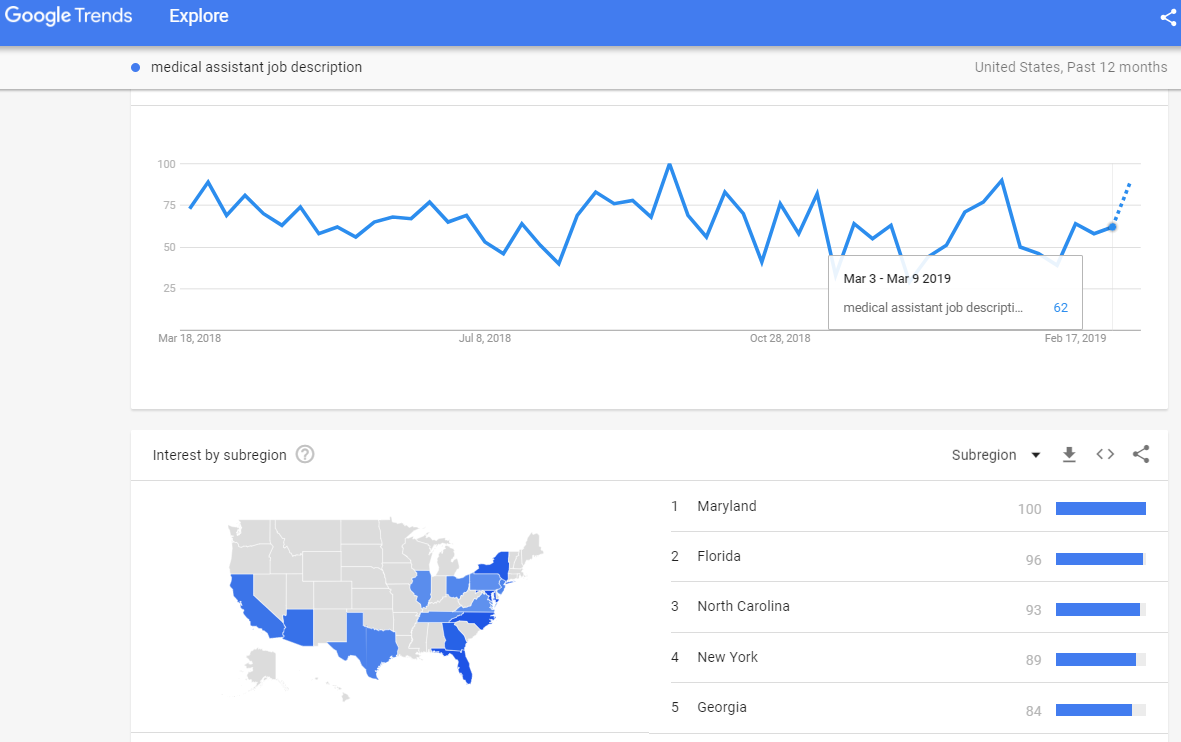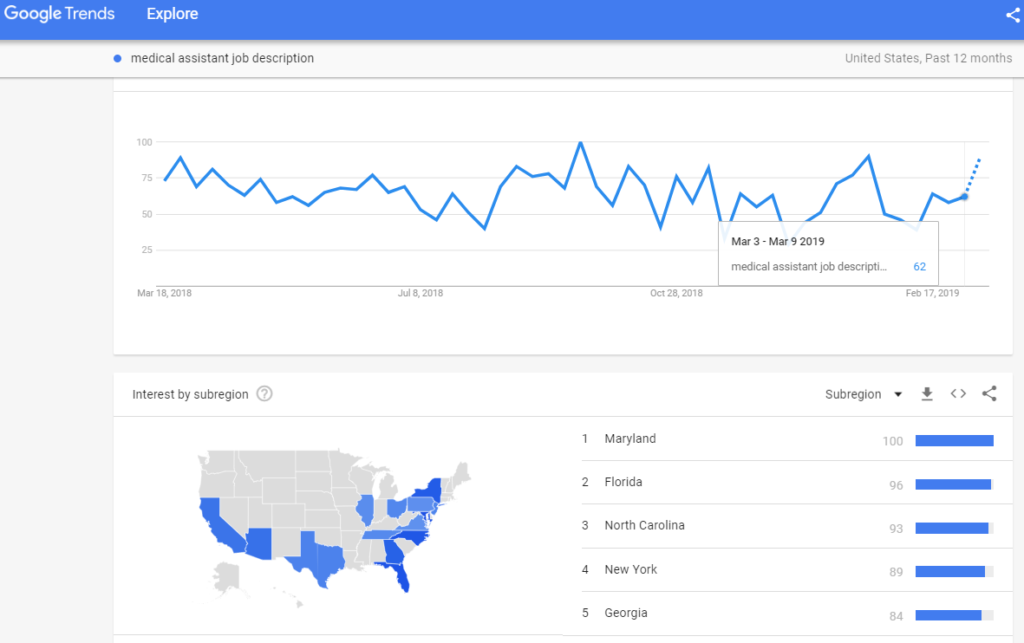 What's in it for you to review job description examples? Know that the term "medical assistant job description" scored 62 in a Google Trends report in the 2nd week of March 2019. This means that a lot of users are searching for this term, largely in Maryland, Florida, and North Carolina.
Also, BLS states that jobs for medical assistants will grow up to 29% by the year 2026. Further, the average median pay is at $32,480 a year and $15.61 per hour.
So what, then? You must expect that there will be more applicants for this job, which also means stiff competition. Having in-depth medical assistant duties and responsibilities in your resume can increase your chance of landing the job. To add, you must check this sample medical assistant job description for you to get the gist of the work.
Example of a Medical Assistant Job Description
What does a medical assistant do? They act as the doctor's assistants. They do clerical work, help patients, and do other tasks at hospitals, doctor offices, clinics, and others. To detail, here's a list of their job tasks:
Help doctors in patient exams and treatments;
Gauge which treatments should be done to patients;
Abide by the protocols set by doctors in explaining procedures to patients;
Ask patients about their medical history;
Take patients' vital signs such as pulse rate, blood pressure, body temperature, weight, and height;
Draw and take blood samples from patients;
Get specimens ready for lab tests;
Prepare treatment rooms for patients;
Inform patients of care costs; and
Get patients ready for testing, treatment, and procedures the doctor may perform.
Medical Assistant Requirements
How would you know if you're fit for a medical assistant job? Find out with this list:
Medical assistant certification
1-2 years of experience in a medical setting
At least a high school diploma
Basic knowledge of patient care, coding methods, medical terms, and reference tools
Knowledge about digital health care record system
Medical Assistant Skills and Abilities
You must also know the top skills that are needed for this job. Doing so will help you perform your tasks well should you land your dream job.
Medical assistant skills and proficiencies:
Clinical skills
Planning
Teamwork
Bedside manner
Confidentiality
Medical assistant qualities:
Dependable
Excellent communicator
Multi-tasker
Professional
Organized
Medical Assistant Duties and Responsibilities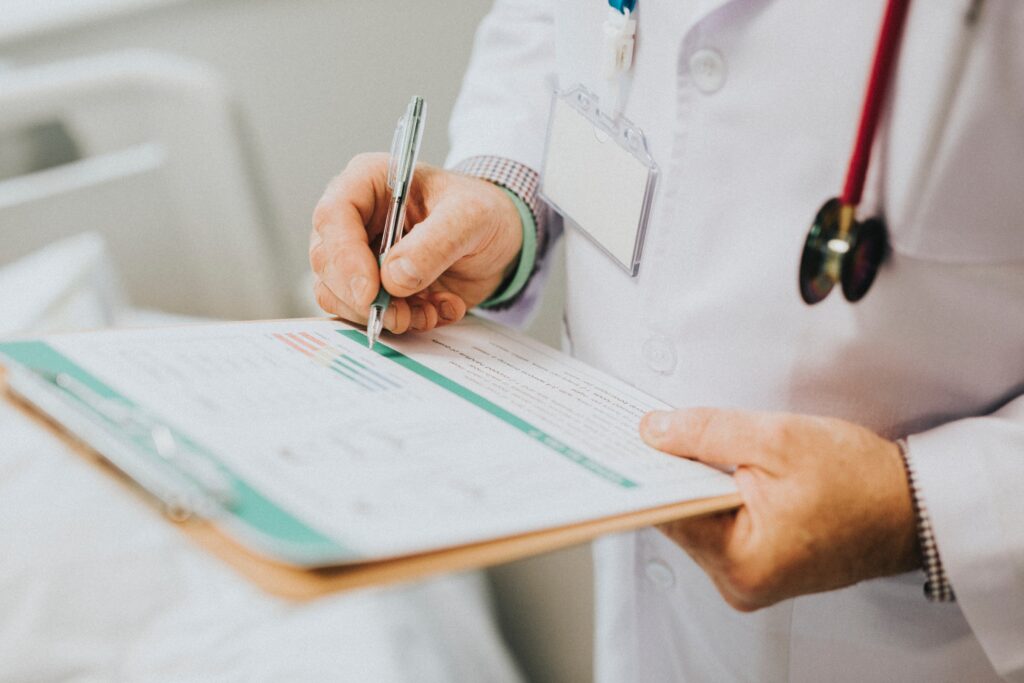 To further grasp the medical assistant job description, read these tasks of medical assistants:
Assist patients with forms and claims
Serve as the doctor's assistant
Perform patient medications
Collect patients' specimens for lab tests
Collect data on patients' past health records
File and manage patient records
Handle and route office mail
Do billing tasks
Schedule patient appointments
Order medical and office supplies and medications
The duties of a medical assistant may be overwhelming, but it shouldn't stop you from putting your heart into your application. If you believe you're fit for the job, then writing your game-changing resume is up next. Also, you have to make sure your resume adheres with the current trends. This way, you're fitting your application in the now. That said, you may opt to create your own resume with our Resume Builder for free. However, if you need help to write your resume, hire our professional resume writers now or see our best resume writing services. Contact us for more details.