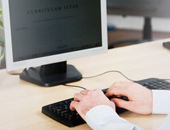 As a young college student applying for either an internship or fellowship, I learned to write my own college resume through online resources available in the Internet.
The knowledge and skills I obtained and developed have become more and more relevant when I finally graduated from the university and completed all requirements for the college degree.
Not many of my former classmates knew that a resume can actually be the key to career success. They are now having a hard time convincing their target employers to hire them, while I am getting calls for a job interview that will consequently lead me to my first full-time job.
For job seekers who have no work experience, just graduated, and a newcomer in the job market but are hopeful and highly motivated, a first job application document should be taken seriously with a professional approach.
If you are in college, I would like to share some tips I learned to help you boost your college resume and tailor fit them to your target job.
Without necessarily seeing the job seeker in person, an application is the first thing that introduces him or her to a prospective employer or company. Thus, this piece of document should effectively reflect who he or she really is, what he or she has or can do, and what are his or her goals and visions for the future.
The basic question I asked myself was: what should I put first on a blank page? I'm sure you too have asked the same question yourself.
First things should come first. Whether you are applying for an internship position, an entry-level job, or a fellowship, the bottom line is that your application should look professionally written. If you have the budget to hire a writer, why not hire one?
But if you already have some work experience that you are proud of, or any impressive skills that no one else can do, then include them in your list of credentials.
Just like what I did before, you need to review all your extracurricular activities, volunteer works, short-term projects, in-service trainings, part-time jobs, research projects you participated in, events you joined in, seminars and workshops you presented to an audience, or term papers you prepared during your college years. These will help you find the specific skills you have gained that can be very useful when you write your application document.
Make a thorough account and put all the information together, especially those that you believe will certainly make you stand out among the rest. Of course, do not forget to include your cover letter and some references that may be helpful to your job application.
What many new college graduates fail to include, however, is their schoolwork. It is a fact that any meaningful schoolwork is also a "work" experience because it cultivates perseverance and self-discipline.
Such inclusions to a college resume will create a clearer perspective of the job seeker as an employee with career goals in mind.
Nelly Marshall is a seasoned career author with more than a decade producing career development materials for a large base of recruitment agencies in the U.S. Most of his leisure time is spent on sports and photography.