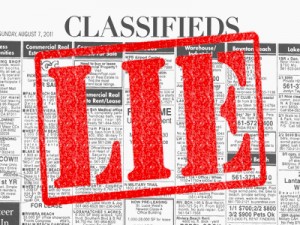 You're finally getting off the couch and looking for a job—Yay you! Problem is you don't know what to do or where to start. Don't lose hope just yet because your helpful friends and family are willing to offer you job hunting advice for absolutely free! Wonderful—unless they don't know what they're talking about.
Here are 5 of the most common—and ridiculously wrong—job search tips that most people think are right  but are not:
5. When Asked about Your Salary History, Answer Truthfully. When you're asked a question by an interviewer, you must answer. But you don't have to divulge this specific detail because your past and current salary is your business alone. Why would you give them the chance to lowball you? Here's what you can say instead: "Why don't you make me an offer first, and then we'll go from there." It shows the interviewer that you know your value without seeming arrogant.
4. Use a Traditional Resume Template. You Can Copy Mine! Wow! What a generous offer, right? Decline it. You don't want a resume that looks like everybody else's because the whole point is to show hiring managers that you're different and better than others. If you don't know what to do, consult with professional resume writing services. They're the experts they can help you.
3. It's Totally Okay to Exaggerate About Your Skills. No it's totally not okay. Pretending to know something that you don't will make you look…for lack of a better word, stupid. More often than not interviewers probe further when it comes to your abilities, so you'll most likely get caught in the deceit on the spot. Remember that there's a fine line between smart marketing and outright lying.
2. Apply for More Jobs to Get a Better Chance. Job hunting is not a raffle nor is it a popularity contest. Sending out 100 mediocre resumes and cover letters to job posts that "look promising" won't get you anywhere. Be targeted. Focus on the industry and position you want to get and craft a tailored resume for it. One job position = one customized resume.
1. Have Only One Resume and Cover Letter. Like what I said earlier, this "technique"—if you can even call it that—will not work unless you're only applying for one position in one company. Then of course you only need a single pair! But if you're trying for multiple posts in different establishments, you're better off following the advice stated above.
Job hunting can be tough but that just means you have to be more thorough when filtering good advice from the "this-will-kill-my-career" ones. If you need a guide—just a guide—for writing resumes, here are some top-quality resume samples from Resume4Dummies.