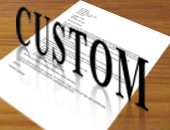 Job seekers need cover letters for any job application. A cover letter that looks very bad is actually no cover letter at all, especially if it is poorly written and has senseless content.
Purpose
The purpose of cover letters is not only to help the recruiter or hiring manager get a feel of the job seekers' character and personality, but also to assess his/her writing and communication skills.
Many people think that cover letters for resumes are not necessary, but they are wrong.
Although recruiters, hiring managers, and prospective employers may not have the time to rummage through all the resumes they receive every day, but if it is something that tells about a promising job seeker, they will need to read the cover letter of the job seeker.
Good cover letter
The question is: what really makes a good, and not just normal, cover letter?
The answer is: a good cover letter catches the reader's attention and convinces him/her to read your resume and consequently set an interview with you.
The following are the factors that make a good cover letter:
A good cover letter is customized, professionally written and formatted, and most of all, error-free. You may hire an expert to do it for you, or study some writing tips to help you get started with it.
A good cover letter clarifies your goals and objectives, adding focus to your resume. A resume can become useless and all if the recruiter or hiring manager does not understand the work that you intend to do.
A good cover letter explains exactly why you are the most qualified person for a specific job position, being a tool to discuss things and circumstances that the resume can't in a clear and positive way.
A good cover letter should be tailor-fitted to each job you are seeking for, rather than the generic-type that are casually crafted. It is another way of expounding your goal and objective statement when your resume lacked the space.
A good cover letter should be able to hit your target job or career. Although it cannot assure that your resume will be picked, its importance should not be underestimated, because a bad cover letter can crash your hopes even if your resume looks excellent.
A must-have
Cover letters, especially customized ones, are 'must-have' serving as a partner to your resume. In other words, it is not just a plus factor, but a necessity factor. It plays a big role in getting you to the next level.
It also gives you a one-time opportunity to highlight what you can contribute to the potential employer or company, as you answer the repeated question: what can you offer?