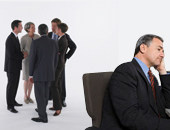 The workplace is similar to a government corrupted by the laws of finances and economic opportunities. Many employees are still interested in engaging in underhanded strategies just to receive a promotion while those who actually work hard are left behind by the pack.
Office politics is never good for a career. A research prepared by Dr. Diana Green of Weber State University entitled simply as Politics in the Office reveals that almost 63% of employees view office politics as a complete waste of time. The remaining 37% are likely to have been involved in office politics that negatively engage top-level executives into manipulative discussion in getting a salary raise or a quick promotion.
Below are just some of the common reasons why a small group of corporate employees opt in entering the messed up realms of office politics:
Friends on high places – Top managers and company executives are generally viewed as the persons involved in treating employees for no reason at all. Whether a department has succeeded in meeting the month's sales quota, managers have this sensible responsibility of making employees feel comfortable during a tiring five-day working stretch.
Career scavengers, however, have a different use for top-level managers. They will do everything in their limited power to entice, tempt, and seduce company executives in order for them to win a sack race where they do not have to even wear a sack to reach the finish line.
Corporate crossfires – Corporate politicians enjoy transforming the workplace into a verbal battlefield. Unlike in a warzone where soldiers experience the harsh recoil of semi-automatic rifles, corporate audible can be as loud and degenerative for employees caught in crossfire between opposing departments and individuals.
Employees that demand respect with a thunderous voice of unprofessionalism have only one goal in mind and that is to earn the attention of the people involved in making the big, critical decisions.
To humiliate co-workers – The workplace is still a breeding nest for employees willing to sacrifice professionalism just to intimidate and demotivate co-workers. Some may succeed in actually sapping an employee's confidence until they decide to quit because of the harsh, ruthless political environment inside the office.