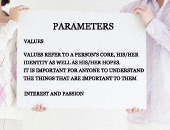 Career self-assessment is not an easy task, yet this is a strategy to employ in order to launch a career transition, and consequently lead a meaningful life.
The following are some of the parameters for career self-assessment:
Values
Values refer to a person's core, his/her identity as well as his/her hopes. It is important for anyone to understand the things that are important to them
Interest and passion
What is it about your work that you enjoy most? When self-assessing, find out the things and activities that interests you and ignites the passion in you. Try to explore if you are more of a creator type, organizer type, performer type, or the thinker type.
Enhance your skills
Make a list of the tasks and responsibilities that you can perform successfully and subsequently experience happiness. What do you love doing the most? Which do you like the least? What activity stresses or depresses you? Try to differentiate those that you are good at, and those that you enjoy.
Deal with mismatch
Many professionals are dissatisfied with their jobs and careers because there had been a mismatch between their values and the organization they are working for. Professionals may want to evaluate some, if not all, of the following:
Interests and motivation
Personal brand
Leadership style
Personality and behavior
Skills and strengths
Sense of balance between work and life
Self-questioning
Ask yourself the right questions that will trigger ideas, such as the following:

What motivates you, is it high salary, fame, or service?
What are the most important things to you?
Are you having a work and life balance?
Do you have time to pursue hobbies?
Do you have time to take up a cause?
Do you have time to get involved in the community?