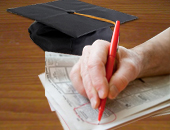 Graduation is the stage where you make a transition from school to the workplace, bearing the knowledge and skills that will serve as your foundation on finding your first job or career.
How are you going to make that big leap? Below are some post-graduation tips:
Showcase your passion and expertise
With the job market continuously evolving, the current trend of personal career branding via the Internet can provide multiple benefits to people who just graduated from college.
This is an opportunity to learn how to build your own personal website where you can publish your resume.
Both recruiters and job seekers can now look for each other through online job boards as well as social networking sites such as LinkedIn, Twitter, and Facebook.
Skills can be demonstrated by developing anecdotes and stories that can be told during conversations with a contact person or on job interview situations where there is a need to clarify what you are made of. In addition, this initiative also helps to boost self-confidence.
Your professors and classmates in your college or university, including fellow alumni, can be your network initially. Make an effort to get in touch with your school's alumni office for potential job and career opportunities.
There are local, regional, and virtual career fairs being organized during your senior year. Take the chance to attend these for the purpose of tracking down job leads, expand your network of contacts, and get chances for a job interview.
Act professionally on the interview
Preparation for all job interviews is the key to a successful job search. To help you gain the confidence you need, you may need a mock job interview to prepare and rehearse your responses to common questions by the interviewer.
As a newcomer in the job market, you need to know your route to a job interview by researching about your prospective employer or company, dressing up appropriately, arriving early so you can observe your environment and make a retouch, greeting people warmly, and showing positive attitude.
After the interview, express your appreciation to the interviewer and request for details about the next steps in the hiring process.
As soon as you get back home, write a thank-you note and send them via e-mail and/or postal mail. If other job seekers do not bother doing this, such simple act of courtesy will make you stand out in one way or another.
The work does not end here. You need to follow-up with the recruiters and hiring managers on a regular basis, without looking irritating and desperate. This will show that you are interested and enthusiastic for the job.