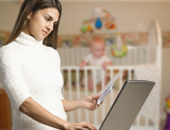 Job and career seekers need to make a big transition back into the workplace after a long lull because of the need to devote more time raising their kids.
As a job seeker, ask yourself: Where do I begin? The process can be made less difficult if you get to learn some helpful strategies to pursue a career even while you supervise the crucial years of your children.
Paperwork
In order to effectively market yourself, you should start creating and revising your resumes and cover letters. With the emergence of technological innovations, some of you may want to create your online resume or own web page.
You should be able to highlight your community involvement and volunteer experience in your resume in order to hide employment gaps in a subtle way, such as being an officer of the parents and teachers association, or a writer for a community newsletter.
Transferrable skills
Determine your career goals, objectives, as well as inborn values, including certain skills and abilities that are transferrable to a new job or career.
It is important to mention that lessons on leadership and management can be learned from raising children. The theories can be acquired from popular baby books which can be applied in an actual way.
Playing the role of a mother or father can be really complicated, which necessitates the practice of certain skills. Therefore, parenting skills are transferrable skills, too.
Some of these are the following:
Multitasking and management skills, such as cooking food for dinner while talking to someone on the phone
Negotiating and motivational skills, such as teaching your children positive values
Developing emotional intelligence, such as watching your kids as they play and interact with other children
You may not also be aware that you have gained some of these by participating in civic and professional organizations.
Changing career or stepping back
For parents who are raising their children, reentering the workplace gives the chance to contemplate whether to consider pursuing greener pastures on a new horizon through a career change, or settle with a job that is way below their professional level.
The theory and practice of raising children teaches many parents to reflect on who they are, what were their values, and what they ought to do with the rest of their life.
If they are able to maintain a considerable range of professional network contacts, then there may not be a need to seek for a lower-level job.