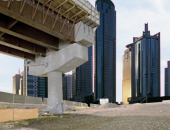 Home-based parents are having difficulties to make a transition back to work, having lost touch not only with their network of professionals, but also with the current updates and trends in the field. This situation takes its toll on their job search. After sending out their resumes, they usually end up not getting a job offer, or being offered a job that is way below their level.
Also, changing situations compel you to seek income to make ends meet, especially if you have children to send to school, and a family of four to feed and provide a decent and comfortable life. Some were forced to quit their jobs to take care of their home, and although there are a lot of home-based businesses out there, not everyone succeeds in this endeavor, so they drift back to the job market.
If you are a job seeker trying to make a comeback after an absence of three years or more, one strategic way to ease yourself into the professional workplace you want to be is who you know, "It is who you know that gets you there," as the old adage says. Consider the following observations:
It is important to have the right attitude. Job seekers need to exude a sense of confidence and enthusiasm toward the transition. They need to express what they want to do, not just simply write about it.
Job seekers should let people in their network understand their work ethic. Actually, they are more interested to find out if you are someone they can trust and eventually help you get hired.
It is advantageous for job seekers to set up informational interviews with people within their professional network, where they can ask questions, share ideas about a specific job without necessarily asking for it.
Many employers or hiring managers are hiring people who they know or have met through their connections or networking, and home-based parents are usually out of their network.
Majority of home-based parents are able to find jobs through their contacts rather than job ads. This emphasizes the need to build a network.
Affiliation is the key to job searching. Re-joining a professional group or association, or a civic organization is a big advantage for home-based parents to keep them abreast to their field while raising their children at the same time.
Attending meetings of professional or civic groups and organizations helps to develop further contacts and restarts a network. You may also want to volunteer in these organizations to acquaint yourself more with the current trends in the industry or community.
It is not good to underestimate the strength of their network. Home-based parents need to find out what other people are doing and how these people can help in their job search.