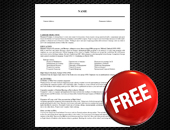 It is said that the best things in life are free. Does the same principle apply to resumes?
We all know that the current job market is teeming with job seekers. Everybody wants to get their most preferred job as soon as possible. Sometimes, they are willing to bend their educational background, skills, and work experience just to get the job.
What do you need to do as a preparation? Well, the key here is to make a professional approach when dealing with potential employers or visiting various companies. At the same time, it is important to let your prospective employers know your desired job or position. This can be done through the use of an effective application document.
I think pre-employment documents are the best tool to describe your personal and professional profile, as well as advertise yourself in the job market. If precisely and effectively made, it can expertly represent you during the application process.
We all know that resumes are crucial to the job searching process. It will be difficult for a job hunter if he or she has the slightest idea in creating an application document. In this kind of situation, free resumes can be most helpful.
Abundance of Online Application Documents
There is no doubt that hundreds of application samples can be obtained online. Expert writers took the time to produce them so job hunters can review, evaluate, and choose the best sample that suit their specific needs and purposes.
With loads of free resume samples online, it would be a bit difficult for job seekers to find the best application document that fits their prospective career path. Fortunately, most of the samples are categorized by industry or field, thus, making document review easier and bearable.
Before you set your mind and time to work on your own application document, I would like to give you some helpful reminders as you go through the process:
Determine your career objectives. Moreover, you also need to prepare a list of your job skills, experience, and accomplishments. Then, choose the right format suited to your career goal. Carefully read the job post and make sure you're able to satisfy all the requirements set by the employer or hiring manager before applying for the position.
Since everything seems to be going paperless and wireless, majority of employers want to receive your applications as e-mail attachments. There are also a number of scanning programs used to select applications via keyword densities. This way, hiring managers would be able to get a manageable pile of applications before making a shortlist of qualified job candidates.
Make sure that you have the samples customized according to your target position and your qualifications. Most of the time, applicants are tempted to copy-paste online samples and tweak it a little.
However, bear in mind that these documents serve only as a guide in formatting your own pre-employment documents. They are not that efficient in conveying your individuality. Hence, job seekers should customize their applications.
Indeed, free resumes are useful to any job seeker. Whether he is a newly graduate or a professional who just walked in to the job market, he would have a good use for the job application tools. It just takes ample time, patience, and determination to craft a document worthy of a job interview.