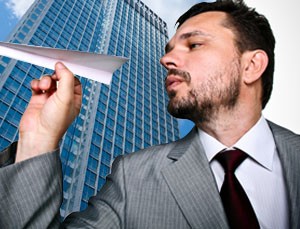 Why do most of us are reluctant to describe ourselves in front of acquaintances? It's because if we introduce ourselves with the best adjectives, it might be misinterpreted as bragging and being pretentious. But why do we do it on our resumes and our interviews?
Friends, here is a Resume4Dummies' review on the surprising worst ways to introduce yourself to prospective employers:
1. Creative
"Hi, I'm Jane: A creative, innovative, team player with 5 years experience in advertising who is looking for an employer who needs these qualifications."
Will you talk to employers like that?
If I'd be an employer, I will think you're nuts and start to run for my life. In any case, telling that you're creative doesn't show any sign of creativity at all. No, designing your resume with all the fancy-schmancy won't help either. Just wait for the interview. Only then could you show that you really have the talent.
2. Unique
You are unique, but so everybody claims to be. Employers will love a one-of-a-kind professional, but the point is that you have to show, not tell. Use words that could hint how you are different from the rest without mentioning the word "unique."
Be unique enough to NOT say that you're unique.
3. Hardworking
Hardworking is a word that can describe a lot of people, utilities, and horses. And yes you say, it's vague. Using the H-word can give a lot of impression about you, but for all the wrong reasons. There are just words that are used too often that they start to lose their impact.
When you really are a dedicated, persevering, and diligent professional, people just notice it when they work with you. You cannot make them believe by just telling, so better not say it at first. One rule: under promise and overdeliver.
4. Ninja, Guru, Buff
Authority can never be earned by saying that you have it. Like any other good descriptions, you have to give supporting details. If you want to say that you're a "web design buff", you must include a kickass portfolio and tell about your achievements and awards if there are any.
Ninja, guru, or buff will sound like a cheesy adjective if not justified by anything concrete. If you think that it could harm your chances of being picked by employers, then don't use it.
5. Motivated
It's a deceptive word because everybody has their own motivations at work. The unfortunate thing is that words seldom deceive any employer these days. Resume4Dummies reviews that hirers know when you're motivated— if you're showcasing remarkable achievements in your resume. If you don't, well it doesn't need a second guess.
Let's set it straight: never write anything that you can't say in person.