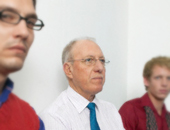 Are you a baby boomer who seems to be going over the hill? Do you feel ashamed to admit that your age is over 40 years?
Do you feel your age and appearance are detrimental to getting hired for a job? Do you fear that recruiters and hiring managers will change their minds right after your first meeting?
If you are one of the thousands of job seekers out there in the job market, you probably have experienced something like you were a little left out. There is nothing to worry about, but rather be proud of 'who you are', especially if you believe you are reliable, dependable, hardworking, experienced, and enthusiastic.
You know you still got what it takes to excel in your chosen career. Certainly, you are not ready to retire but you encounter hiring managers and staff who are younger than you. They seem not to be responsive to your application.
What are you going to do when these happens? Can you blame these people if you think they are discriminating you?
Need to makeover
You may not see it at first, but an outdated resume can possibly be the source of your woes, that is, whatever you put in there or whatever it looks like.
To avoid being categorized as a job seeker who is "over the hill" or "out of date", you should take a hard look at your resume.
Do not allow innovations leave you behind. Carry out an extreme resume makeover using the following tips:
Apply the latest trends in resume writing by researching about it
Checking out multiple job descriptions that employers or hiring managers are looking for
Determine missing technology skills that you need to develop
Consider enrolling in classes where you learn to fill the technology skills gap
Incorporate current keywords and terminologies used in your target occupation or industry
Search for job descriptions related to your target occupation or industry
Look for recurring terms and find a way to use them correctly and effectively
Read the latest articles and journals published by your target industry's professional organizations to remain current
Be affiliated in any way with professional organizations to become aware and familiar with the latest industry-speak