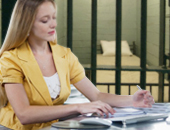 Re-entering society with a shot at personal career growth
My name is Dolores Montgomery*, a 25-year-old waitress. In 2010, I was caught shoplifting at a convenience store in Easton, Pennsylvania. I did what I can to survive the daily challenges that life was constantly throwing at me. The owner of the convenience store did not hold anything back. I was sentenced to five months in prison and it is a disgraceful smear to my struggling career.
After getting out of prison, I have decided to accommodate myself in reading articles about how to create a resume and manuals for individuals trying to re-enter mainstream society as a productive, harmless citizen. What I found is this: ex-felons are stereotypically identified as renegades of society, capable of starting a new life surrounded by non-believers and cynics.
Re-evaluating the situation, I realized that job opportunities only knock to those with Bachelor's degrees and clean criminal records. Apparently, I am going to have to compete with younger job applicants with the right skill sets and tools going into the journey to employment.
Based on what I have read, individuals with minor felony charges like pickpocketing or shoplifting have a slim chance in regaining employment. Slim is better than none, right? After reading a few resume writing tips for felons, here is what I can impart to people suffering from the same kind of limitation and discrimination.
Resume Writing Tips for Felons
Start writing as you would normally.
Writing a resume is not an intimidating task. But for people with major to minor criminal records, it's a hard nut to crack. Start by thinking that writing the document is that first step in piecing back together a life hampered by jail time. Personally, I was distraught with the idea of writing the ideal resume without hinting the hiring manager of my shameful experience as a shoplifter. Here's what I did:
1. Never include the crime/s you have committed. It is just like robbing a bank without a weapon. It is futile. You have the interview to confess everything to the hiring manager, and it is up to them if they will consider you qualified or fit for the job position you are applying for.
2. Highlight, if any, notable career achievements that can temporarily cover up your crimes. As discussed earlier, the interview is your chance to explode all the details regarding your personal life.
Consult a career coach.
One how to create a resume blog for ex-felons suggests the assistance of a career coach as beneficial to people looking forward to re-enter the society.
Career coaches are professional life instructors trained to inspire and motivate ex-felons, such as myself, to gradually reintegrate into the society. Career coaches have different, non-linear styles in helping ex-felons regain lost confidence brought by isolation. They can also assess the situation with such professionalism and depth that they are capable to elevate careers, criminal or no criminal.
Think about the future.
The application document is an important document that has helped many successful businessmen and politicians rise to the top of power and fame. Starting a career for ex-felons may be a haunting image filled with rejections. But the document will always function as our ticket in managing and rebooting our personal lives.
*Not the real name
Nelly Marshall is a seasoned career author with more than a decade producing career development materials for a large base of recruitment agencies in the U.S. Most of his leisure time is spent on sports and photography.