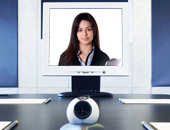 Normally, job interviews are conducted inside the company's interview room where a panel of interviewers fire away at questions that scale an applicant's qualifications. But now, many companies have embraced the idea of interviewing job applicants through their personal computer or laptop's webcam.
Since hiring managers receive at least hundreds of resume per day, the HR department has thought of using modern technology to initiate job interviews. Moreover, interviews over the webcam allow companies to save time.
This is also advantageous for applicants who are in danger of coming up late in offices far away from their home. More importantly, webcam interviews allow job applicants to use different materials and resources that can help them succeed in webcam interviews.
Below is a simple list of ways how an applicant can win the webcam interview initiated by an interviewer or a panel of interviewers:
Dress properly
Webcam interviews must be treated with a sense of professionalism and corporate fashion. Just like in traditional job interviews, it is important for the job applicant to show up, dressed properly for the interview. Applicants dressed in their pajamas or sleepwear will not be taken seriously by interviewers. It may sound awkward, but suiting up inside your home for the webcam interview is just a step in winning over the hearts of interviewers.
Speak loudly
Always speak emphatically when being interrogated by interviewers. Since webcam interviews are different than office interviews, it is best for job applicants to upgrade the quality of their webcam in order for them to understand what the interviewer is saying. Moreover, it is important that the interviewer understands what you are talking about. Applicants often encounter choppy messages as a result of their computer's cheap webcam quality.
Provide sufficient amount of lighting
Initiate the webcam interview in areas rich in light. Do not stay in areas that are deprived in lighting because this will give interviewers a spooky idea that they are talking to a floating dress.
Give emphasis on your form and posture
Intimidate the interviewer with a sitting posture that reminds them of their company president or CEO. This will prompt interviewers to take you seriously.
Project enthusiasm
Wear a happy, smiling face during the course of the conversation. Exhibit willingness when being talked to and sneak a laugh or two when the interviewer tells a joke. The point is, treat the webcam interview as how you will treat an office interview.
Eliminate unnecessary noise backgrounds
Keep the conversation plain and simple by eliminating noise backgrounds emanating from your television, radio, and other electronic appliances capable of producing static interference. The goal of the webcam interview is for the applicant and interviewer to understand each other at peak efficiency.