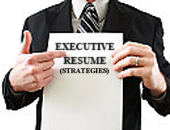 Creating executive resumes entails capturing the reader's interest through compelling descriptions of your value as a professional and a promise to deliver your best should a potential employer or company invites you to become part of their team.
If you are a professional who is vying for executive level positions, your resume should be unique and compelling to generate a job interview for you.
With the world around us and the job market continuing to evolve, there is a need to develop new approaches to writing your resume while taking advantage of the latest trends in order to get the attention you need.
Personal branding and leadership statement
Craft your statements to highlight your leadership abilities and personal vitality by answering the following questions:
What inspires you in your daily work?
What are your passions and interests?
What are your special characteristics and talents?
How will you achieve success to benefit your employer or company?
What are the contributions you gave that are critical to the success of your previous employers or companies?
Tailor fit your resume for the reader
Executive resumes should be formatted in such a way that the reader understands.
Statements should be brief and focused on their personal brand.
Utilize white spaces smartly to make your statements stand out to create an impact.
Avoid long and dense paragraphs that are difficult for readers to understand.
Your key areas of expertise should be highlighted once rather than repeated.
Consolidate your list of responsibilities in one part and place them in formatted columns or shaded graphic box to generate impact.
Limit your resume to two pages
The top of the first page is a very important part of the resume. Place the most important information in this section.
Since it is usually the top of the first page that is read first, as much as possible, use it to your best advantage.
If your "Professional Experience" section is crucially important, you can move it up to the forefront.
Be brief by consolidating all your achievements and qualifications.
Provide one- or two-page documents such as Achievement Summary, Career Biography, Reference Dossier, and Leadership Initiatives Brief.