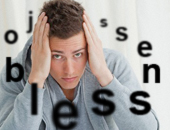 Just because the economy of the United States is currently under a recession it does not mean that all life will reach its doom, or everything around you is all gloom. Sometimes, crises are hidden opportunities.
Who knows? This may be the chance to revise not only your approach to difficult situations, but also your outlook about the future.
Fear of joblessness
Is there a "phobia" word that means fear of joblessness?
Every day, we are bombarded with news reports about rising unemployment rates and statistics of workers who were retrenched from their work places as a result of economic recession.
These reports not only make us feel restless, but instill anxiety in us to look for a job. In addition, it lowers our confidence and self-esteem.
Resolute tips
The following are some resolute tips to develop your sense of courage and overcome your fears when you look for a job:
Stop reading or watching the news about unemployment issues for the meantime, until you are able to secure a job
Start advertising your name, target job, and potential assets through print or online media, or better yet create your own online resume
Develop a personal advertisement to promote yourself
Revise and improve your resume, making sure it is well-written and error-free
Use your time creatively to maximize your skills and potentials
Consider taking volunteering work on a part-time basis, to allow you enough time for job searching
Consider joining organizations that can add meaning and value to your life and work as well
Consider enrolling in classes or short courses, if you cannot afford to pay for formal training courses
Develop your socializing and networking skills to meet people who can possibly give you job leads since many jobs are not advertised
Develop a strategy to research for employers and/or companies located in a specific geographic location and make a thorough research of each
Utilize online social media resources such as Facebook, Twitter, and LinkedIn to reconnect with former colleagues or connect with new people who may know someone that can help you
Consider the alternative of taking a job with a salary that is below your previous range, especially if unpaid bills are piling up and you have been unemployed for some time