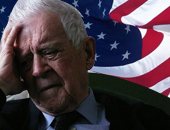 Jobs are reserved for the country's younger batch of job seekers
The good old days for America's baby boomers are coming to an abrupt end. Baby boomers are fortunate to have experienced the nation's economic excellence and failures that will appropriately equip them with skills needed to adapt while they age. Presently, most of them are just trying to stay alive.
Out with the old generation and in with the next, America's baby boomers are forced to retire from a once sustainable career and enter foster homes left to squander the rest of their lives sitting in rocking chairs. Unfortunately, America's aging population still continue to squeeze through the employment spectrum of jobs reserved for low-skilled laborers.
Sacramento Bee published the case of 45-year-old Brian Blaschke, who in his age, is expected to live a life reminiscing an impressive run with families and friends. Mr. Blaschke never really had the chance to re-visit important memories of his professional life as he continues to work as a handyman for a construction company.
No New Work Available for Baby Boomers
Logically, corporations are more willing to invest in younger talent because of the changing landscape in education, skills, and familiarity with technology. Richard Johnson of Urban Institute and his research entitled Rising Senior Unemployment and the Need to Work at Older Ages, reveals that unemployment for baby boomers that had not received high school education were tremendously affected by unemployment.
In the situation of Mr. Blaschke, male baby boomers still have the chance to enter re-employment as handymen or construction workers. Additionally, they are tasked of advancing the economy by joining in the ranks of low-skilled laborers, which the nation's younger, educated cadre of job seekers are not interested to become part of.
Where Do They Go From Here?
The baby boomer population must not be treated as rag dolls that will fill in the employment gaps at construction companies and repair companies. Resilient and tough, Mr. Blaschke is planning to re-arrange parts of his career by establishing a solar power company in Sacramento.
Mr. Blaschke and the rest of America's baby boomer community may have been left behind in terms of technology and employment biases, but their experience in removing roadblocks ahead makes them the one of the country's cherished manpower resources capable of withstanding economic short-circuits.