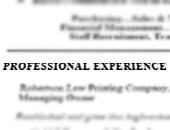 Commonly called as the "Work Experience" and "Employment History" section of a resume, the "Professional Experience" section is indeed the most crucial part of the said pre-employment document. It is crucial because it speaks of the strengths of a job applicant.
It is the part of the resume that can easily be noticed by a reader since it is frequently written with bullet points. What should an applicant consider in writing this?
For new graduates, it is expected that they do not have work experience yet hence they are not supposed to include this section. What they ought to do is to cite school-related activities and tasks that they accomplished. But for those who have already experienced working either for government agencies or private business, they are required to indicate such details, even if they are planning to change career.
Let us begin with how it should be structured. To make a well-polished resume, always consider its layout. Considering its margin, spacing, indention, and use of bullets can help in producing a good output. In writing the Professional Experience section, the margins on both sides of the document should be balanced. Fonts have to be aligned properly.
As for its content, it is not enough that they are just bulleted. Here are the details that job hopefuls must incorporate to come up with a good resume section:
First, write the specific position that you are currently holding or that you held. For this particular detail, the text should be bold.
Second, specify the name of the company and its location. Also, place the inclusive dates. You may add information about the company.
Third, cite your job descriptions in bullet points. Limit these bullets to at least five for each of the experiences. At the end of last bulleted job description, place your key accomplishments. Such achievements are often written with numerical figures and percentage.
Do not forget to enumerate the experiences chronologically, starting with the most recent job you hold/held. Consistency is also important here. The tense of relevant verbs to start each job description must be considered: use verbs in past tense for past actions and use base form of the verb for present actions.