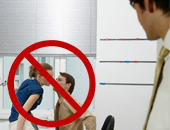 Are you doing these at work?
Things you should avoid doing at work
Various companies have different operating procedure that they follow. Nonetheless, all share the same work etiquette that should be practiced by all employees. Note that the things that are usually prohibited at work are usually the things that can help you succeed in the office.
Prohibitions at work are created to ensure that workers are working in the best environment, in their fullest potentials. Here are some things that you should not be doing at work:
Not taking breaks
Come on, there's more to office life than just facing the computer from 9 am to 5 pm. Remember that employees are entitled to little luxuries such as breaks. As such, you should never be too busy to take breaks. Also, breaks are provided to allow employees to freshen up and rest their minds, allowing you to concentrate more on the work in hand.
Bringing home office supplies
Yes you might have some spare pens, notepads, or even CDs at work, but that doesn't mean that you can take those stuffs home. Stealing or getting supplies from work and being caught doing it will definitely leave a bad impression to your colleagues and boss.
Replying to e-mails instantly
E-mails are the company's important correspondents. As such, you should not respond to an e-mail immediately without carefully considering or looking on the situation. Important e-mails are acknowledged by the management accordingly, thus you would be informed by your immediate supervisor if you need to respond to an e-mail.
Avoid dating co-workers
Loving your job is okay, however, loving your co-worker is a different story. Going out on dates with your co-worker might feel great at first but it can ruin your working relationship with them especially if things become "complicated." Break-ups are unavoidable and you can expect to experience some sort of awkwardness at work, particularly if your "ex" is working in your department.
Being part of the office politics
Another thing that you need to consider is whether to engage in office politics or not. When you get caught, it might cause you various problems and issues that may ruin your career in the future. As such, better think twice before you consider getting yourself involved in it.
Don't pretend to be workaholic
You also need to give yourself time to freshen up and get interrupted at work. After all, you cannot function properly if you won't give yourself some time to relax and do some stretching.
Complaining about poor salary
Complaining to your colleagues how your salary sucks will not help raise it in any way. Further, you can never tell whether the person you're talking to will not run to your boss and spill out your complaints. Better raise your concerns through their right channel.