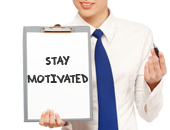 Have you ever experienced spending the whole afternoon feeling so tired and wasted that you were unable to finish anything? Most of us have that certain "downtime" where we can't even focus on the work laid in front of us.
It is normal for employees to experience boredom and demotivation at work. Once in a while you just feel like staring at your office's wall clock wishing that it's already 5 pm.
Boredom can be resolved by determination and constant motivation. Doing things that you love can help keep you focused and determined at work. Here are some tips on how you can stay motivated at work:
Remove ALL distractions
This is with a strong emphasis on the word "all." Distractions within your reach may cause unwanted interruptions and may even take your attention away from your work. If you can, keep these "temptations" such as candy jars, chocolates, magazines, computer games on your system, or anything that can distract you away from your workplace.
Answer the question "why"
Why did you choose to be in this career? Why did you choose to be employed in this business/ company? By constantly reminding yourself about the reasons behind your constant hard work and perseverance you can help to keep yourself energized and determined to work.
Create mini-goals
Setting goals is one way of keeping track of your progress. Knowing that you have accomplished something helps in keeping you inspired and determined in finishing your tasks or projects in hand.
Reward yourself
After a hard day's work, it is but natural to treat yourself to a little reward. Treating yourself to the spa and after work dinner can be good motivators after a long week's work. After all, you deserve some pampering.
Seek helpful criticism from other employees
Take time to review your job performance. Knowing the fields or areas where you excel will give you some extra self-confidence to do even better on your next assignment. You can obtain these constructive criticisms from your immediate supervisor or from respected clients.
Learn new things
If you are quite bored with your current work, you can always do something new and interesting such as learning a new skill. This way, you will be motivated to pursue new careers in your company and expand your knowledge and proficiency.