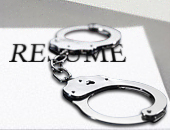 Applying for a law enforcement job is not as complicated as what other people think. The whole process may be different, but the objective is all the same with applicants looking for a job in urbanized business hubs and other locations where middle to large-sized companies are located.
Writing a resume for police officers is also the same in writing a traditional resume. The approach must be able to showcase the applicant's professional and educational background in the field of law enforcement, achievements, skills, and important information that highlights the applicant's core competencies.
Moreover, drafting a law enforcement resume requires that the applicant stay within the parameters of simplicity. A majority of today's police officers are last in line when it comes to the procedures in writing a powerful resume worthy of the police department's time.
Below are four useful tips that police officers can integrate on their resume:
Use a powerful yet simple header
Just like any conventional resume, a header introduces the applicant to the hiring manager or HR officer responsible. The resume's header is an ingrained component of the resume, which hiring managers consults when contacting applicants for an interview.
Provide a job objective
The job objective summarizes the applicant or applying officer's qualification in three to four sentences. Here is an example:
I have over 20 years in law enforcement and crime investigation in a local level of responsibility. My experience includes investigating public order crime in the town of (insert town here), assist other first responders in responding to emergencies, and provide firearms training to inexperienced police officers. I am also good with different report-generating programs like Word, Excel, and Google Docs.
Insert core responsibilities to a minimum
Police officers must always write their resumes in a short, crisp style. Thus, it is advised that they integrate essential information such as high impact responsibilities and notable tasks capable of setting them apart from the pack. Furthermore, shorter resumes are more readable and suffer less from text convolution.
Include volunteer work
Finally, volunteer work in applying officers hint police departments on their passion to protect the citizens from dangers and claim order in communities threatened by disorder.