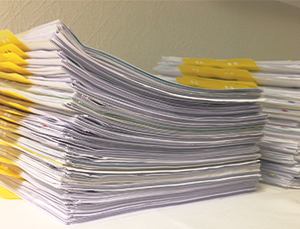 Resume writing itself is already a challenging task. And to make things worse, you'll need to familiarize and choose one among these resume types. Read on and discover which type perfectly suits you.
Resume Types Based on Format
1. Chronological Resume
The chronological format is the most common of all the resume types. It starts by listing your most recent work at the top. To supplement each position listed, include your key accomplishments and qualifications. This gives potential employers a quick glimpse of the tasks you've done in the past.
Pros:
– Makes it easy to cover resume flaws and delivers a perfect flow.
– Highlights consistent work experience and creates a good impression of the applicant.
– Delivers a neat and organized look on the resume.
– Makes resume flexible for any changes.
Cons:
– Calls attention to employment gaps.
– Skills can be difficult to spot unless listed in the most recent job.
Best for:
– Job seekers with solid work history, relevant work experience, and steady work record
2. Functional Resume
This format focuses more on the skills and experience acquired rather than the list of positions you've held. It often starts with a section that lists a summary of all kinds of qualifications. Depending on the job post requirements, job seekers can place education on the third or fourth section.
Pros:
– Hides long absences from the workforce.
– De-emphasizes too many positions or too little experience.
– Highlights specific strengths and transferable skills.
Cons:
– Employers find it difficult to interpret.
– The resume may appear to lack depth.
– Deemed as an attempt to hide age, employment gaps, lack of relevant experience, lack of career growth, or underemployment.
Best for:
– Job seekers who have lapses in employment, in the middle of a career transition, or a fresh graduate with limited work experience.
3. Combination Resume
This format, as the name suggests, is a combination of the two resume types mentioned above. Also known as the hybrid resume, it takes the best features — strong summary of skills and accomplishments upfront and a detailed work history that supports these statements. Flexible in nature, this type allows job seekers to tailor and use the strengths of both resume formats to suit a specific job opening.
Pros:
– Allows job seekers to choose what skills, experience, and training to highlight.
– The preferred format of most employers in various industries.
– Emphasizes what a job seeker can do.
– Customizable to highlight specific skills for each job position.
Cons:
– Requires a lot of work due to the use of skill sets similar to the functional format.
– Needs tailoring to fit each job position.
– Can still show employment gaps.
– Work history, often on the second page, may not be read.
Best for:
– Job seekers who have relevant, detailed work experience to boast.
Different resume types flatter different job histories. Based on your personal circumstances, you should choose carefully on what format to follow. Even the most qualified job seekers jeopardize their job search by a subpar resume. Increase your chances of leaving a good impression and selling yourself with the use of one of the resume types above.
For more helpful resume write-ups, feel free to browse our page.
Sources: thevisualcommunicationguy.com | www.careerwise.mnscu.edu | blog.simplyhired.com | www.americasjobexchange.com | www.thebalance.com