Self-improvement may not be a formal requirement in the workplace, but it's critical in shaping up your skills. Speaking of which, there are significant life skills you already have that can make great career skills. Brush them up so you can use them as powerful weapons to your career success. What are those life skills? Here are seven of them:
1.Social media management
Nowadays, social media play a great part in marketing businesses - regardless of size, location, and target consumers. Knowing the best time to post a particular content and how to "haul" likes will give you an advantage in related industries such as digital marketing, technology, or travel and hospitality.
2. Multi-tasking several online group conversations
Not everyone can manage conversing in more than one group conversation. So if you find yourself juggling multiple online group chats, it's a good sign you have a knack for multitasking.
3. Establishing your online presence
Do you make sure your personal and professional profile is up-to-date? Are you particular in making it appear pleasing to your viewers? Spending your time and effort to curate social media profiles determines your skill in establishing great online presence to attract potential clients.
4. Empathic Listening
Empathy is one of the best-known life skills associated to career success. It's the ability to understand someone's feelings by placing yourself in that person's shoes. Therefore, being empathic will not only make you successful in the future, but will earn you trust and respect, too.
5. Resilience
People who let negative feedback and failures slow them down aren't resilient. As a result, they're trapped in the situation, unafraid to take risks. Your ability to look at setbacks as part of life will make you an exceptional professional whose skills are honed by rejections and defeats.
6. Curiosity
The adage, "Curiosity kills the cat," doesn't seem to apply in the context of career and business. Today, great inquisitive people grow and learn more than those who aren't. So if your curiosity works in every situation, don't hide it.
7. Patience
Patience is an important life skill that most people often overlook. Knowing when to slow down or react is just as important as learning when to start executing your ideas to reach your goals.
Now that you know these life skills that are keys to your success, let us help you be confident and secure an invite to a job interview with our interview tips. Head to our website now to view more job hunt-related tools, tips, and advice to a successful job search!
Sources: Buzzfeed; Daily Muse, Inc; Online Colleges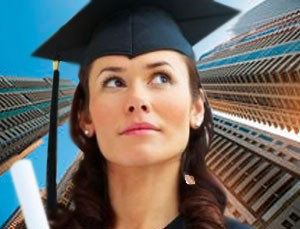 So you got your diploma. You're very starry eyed, still. However, the moment you start to sit in front of the monitor and keyboard, you suddenly ran out of inspiration on how to fill your resume with the background that could get you hired. So you browsed the net and found this article at resume4dummies.com. Great, you've got the right place. Now, read on:
1. Don't focus on the title
Instead, bring out the skills you have developed in your past summer jobs and internships. Sure, titles don't make much sense when you don't tell the employers about how it developed you as a professional. So instead of just putting that you became an intern or a clerk, add what things have you developed in the duration of your stay. Say, you contributed as an intern to a company by designing mock marketing campaigns, or you researched on breakthrough technologies about pre-stressed concrete. Tell it to prove that you just didn't sit and operated the coffee maker in the internships and part-time jobs you've had.
2. Connected with People from College
You can find a vast array of articles on how not to screw up professional relationships here in Resume4dummies.comIt's because this thing about not burning bridges and establishing rapport are just so important. In order to get the right job, you'll need people in one way or another. In order to stay in your career, you still need them. In order to get ahead, you'll need more. This is why you should keep communicating with them. You never know who will lead you to your first real job.
3. Choose Functional or Combination Resume
But never the as-is chronological format. These types of application papers are meant for people who have the background to brag about. For entry levels, the best way to show off what you have is to focus on your potential and abilities instead on what don't have – experience. Through stating them in a functional or combination layout, you'll take advantage of the seminars and related workshops you attended, the internships and part-time work, and then you can back it up with the abilities you developed and remarkable achievements you got as a student.
4. Include your extras
The word is transferable skills. You may have worked part-time in a restaurant and apply to a marketing job, but that doesn't mean that you can't include that background on your application. You can still do it, as long as you will relate the past job with marketing. Have you been effective in dealing with disgruntled customers? Or have you suggested a way to boost your sales during off-season? Resume4dummies.com suggests that you use them to your advantage.
Now that you have graduated from college, the usual next step is to go out to the community, search for your dream job or career, and earn as much money as you need to enjoy life. Job seekers like you who just graduated are now on their way seeking entry-level jobs, many of them with no clear goal or direction. They go aimlessly from one employer to another finding a well-paying job, getting hired, and staying there until the enterprise reaches a homestretch.
Post-graduation career planning entails self-assessment and utilizing your resources. This also involves seeking help from a coach or mentor who will give assistance to those who badly need some work attitude face-lifting. In addition, many of them mistakenly take any job without making serious planning and preparation for months or years. Before you become overwhelmed, however, it is best and appropriate for you to make a game plan to put yourself toward the right direction.
Review your career so far
Scrutinize the types of job position you have held since you first started working. Then, take a look at your college major, and ask yourself the following questions: Do you like the job you are currently in? Where do you see yourself in five years?
If you are not sure what to answer, this may be a sign that you need some kind of career planning. Thus, start searching the Internet for job positions that can potentially meet your personal satisfaction.
At least six months before your graduation and the of your start your job search, you should be able to determine your job and career goals. Job goals are short term, which pertains to your current position, while career goals are long-term, which entails life-long endeavors.
With concrete goals in mind, you are more ready to prepare your resume and credentials based on your target path. Take note of the job positions that interests you, including the skills and qualifications required for each of them, particularly in a journal.
Your first will not be your last, and for new graduates, it may take six months or even more before you find and land on your fist job. During a tight economy, however, it is reasonable to budget your savings while looking for work. Do not hesitate to ask your parents for financial help, but remember that they cannot support you all the time.
You need to trim unnecessary expenses at least until the time you are able to earn a stable income. Situations are rapidly changing, even for people who are employed for a long time. So always be flexible when making plans after your graduation.
Although you can get some piece of advice from your parents, there are aspects where you need an expert to help you navigate through. This is the reason why you need to find and get a mentor to assist you as you take crucial steps in your career ladder.