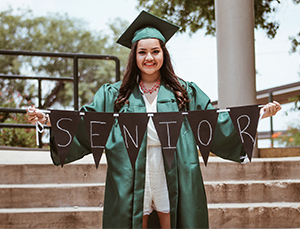 While writing a resume is tough enough, creating your first professional resume ever is even more a challenge. If you're not sure where to start and what to include, here are college graduate resume tips that can serve as your guide.
Top College Graduate Resume Tips
Below is a list of key details you must include and exclude in your resume if you want to boost your hiring chances for a job.
What to Include
1. Contact Details
List your full name, contact number, and professional-sounding email address at the top of your resume. Further, you can add a link to your LinkedIn profile and online portfolio under the contact info section, too.
2. Education
Include your course and certifications and the university that gave you your degree. In addition, thesis or dissertation titles, grade point average(s) (GPAs), and special honors or recognitions should have a place in your resume, too.
3. Professional Experience
Experience relevant to your career, internships, and work-study jobs should come first before unrelated ones such as part-time or seasonal jobs while studying.
4. Technical and Business Skills
Technical and business skills in which you consider yourself to be proficient should have a spot in your resume. Likewise, highlight those that hiring managers expect you to have such as skill in a particular software program.
5. Volunteer Work
Add volunteer work that proves your skills and capabilities if your resume is light on professional experience. The volume of details to include may vary according to the space you still have in your resume.
6. Professional Associations
In listing professional and student groups you joined, limit them and exclude high school clubs or activities. Any posts you held and major feats you achieved may go in if you still have space for them.
7. Languages
If you're proficient enough to conduct business in any foreign language, then you should include it under the skills section or by itself. In particular, it can serve as your edge against rivals of the same age or experience level.
8. Presentations and Publications
Although these apply more to graduates than undergrads, if you have had the chance to make conference presentations or featured in publications, you must include them, too.
What to Exclude
1. High School Name, Degrees, and Activities
Employers are interested in what you've done a few months ago, not with what you've accomplished years before college. Thus, focus more on highlighting your feats, activities, and work experience, more so the ones that support your job goals.
2. Hobbies and Personal Interests
More often than not, hiring managers don't care about your personal hobbies or interests if they're irrelevant to the job. Then again, they may ask you for them in the interview, but it's not good to write them on your resume.
3. Personal Data and Social Media Links
In particular, including personal data such as age, gender, birthday, and birthplace may do you more harm than good. Aside from the fact they will only lengthen your resume, they can cause bias, too. Likewise, this tip applies to your social media accounts.
---
Common Resume Writing Rules to Follow
Aside from the tips above, know the common resume writing rules to make sure your job application won't end up in the rejected pile. Likewise, these instructions apply not only to a resume for new graduate without experience but to job tools of field professionals, too.
1. Keep it to one page.
Based on studies, an average hiring manager only spends six seconds on each resume, so he or she might not even get to the next page. Unless you're applying as an executive, your resume should not go beyond one page.
2. Avoid spelling or grammar errors.
Spelling and grammar errors are major turnoffs for employers or for jobs that need attention to details. You can ask for the help of friends or grammar and spelling checkers to proofread your work.
3. Avoid first person pronouns.
As a common practice, don't use pronouns such as "I", "me", or "my". Instead of first person pronouns, begin your sentences with action verbs. Though it's not wise to use them in term papers, they'll make your resume sound more formal.
4. Format in a logical structure.
While chronological is the most used format, job seekers with employment gaps in the middle of a career transition or a recent college graduate should use the functional format. This format focuses more on your skills and experiences, so it doesn't downplay your work history.
5. Don't include references.
Don't waste your precious space to include the names and contact info of your references or write statements such as "references available upon request". Recruiters will be more interested to know your details than those of your references. Unless they ask for them, you need not even mention them.
Keep yourself informed! For more professional and college graduate resume tips, browse our latest resume articles.
Sources:
biginterview.com
www.businessinsider.com
www.forbes.com