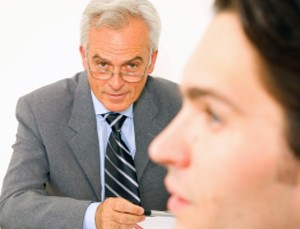 In a job interview, there are signs that indicate you're nervous: sweaty palms, dry mouth, flushed cheeks, shaky hands, and inaudible dialogue. It's awkward and weird. But why does this happen to most job candidates?
No matter how many times you get called in, you couldn't help but to feel the same anxiousness you had during your first time, because you…
… feel uncomfortable and frightened of being judged.
… are scared you may end up giving the wrong answers instead of the good ones you rehearsed last night.
… don't know the questions they're going to throw at you.
… are unsure of your answers.
… feel embarrassed talking about yourself.
… have no idea how you can "sell" yourself to them.
… really need/want the job.
… worry you'll look or sound stupid.
… are troubled you might not have another chance if you fail.
… wonder about the qualities they seek in a candidate.
… think there's something about you or your background they might not like.
… hate the idea and feeling of being rejected.
… expect yourself to be more than what you are.
As you can see, overthinking makes you feel tense. Why think of the unknown when you can be calm by doing these things:
Research
According to the director of Career and Leadership Development at Sewanee: University of the South, Kim Heitzenrater; the best way to stay calm is to be prepared in every way possible. Research the company and the industry.
Be prepared
The fewer things you need to worry about, the more you're prepared for the job interview. Print out copies of your resume, lay out and iron your clothes, map out your travel route, check the traffic reports, and have a good night's sleep.
Practice
You don't need to memorize your answers word per word; highlight only the points you want to remember and convey to the interviewer. You can also have a friend or a relative do a mock job interview to help keep you at ease.
Eliminate Stress
Try to eliminate things that cause you stress as much as possible. For instance, contact the HR department if you're not sure of the company's address or if you have no idea what you should wear.
Hiring managers called you in for a reason: potential. So take the hot seat with confidence and believe in yourself; you'll surely ace your job interview. Good luck!
If you're looking for a cover letter for resume, seek the best professional help you can get today!
Sources: Work Coach Café, Forbes
Image courtesy of Ambro at FreeDigitalPhotos.net