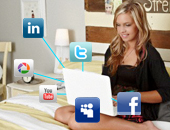 Social media is an online paradigm that allows people to interact on a large scale. Back in the days, social networking tools like Friendster and Multiply were favorably used by younger populations for the purpose of searching for friends, playing games, participating on forums, and commenting on user statuses. However, social media is not for the young of heart anymore. Older generations are capitalizing on the accessibility of social network websites like Facebook and Twitter to look for jobs. Although some still prefer hiring indices posted on online job application portals, the unprecedented power of social networking tools in career building continues to shake the foundations of the job hunting process.
Interestingly, companies and its Human Resource (HR) personnel have also embraced what social media can bring in streamlining applications. One notable example is the fondness of companies to establish a Facebook page that lists all open industry positions for interested applicants.
Moreover, social media also gave career coaches and resume experts a voice in rendering their services for individuals struggling to find a sustainable job. Without a doubt, social media is becoming a career hotspot for job applicants wanting to know where their place is in a crowded, competitive job market.
For job applicants, here are five practical ways on how you can build a successful career through the use of different social media tools.
Invite people and let them know what you are doing
Social media is all about establishing connection. There is nothing esoteric about it; social networking websites like Facebook expect users to have fun by connecting with different people in different parts of the world. For job applicants, however, connection must be coupled with participation.
Here is an example:
"I just updated my resume, and I think I will need supplemental advices on how to create perfect cover letter; any suggestion, my dear friends?"
A simple Facebook status like this hopes to reach out with connections or friends capable of giving sound pieces of advice on how to create a convincing, professional cover letter.
Know who to add and who to drop
Social media is not online multiplayer role-playing game where everyone can be treated as an ally or a potential trade buddy. Social networking websites are also home to credit card predators, loan sharks, and spammers capable of stirring trouble at unbelievable speeds. Job applicants need to discern who to trust and who to block or ignore when working on career improvement prospects.
Start a blog about the workplace in general
Creating a blog that tackles everything about the workplace is a refreshing way to keep hiring managers, interviewers, or HR experts engaged. It is also an efficient strategy in keeping track of trends within the scope of job hunting and concept job seekers need to know.
Embrace maturity
Finally, job seekers must eschew from posting irrelevant, hate-filled comments on their Twitter or Facebook accounts. Interestingly, companies avoid users who do nothing but complain or drag somebody down on their social media accounts.
Stay within the boundaries of professionalism and you will be just fine.