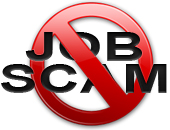 The Internet has changed the face of the job searching process. Though such development is positive, it has also brought an opportunity for unscrupulous individuals, groups, and companies who engage in fraudulent activities, preying on naive job seekers.
Thousands of people who are looking for a job report that they received e-mails from recruiters who later turn out to be scammers. Though it is the responsibility of web site owners to protect its registered users and the public as well, you as a job seeker should also do your part.
If a job offer sounds too good to be true, think again. Or better yet, read the following strategies to avoid potential job scams.
Never give sensitive information
Your personal or financial information such as your social security number, PIN or bank account, credit card information should not be released to anyone you do not know.
Always verify the legitimacy of a company. It is absolutely unnecessary for recruiters, hiring managers, or employers to require job seekers to provide such information.
Keep your account private
Your earnings from a new employer should be given to you directly in a more efficient method. It is safe not to agree to have these deposited into your personal bank account.
Until you find out an individual, organization, or company is legitimate and trustworthy, do not grant them access to your account.
Beware of fake recruiters
Employers pay recruiters for job placements. Be cautious of recruiters or hiring managers who asks for money in exchange of something such as providing you with job leads or finding a job for you.
Job leads provided by scammers can be actually obtained for free through online search engines and other job searching methods.
All legitimate employers or companies post job openings that seek for skilled and experienced candidates, with specific educational qualifications.
Employers or companies with job ads stating that no experience or expertise is required for the job position should be a cause of doubt.
Report a scam
According to analysts, scammers are operating a so-called "business opportunities" and "home-based jobs", offering a false promise of earning big incomes. Many of them are disguising as legitimate businesses and companies.
If you think you are a victim of a job scam, immediately contact your bank or credit card firm to help you protect your identity and save your financial credit from possible theft.