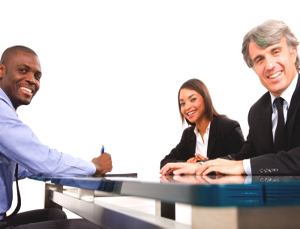 Most people say that the primary reason we get nervous in job interviews is that we can't predict the questions hiring managers will ask. There are many job seekers who fail to get past the interview because of questions they're not prepared to answer.
To avoid this catastrophe from happening to you, here are some of the questions you'll most likely be asked in any job interview:
"Tell me about yourself."
"What are your greatest strengths and weaknesses?"
"What makes you different from other applicants?"
"What motivates you on the job?"
"Do you work better alone or on a team?"
"How do you handle stress at work?"
"Why did you leave your previous job?"
"What are the positive things your last employer would say about you?"
"Why do you want to work here?"
"How did you know about our company?"
"How much is your expected salary?"
"5 years from now, how do you see yourself working in the company?"
"Why should we hire you?"
To ace these questions, here are some helpful tips:
Research about the job and the company
Practice
Be calm and stay that way
Take your time when answering
Cite examples
Share your accomplishments
Be honest and humble
Don't go beyond the facts
Keep it professional
You don't need to have a script or lucky charm to nail your job interview. To show your future employer you deserve to be part of their company, trust your gut and be prepared to answer whatever question may be thrown your way. Remember, a true professional goes nowhere unprepared.
For more career, resume writing, and interview tips, visit our website at www.resume4dummies.com
Sources: Monster, Job Search, Omnione
Image courtesy of Ambro at FreeDigitalPhotos.net