Are you looking for a job as a CAD designer? Build your career path with a strong resume. But before you create one, assess the CAD designer duties first. Knowing the tasks will help you state your competence to your target company in a strategic way.
What is a CAD Designer?
Computer-aided designers or CAD designers use software to create a design for everything of distinct functions, including detailed 2D or 3D designs for various projects. There are 3 main types of CAD drafters: mechanical drafters, electrical and electronics drafters, and architectural and civil drafters.
What Does a CAD Designer Do?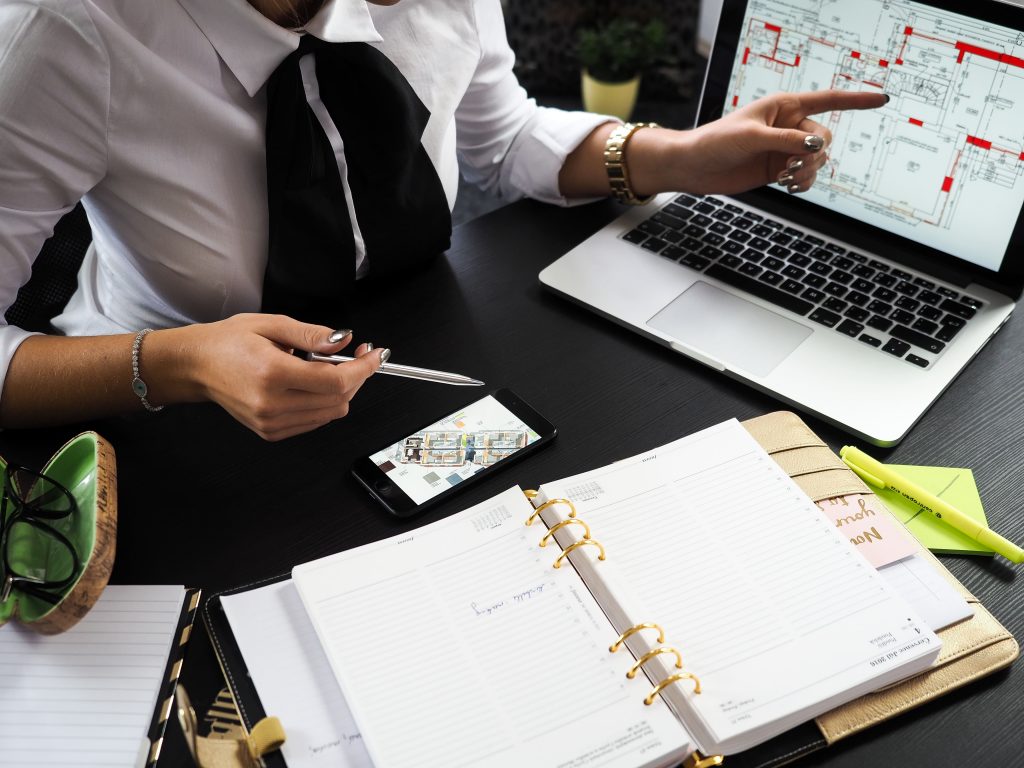 All types of CAD drafters work with engineers at all design phases, allowing them to fuse the concept into the electronic sketch. As a designer, you merge your design skills with the engineer's idea to develop a product blueprint. With the right metrics in mind, you'll be able to present detailed designs.
Likewise, you need to know your industry's latest updates. This, in turn, will help you understand the engineer's concept. Hence, it's crucial to know the engineering standards and mathematics for this role.
CAD Designer Salary
Computer-aided designers have an average rating when it comes to the job satisfaction survey conducted by PayScale. From 514 responses, CAD received 3.95 out of 5. This is mostly because of the average salary of $ 22.5 per hour.
Effective CAD Designer Resume Tips
An effective CAD designer resume example includes a summary profile and areas of expertise. Stating your achievements also gives you an edge. However, if you're just a new graduate, there are also resume writing tips for fresh graduates like you. On the other hand, if you're changing careers, you can still make it by learning career change tips. These will help you succeed in your transition. Regardless of your case, the areas of expertise will always be vital to the role of a CAD designer.
CAD Designer Resume Sample
Do you want to have practical ideas on a CAD designer resume? Here's a CAD designer resume. This will help you see what it is like to be a CAD designer.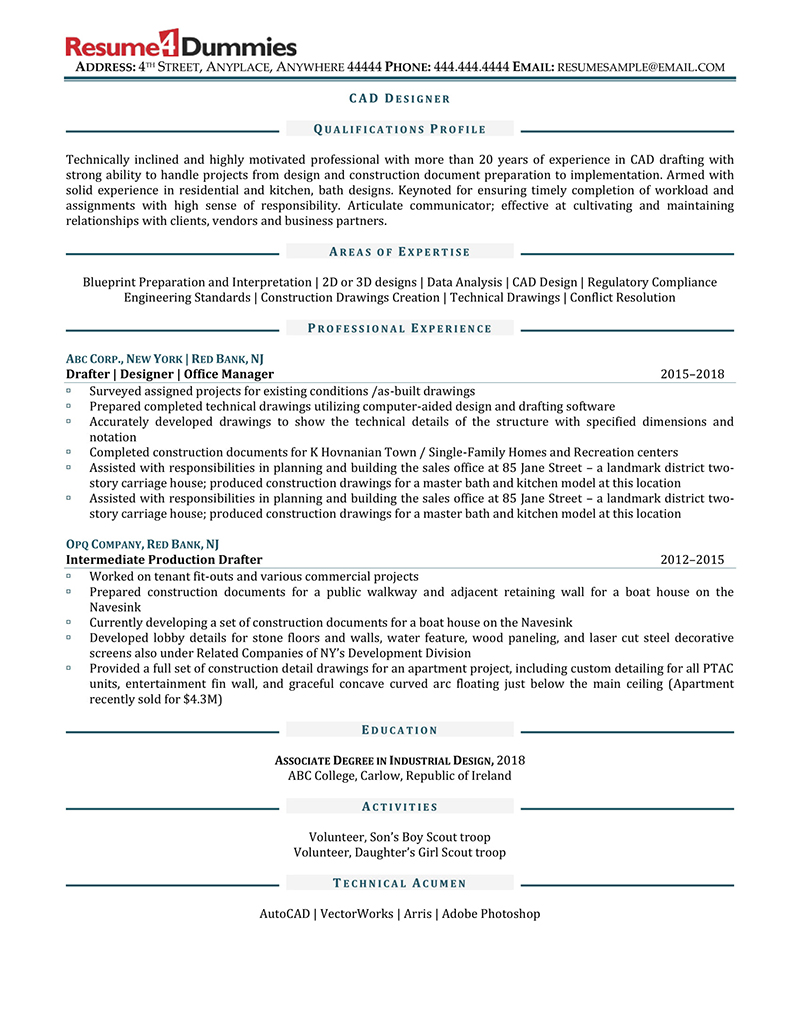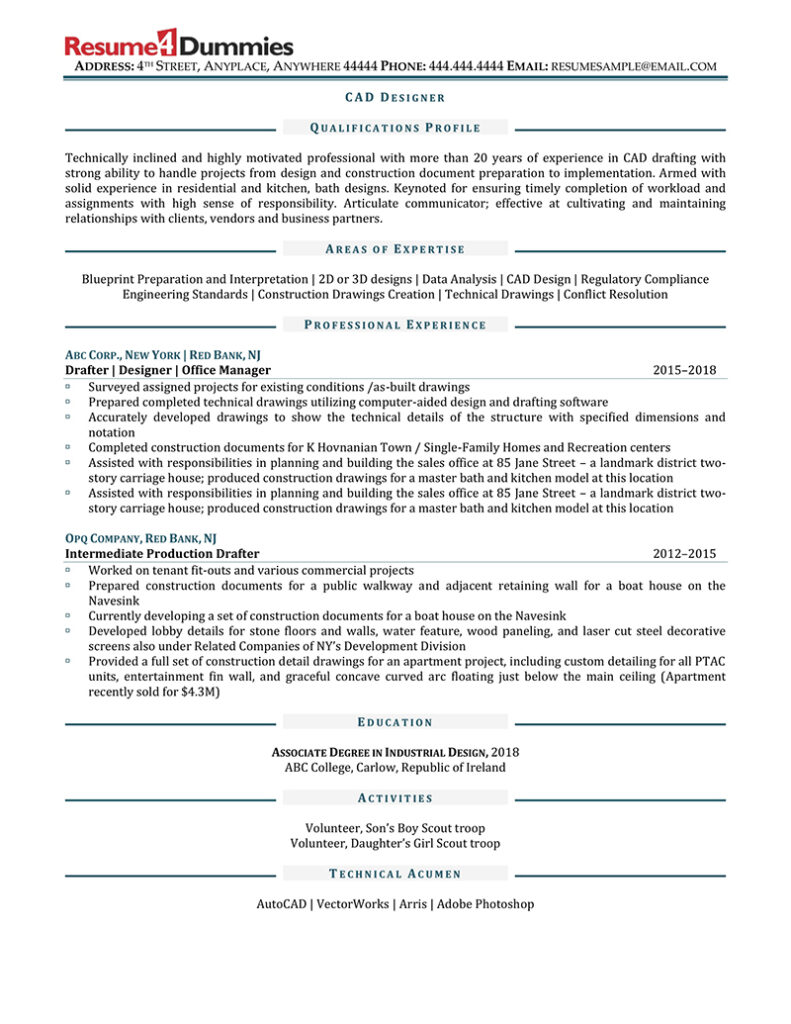 Download this sales manager resume sample now.
---
Last Check on Your CAD Designer Resume
Before sending out your resume, do a final resume check through this list.
Make sure your resume contains your contact details.
Leave out the sales manager's resume objective since it's obsolete. Instead, write a striking summary statement.
List your areas of expertise, skills, or core competencies to further prove why you're fit for the job.
Highlight your work history relevant to your target job.
Mention your achievements to serve as support for your work experiences.
CAD designer resume examples might serve as your templates, but your resume should be competitive. This is how you'll get noticed. The Bureau of Labor Statistics (BLS) states that employment for drafters will grow at the rate of 7% through 2026. Truly, it takes an expert in resume writing to make your profile stand out and help you get to the interview door. Thus, you need to hire one of our professional resume writers to have a winning resume. Get invited for interviews. Win a job offer, soon!