Construction management isn't at all an easy feat. There needs to be leaders in charge to oversee quality control in the construction industry. This is where construction superintendents come in.
Now that you're reading this, you might be one of those hopefuls aspiring to make a difference in this field. If this is your cup of tea, you might as well do your best from the get-go—starting with your job search and application. A key element you shouldn't overlook is your main job search tool: your construction superintendent resume. In this guide, we'll list some topnotch tips in writing yours and provide a sample resume that exhibits the traits of a well-written one.
What is a Construction Superintendent?
Construction superintendents are in charge of supervising work on construction sites, making sure all industry and state regulations are being followed, and ensuring all projects are finished on time. As per the US Bureau of Labor Statistics (BLS), the job outlook for construction managers is seen to grow by 11% from 2020 to 2030, which is faster than with most jobs. In addition, about 38,900 jobs are expected to open each year throughout this 10-year period as a result of the need to replace those who have either changed careers or quit their posts.
When it comes to the most common job requirements, many employers prefer candidates with a college degree in civil or construction engineering as well as other similar fields.
What Does a Construction Superintendent Do?
Construction superintendents oversee every step of the construction process, from planning to completion. In most cases, many of them specialize in various types of construction, some of which including residential, commercial, or industrial.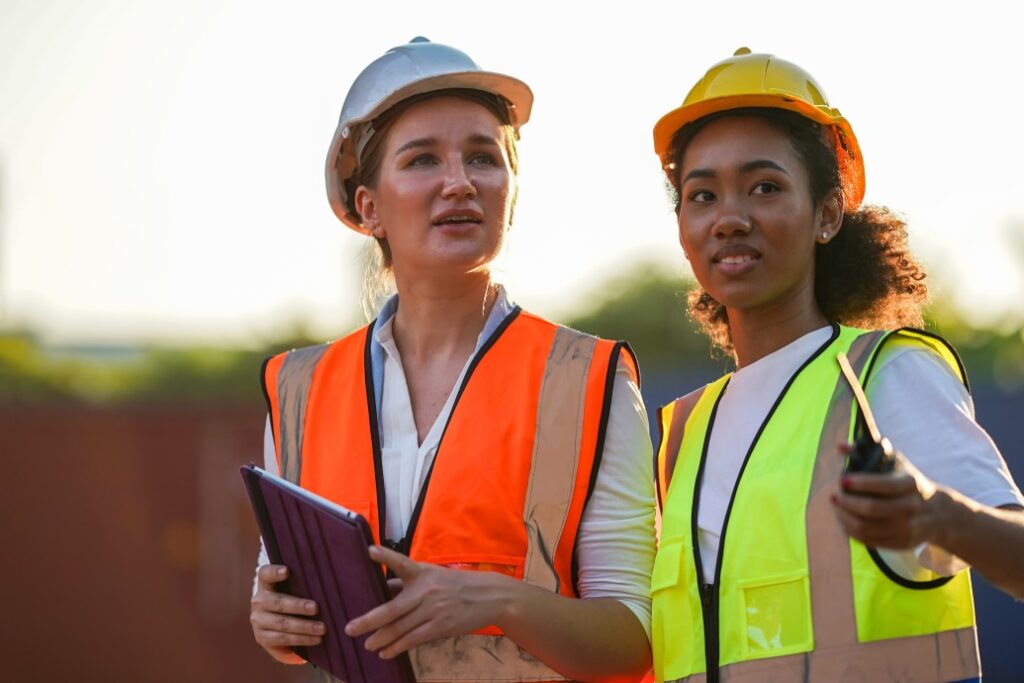 Furthermore, they are in charge of carrying out these tasks among their other ad hoc roles:
Ensure compliance with zoning laws
Maintain adherence to quality standards
Place and manage work orders
Take charge of project plans, materials, and tools on-site
Monitor and implement safety protocols on the job site
Coordinate with inspectors
Hire, train, lead, and manage workers, such as on-site teams
Consult with engineers and architects
Ensure the construction schedule is followed
On the other hand, those in this line of work more or less have these top skills:
Knowledge of safety standards, e.g. Occupational Health and Safety Administration (OSHA) standards
Project management and scheduling
Problem solving
Good communication skills
Teamwork
Supervisory skills
Leadership skills
Planning skills
Construction Superintendent Salary
As per PayScale, construction superintendents usually have an average yearly pay based on their experience:
Less than 1 year of work background – $53,156
1 to 4 years – $63,705
5 to 9 years – $75,709
10 to 19 years – $82,780
20 years and more – $87,149
Effective Construction Superintendent Resume Writing Tips
Now that you're aware of the basics of this role, it's time for you to start learning how to write a resume that recruiters will find striking and help you land the interview you're aiming for. Heed our expert tips and tricks:
Make sure your contact details are placed on the topmost part of your resume. These should include your home address, phone number, and email address (professional at that).
State your top feats and expertise. Apart from being a tactic to optimize your job search tool in passing Applicant Tracking Systems (ATS) that firms use in screening resumes, this allows your readers to pinpoint your strengths from the get-go.
Write a strong profile. Use this part to expound on your top feats and be able to showcase more of how you are as an expert in your field.
Highlight your professional work history. Ensure that your past employers, their location, the inclusive years of your work, job description, and achievements are listed under each of your past roles.
Don't forget to mention your education as well. Since many employers require having a bachelor's degree in hiring for this role, it's best for you to state your college and the specific degree you earned.
List achievements as you deem fit. In writing a resume, making sure its contents are tailored to the job is a simple yet
Construction Superintendent Resume Sample
Among the best ways for you to better prepare for your job application is to review construction superintendent resume samples and use them as your guide as you write your own. Doing this helps you identify which parts and details you shouldn't miss out on in your resume. Also, knowing how this job search tool should look lets you do the same and make yours more targeted to the job post.
Hence, see how we crafted this sample for your reference.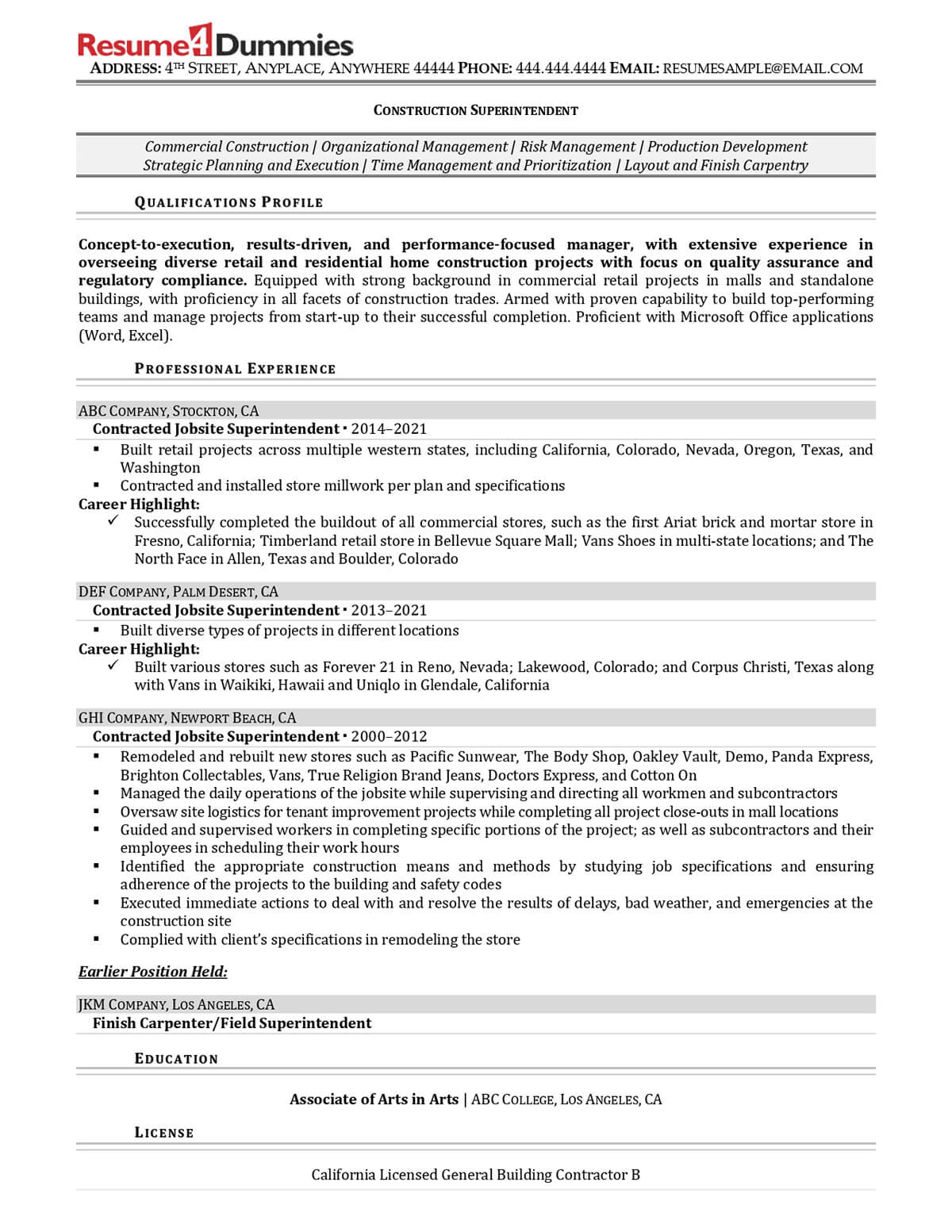 Download this construction superintendent resume sample now.
Last Check on Your Construction Superintendent Resume
As a construction superintendent, one of your key roles is to ensure the quality of work remains intact. You should also do the same thing when it comes to your job search tools. Nevertheless, make sure to do a final review of your resume before sending. Fret not! We've come up with this quick checklist for you:
Does your resume have your updated contact details?
Did you write a striking summary statement instead of a resume objective (a section widely considered obsolete by today's standards)?
Have you listed your top feats and skills that would help you support your background as the best fit for the job you're vying for?
Did you provide enough context and details about your work history?
Did you mention the key achievements and awards you earned from your past jobs?
Make sure you have everything covered as you wouldn't want to settle with a mediocre job search experience. Besides, the role you're vying for is a pretty crucial one. Hence, put in the needed time and effort into making your application better and targeted to your career goals.
Secure Your Dream Job with a Winning Superintendent Resume
Apply the best resume writing tips you learned from this guide into practice by working on your own using Resume4Dummies' free resume builder! However, if you're not confident with your writing skills and would rather trust expert assistance, we've got you! Check out our professional resume writing services that would surely propel you toward the job you're aiming for. For more details, contact us now and see how we can offer you the career help you deserve.