Just like any other careers in the healthcare field, dentists are licensed to provide dental services and treatment to patients. They are expert at performing different dental procedures with the goal of preventing gum diseases, maintaining the cleanliness of our teeth, and addressing our oral health needs. If you're planning to apply for a job as a dentist, a well-written dentist resume effectively highlights your skills to show your capability to take on the role.
In this guide, we'll discuss basic information about dentists, including the career outlook and salary. We'll also give you effective tips on how to craft an interview-generating dentist resume, plus a resume example created by one of our expert resume writers.
What is a Dentist?
As one of the oldest professions in the healthcare industry that specialize in oral health, dentists play a vital role in promoting good dental hygiene to keep our teeth clean and healthy. Since they are licensed to provide dental services, these professionals are the go-to persons for fractured teeth repair, cavity filling, and tooth decay removal. Meanwhile, to ensure that patients receive total quality dental care, dentists work closely with dental hygienists, dental assistants, and laboratory technicians.
According to the United States Bureau of Labor Statistics (BLS), the job outlook for dentists is estimated to increase by 8% from 2020 to 2030. Moreover, approximately 5,000 job openings for this position are forecasted every year; the majority of which due to the need to replace workers who have either changed careers or left the workforce.
What Does a Dentist Do?
Apart from their primary responsibilities, dentists also perform a wide array of tasks to make sure they provide quality dental care services. These include the following: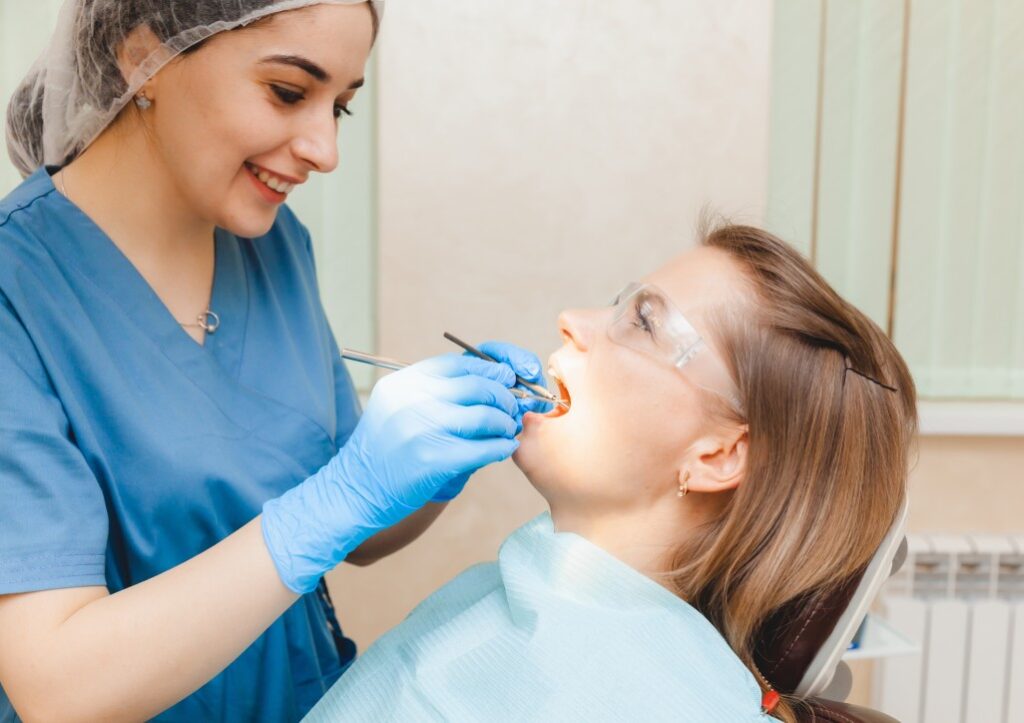 Formulate treatment plans to resolve any dental health issues;
Administer and prescribe medications to reduce pain and improve patient health;
Educate patients on proper oral care and oral health best practices;
Conduct oral screenings to determine diseases and infections;
Applying whiteners, sealers, and prosthetics;
Clean teeth and remove plaque;
Design and fit dental prosthetics, such as dentures, bridges, and crowns;
Perform surgeries on diseased tissues and bones;
Install braces to correct teeth alignment or placement; and
Examine patients for dental and jaw diagnoses
Dentist Salary
Ever wonder how much a dentist makes? According to Salary.com, the average salary of dentists in the country as of June 2022 is $175,651, ranging between $153,064 and $202,806. However, take note that salary ranges may differ depending on a number of factors, such as years of experience, skills, and credentials.
As per BLS, on the other hand, the median annual wage for dentists in May 2021 was $163,220. Nonetheless, their salary still varies as some dentists have their own clinic working by themselves or with a small staff; while some dentists work with their partners in their practice. Additionally, dentist salaries also vary from one state to another. To give you an idea, below are the top paying states for dentists, along with their annual mean wage:
Delaware – $233,860
New Hampshire – $225,140
Oregon – $207,370
Rhode Island – $206,600
Connecticut – $197,910
Effective Dentist Resume Writing Tips
To easily land this job, you would need to create an interview-generating dentist resume. This means that you have to prepare a job application document that both impresses hiring managers and passes the applicant tracking systems. That being said; here are some effective tips on how to write your dentist resume.
1. Make use of the appropriate resume format.
Choosing the right resume format to highlight your qualifications as a dentist increases your chances of passing the resume screening. Hence, among the four formats, make sure to use one that showcases your strengths and best suits your experience.
2. Choose simple yet attractive resume layout.
The appearance of your dentist resume, like any other factors to consider when writing your job search tool, plays a vital role in your job application. In fact, resume layout helps grab the hiring managers' attention. Therefore, it's also crucial to choose an eye-catching design while keeping your resume professional-looking.
Must-read Article: Your Guide in Choosing the Best Resume Template for Your Job Application
3. Put your complete and correct contact information.
Located at the top of your resume, include your complete name, mailing address, phone number, and professional email address. As one of the most important details of your application document, make sure that your contact information are complete and correct. Doing so can help you avoid missing job interview invites.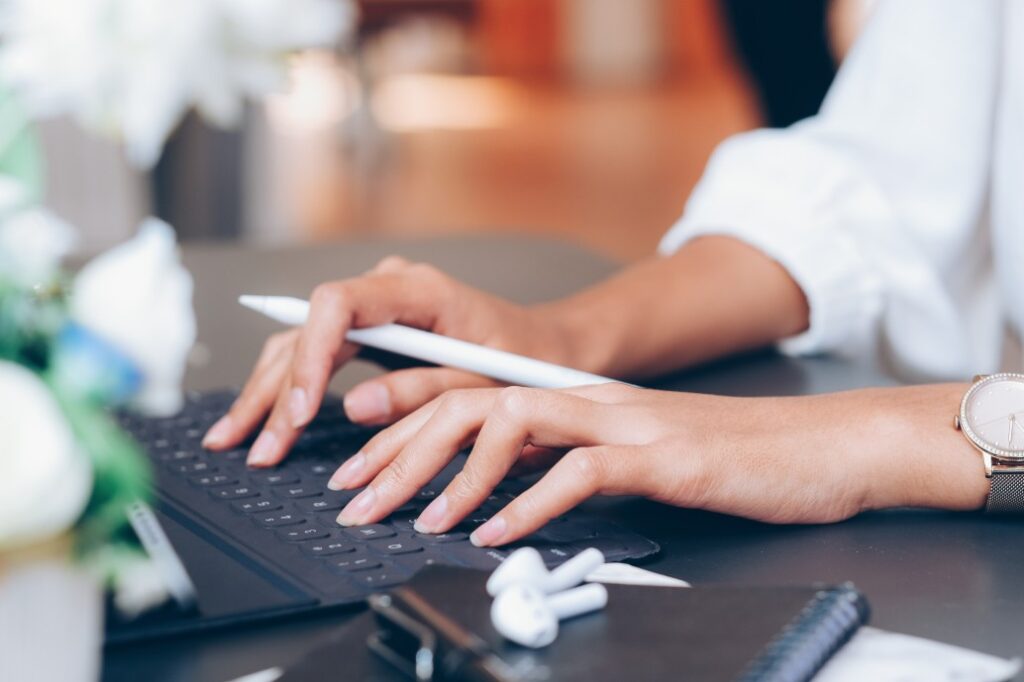 4. Craft a brief yet striking resume summary.
Studies show that hiring managers review a job candidate's resume in an average of six to seven seconds. Hence, it's highly recommended to highlight what you can contribute to their organization and mention why you're the perfect fit for the job under this portion. This will keep hiring managers engaged in reading your job search document.
The chances of grabbing the attention of hiring managers increase when you list your skills and expertise on your dentist resume. Plus, doing so lets the employers know that you have the qualifications they are looking for in a candidate. That said; avoid putting information that are irrelevant and do not add value to your application.
6. Mention your achievements and notable contributions.
Of course, don't forget to include your accomplishments and contributions you made over the course of your career. These details will serve as your edge and can help you stand out among other candidates.
Expert Tip: It's also crucial to know the latest resume trends to effectively secure the job you're applying for.
Dentist Resume Sample
Aside from the resume writing tips mentioned above, another way to help you craft your own job search document is through resume examples as these will help you visualize how a job-winning tool should look like. Thus, we have prepared a dentist resume sample to guide you in creating your document.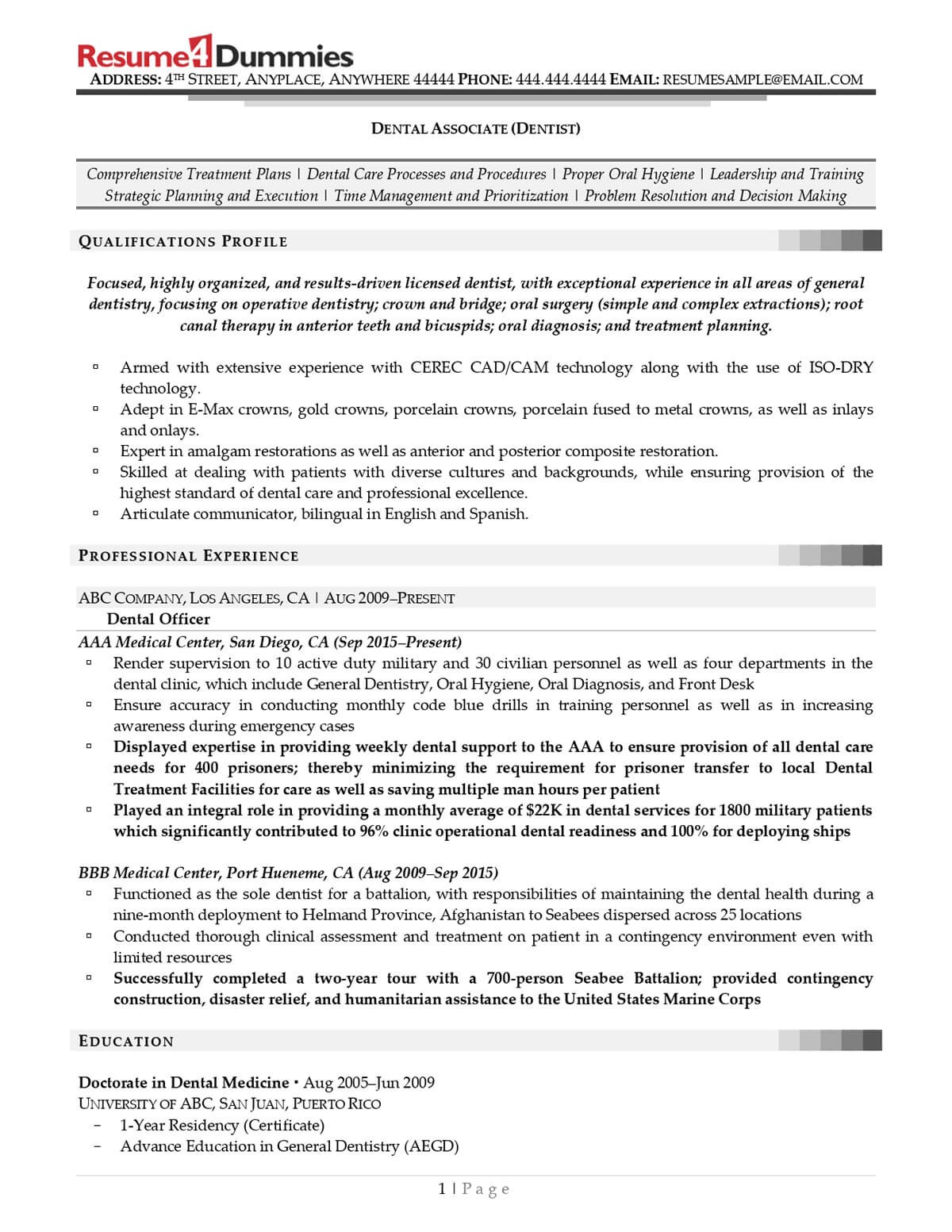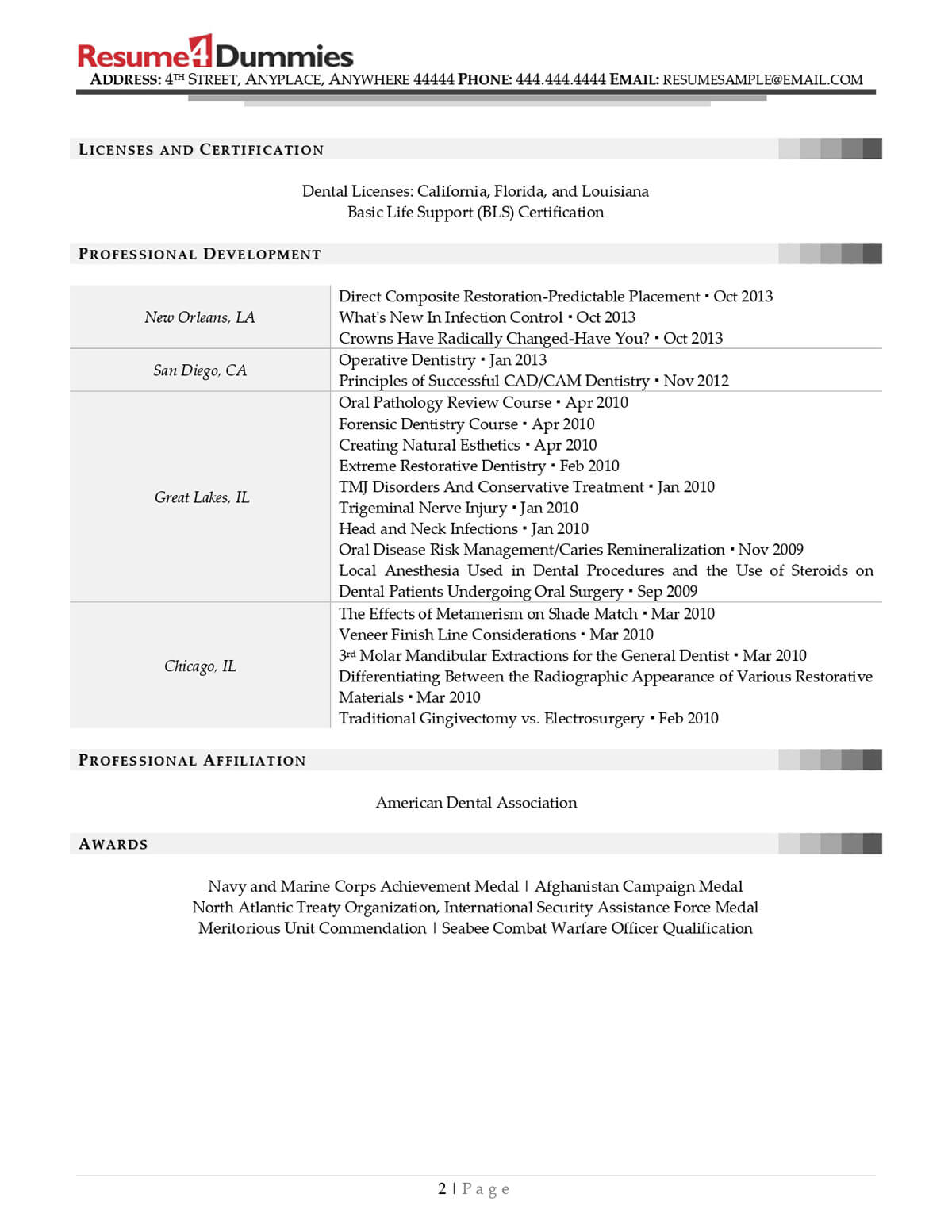 Download this dentist resume sample.
Last Check on Your Dentist Resume
Before submitting your dentist resume to your target employer, don't forget to review it to make sure it is error-free and all the necessary information are included in order to get your resume to the pile of accepted applications. That said; below is a quick rundown to help you in writing your own document.
Use the appropriate resume format and choose a simple yet attractive resume layout.
Include your complete, correct, and active contact details.
Write a resume summary that highlights your best feats, instead of objective-type statement.
Highlight your skills and expertise and remove irrelevant and unnecessary information.
Enumerate your accomplishments and notable contributions you provided throughout your stint.
Secure Your Dream Job with a Dentist Resume
Now that you have an idea how to write a dentist resume based on the tips and resume example we've provided, are you ready to try it on your own? With Resume4Dummies' resume builder, you have the freedom to create and customize your job search tool and secure the position you're targeting!
Nonetheless, if you need the help of experts in preparing your document, we've got you covered! Check out our best resume writing services today and we'll assist you land your dream job.