As an electrical engineer, you've definitely mastered and applied the principles of electricity, electronics, and electromagnetism to develop electrical products and systems. Despite the skills that you have, writing your own resume is not your forte. Having that said, here's a guide on how to create an electrical engineer resume and stand out among the rest of the candidates.
What is an Electrical Engineer?
Electrical engineers play an integral role in specialized categories that involve power generation, transmission systems, motors, and control systems. They are the ones responsible for the design, development, testing, and supervision of manufacturing electrical equipment. Many companies rely on electrical engineers for their in-depth understanding of electronic theory and contributions to the manufacturing industry.
Electrical engineers are experts in various industries such as research and development, engineering services, manufacturing, telecommunications, and the federal government.
What Does an Electrical Engineer Do?
Here are some of the top sales manager duties you'll perform once you land this post:
Make plans using detailed drawing
Prepare estimates and budgets
Create accurate project specifications
Design engineering experiments
Create technical reports for customers
Complete regulatory documents concerning safety issues
Electrical Engineer Salary
The average salary of an electrical engineer is $94,255 per year in the United States. The salary of an electrical engineer depends on the years of experience of a professional. For entry level professionals, the average salary per year is $87,676. On the other hand, professionals with more than 10 years of experience have an average pay of $113,126 per year.
Effective Electrical Engineer Resume Tips
Due to technological advances, the overall employment for electrical engineers is projected to grow by 3% from 2019 to 2029, according to BLS. Therefore, updating your resume is a must.
To give you an idea on how to make a compelling electrical engineer resume, start with finding out what you might be missing. Read these tips to write your resume content with ease.
Layout and content both play a crucial part in making your qualifications stand out. That said, make sure that your resume is readable and has a clean formatting. After formatting, go over the information that should be included on your resume. State your experience along with the skills that are in line with the job posting. Since electrical engineers complete a lot of projects, provide the details of each project. Most importantly, proofread your resume to make sure that there are no errors.
If you're still not confident with writing your own resume, you may check out some resume skills section writing tips to follow to revamp your resume. It's never too late to tailor your resume based on the job demands.
Electrical Engineer Resume Sample
Interested to make your mark in the industry? Bring your qualifications at the table by acing your job application tool. Check out this electrical engineer resume example to get you started.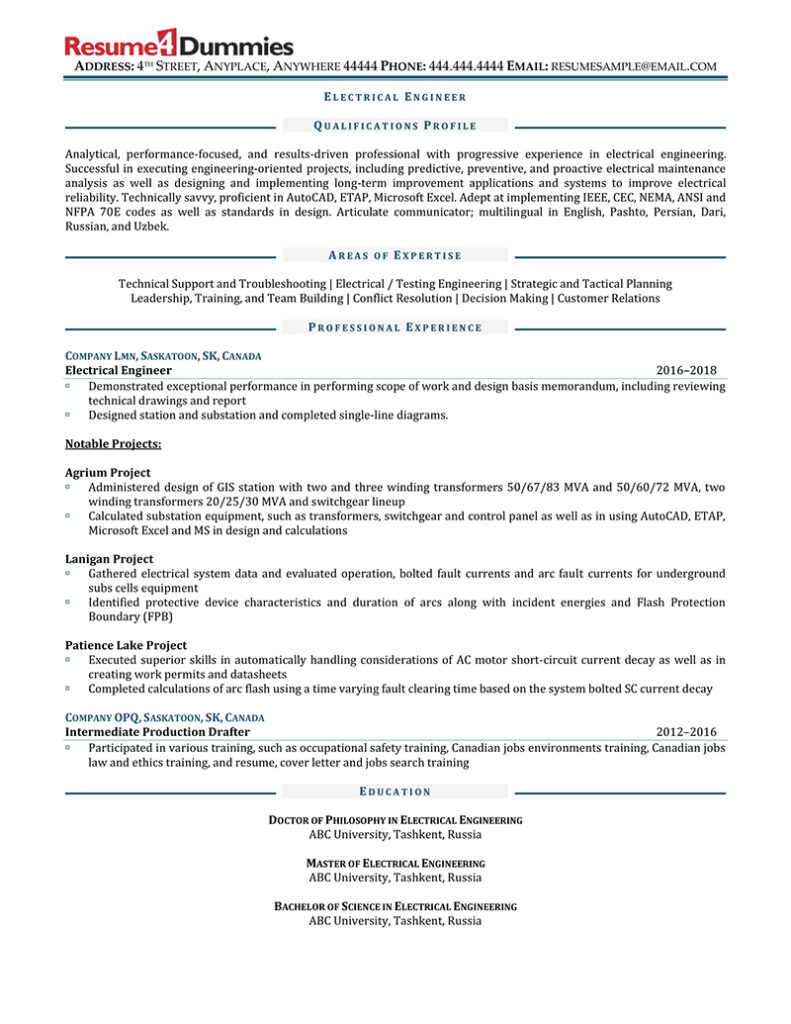 Download this electrical engineer resume sample now.
Last Check on Your Electrical Engineer Resume
Before sending out your resume, do a final resume check through this list.
Make sure your resume contains your contact details.
Write a striking summary statement.
List your areas of expertise, skills, or core competencies to further prove why you're fit for the job.
Highlight your work history relevant to your target job.
Mention your achievements to serve as support for your work experiences.
Applying for a job is easy when you are equipped with an effective job application tool. If you have no clue on where to start in writing, let our best resume writers help you. Aside from resume writing services, Resume4Dummies provides a wide range of free resume templates and samples, and job descriptions. Do you need help with your resume? Check our resume services now.