Information technology (IT) managers hold one of the toughest and most challenging jobs across all trades. As it evolves by leaps and bounds, firms continue to seek and employ professionals who can manage computer systems and networks crucial in business success. The increased demand could be a signal for you to pursue a high-level IT post in an industry where you'd excel. To help ease your job search burden, we've handpicked an output from our IT manager resume examples.
What is an IT Manager?
IT managers oversee the information technology processes and operations of companies. They are responsible for taking care of the technology aspect of the business and leading a team of programmers, software engineers, and IT staff.
To secure this position, you need to have a degree in information technology or computer science. It's a plus if you have a master's degree in related fields or business management. Earning certificates relevant to the position will also give you the advantage. Therefore, make sure to highlight these qualifications on your resume.
What Does an IT Manager Do?
Aside from your credentials, you have to have a targeted resume to increase your chance of getting an interview invite. Thus, you need to carefully examine the job description posted by the company you're applying for. Here are some of the common responsibilities of an IT manager.
Analyze business needs and propose technical solutions with a completion timeframe.
Ensure the effectiveness and efficiency by developing, providing, and continuing to support strategic plans.
Study business goals, strategies, practices, and previous projects to conduct direct research in emerging technology.
IT Manager Salary
Based on the latest post of ZipRecruiter, the median salary of an IT manager is $87,289 a year in the US. That is around $42 an hour. Salary rate differs from state to state. If you want to get an annual salary as high as $108,302, consider applying to companies in Sunnyvale, California.
Effective IT Manager Resume Tips
IT manager is a position that puts so much value on the skills of the job applicant. Hence, it's essential that you write your resume effectively. Here are some tips to heed in writing a job-winning IT manager resume.
Place your contact details at the topmost portion or the header of your piece is your contact information. This includes your name, home address, phone number, and email address.
As a seasoned professional, you should ditch the obsolete objective statement and replace it with a profile summary instead. This modern way of presenting your qualifications is a sure booster to your marketability as it zeroes in on traits and value offer.
List your core competencies below your Qualifications Profile. These include your savvies that relate to the use of drawing and diagramming programs, network simulation tools, network operating systems, and the basic software programs and applications.
IT Manager Resume Sample
To give you an overview of what a well-written IT manager resume looks like, here's one of the best resume samples. Learn from our expert writers how to write one.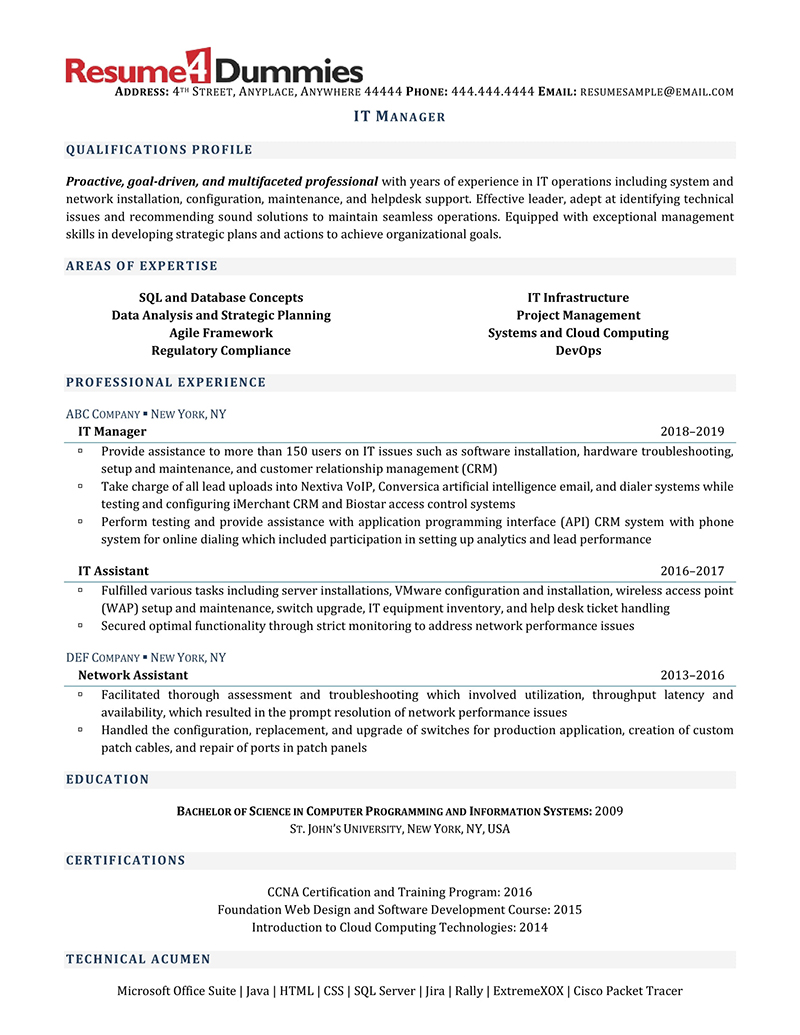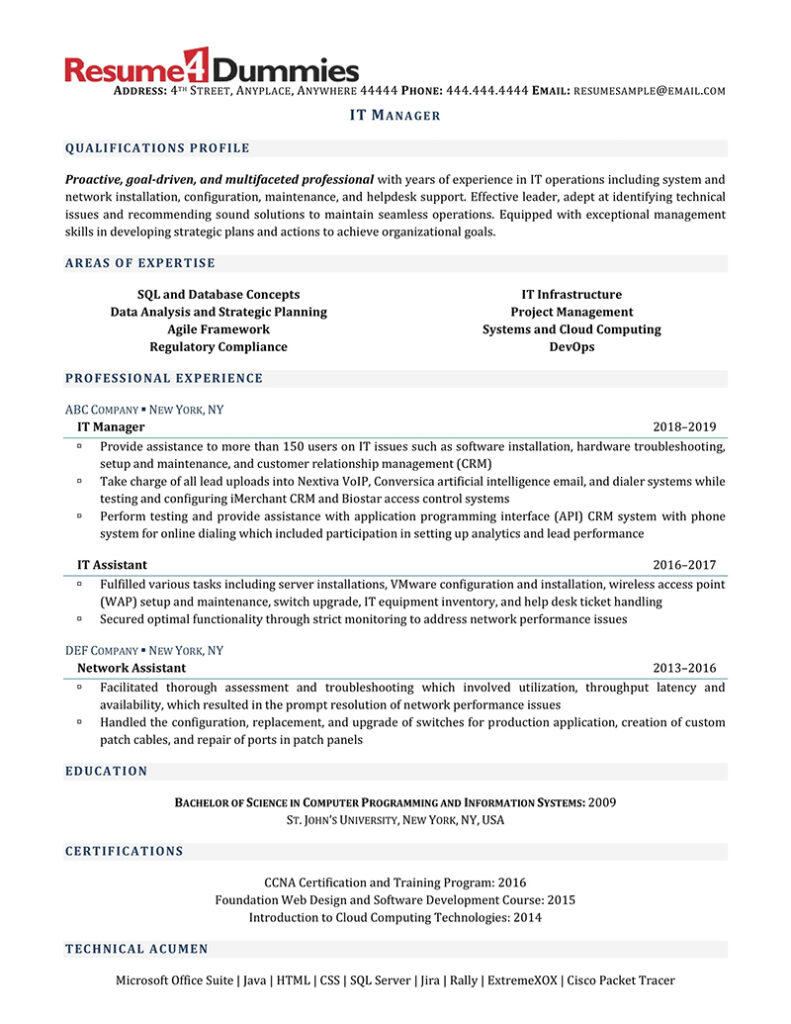 Download this IT manager resume sample now.
Last Check on Your IT Manager Resume
Before sending out your resume, do a final resume check through this list.
Make sure your resume contains your contact details.
Write a striking summary statement.
List your areas of expertise, skills, or core competencies to further prove why you're fit for the job.
Highlight your work history relevant to your target job.
Mention your achievements to serve as support for your work experiences.
Still not confident in writing your resume? Don't worry, Resume4Dummies has got your back. You can use our Resume Builder for templates and help in writing yours. Additionally, you can hire our resume writing services so that you can focus on your job hunt. Give us a call.