Senior network engineer resume examples are made for network engineers who aim to climb up the corporate ladder. This sample is made to help you know the key parts of a resume. You will also know how to stir words to grab your reader's eye and land this job.
What is a Senior Network Engineer?
Senior network engineers make sure that a network is stable. They focus on troubleshooting as well as network management. This mid-level role needs both logical and management skills. They are tasked to design and implement network infrastructure, support, and lead a group of junior network engineers.
What Does a Senior Network Engineer Do?
Senior network engineers are responsible for making sure that the company's network works efficiently. They collect data from staff to see if new issues surfaced. Thus, they should know how to identify the root cause and come up with sound solutions. They are expected to fix serious issues involving network systems and lead engineers in doing their tasks. Also, they have to make sure to build a strong bond with the team to foster a healthy working environment, but at the same time retain network policies adhered to standard rules.
Senior Network Engineer Salary
The median salary of senior network engineers is $101,692 a year, according to Payscale dated last April 22, 2021. This is around $48.34 an hour in the United States. However, this may vary depending on your credentials. For some companies, they only employ senior network engineers with four (4) years of experience in the field. Aside from that, employers also consider the skills stated below in giving an offer.
Technical know-how in diverse hardware
Extensive background as a network engineer
Broad knowledge in routing and communication protocols
Coding skills
Degree in Computer Science, and related fields
Certifications from trusted firms
Communication skills—both written and verbal
Effective Senior Network Engineer Resume Tips
Having a targeted job search tool helps you market yourself to potential employers and prove that you are serious about getting the job. However, it's not enough that you know only the nature of the job and its requirements. When writing a resume, you must also know what words are needed to point out your skills. Here's a senior network engineer skills list to help you.
Problem-solving skills
Broad knowledge of coding languages
Strong leadership and team-building skills
Verbal and written communication skills
Background in network tools
Hands-on background in Core TCP/IP networking
Strategic planning skills
People skills—ability to deal easily with vendors
Good troubleshooting skills
You must highlight these skills in writing your resume because they will help you stand out among the other candidates. Also, don't forget to heed other resume tips to increase your chance of getting an interview invite.
Senior Network Engineer Resume Sample
So now you know the must-haves in making a resume. For this purpose, here's one of our senior network engineer resume examples to guide you. Also, this has great keywords that will help you get the job.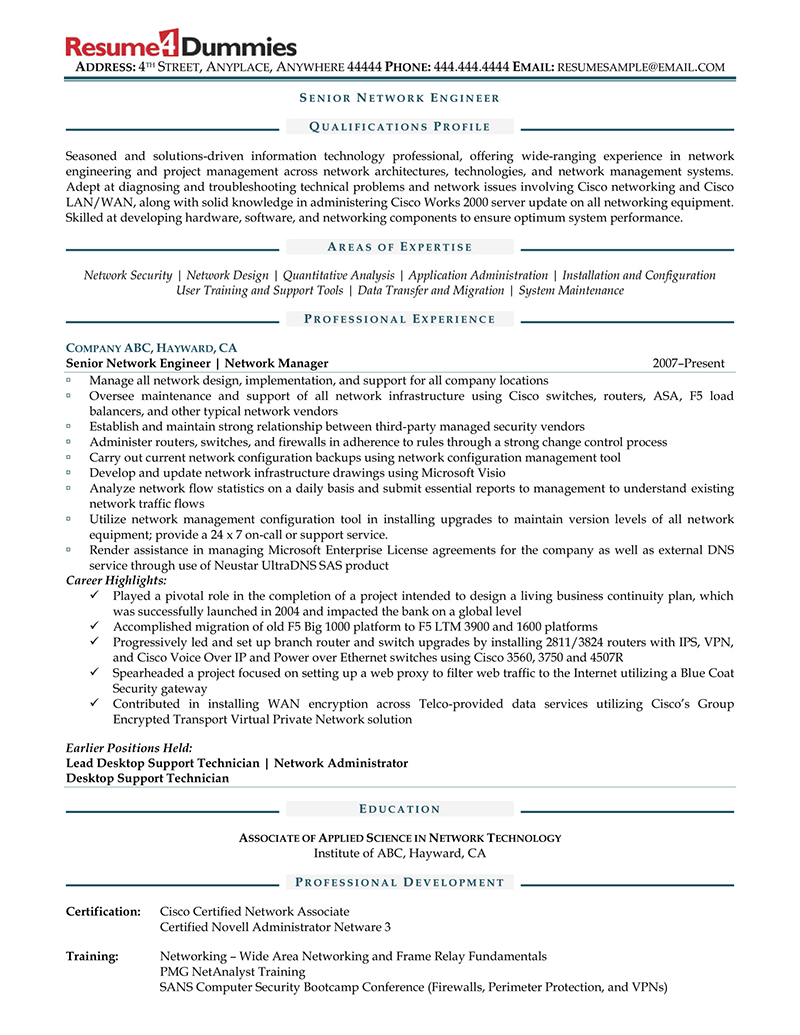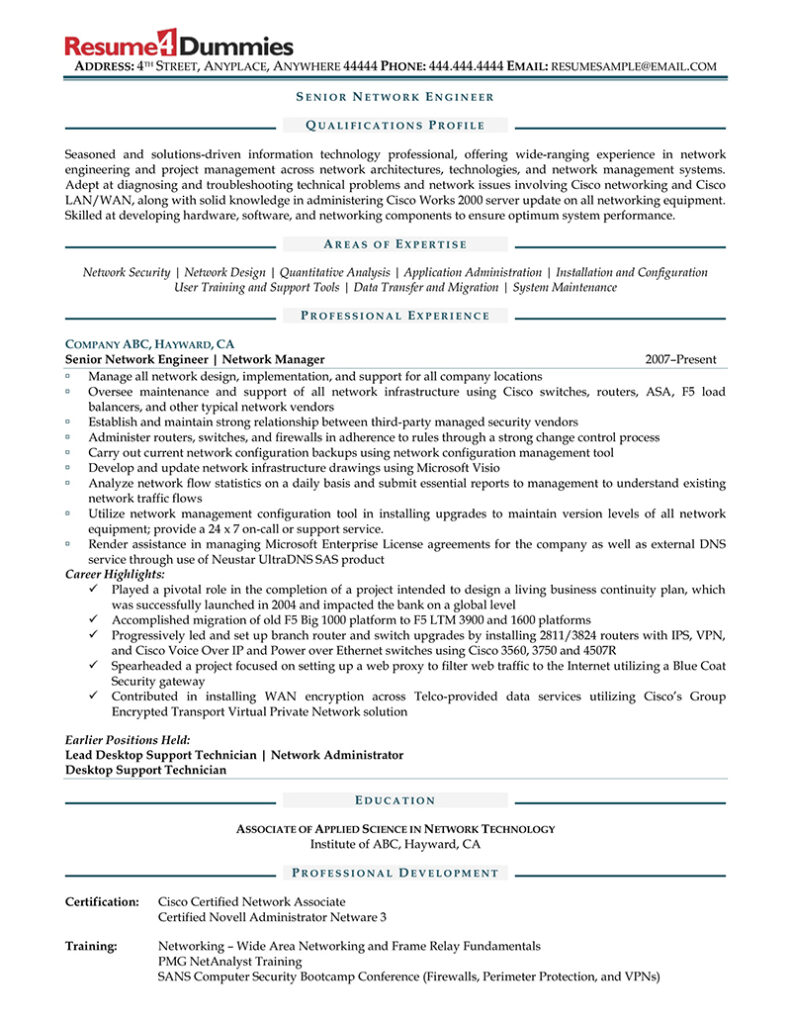 Download this sample senior network engineer resume PDF now.
Last Check on Your Senior Network Engineer Resume
Before sending out your resume, do a final resume check through this list.
Make sure your resume contains your contact details.
Write a striking summary statement.
List your areas of expertise, skills, or core competencies to further prove why you're fit for the job.
Highlight your work history relevant to your target job.
Mention your achievements to serve as support for your work experiences.
Kick start your career in this field! Don't know much about keywords? Try some more of our resume examples. Need help with your senior network engineer resume? We are willing to help you! For more details, feel free to contact us.