Customer satisfaction is one of the most important goals in every business. This is because it dictates whether the company is a success or a failure. To ensure the quality of the services, companies hire professionals dedicated to making sure that all customers will be satisfied by understanding their needs and communicating them to the management. To know more about this position, read on and get ready to write your business banking relationship manager resume.
What is a Business Banking Relationship Manager?
Business banking relationship managers are the mediator between the customers and the bank. They are responsible for ensuring that clients get the best service and making the company understand their requirements and complaints. This is an important task because it paves the way to the company's growth. Also, their role is a big help in coming up with the best strategy to achieve success.
What Does a Business Banking Relationship Manager Do?
Aside from mediating between the customers and the company, business banking relationship managers aim to effectively communicate with the stakeholders to achieve advantageous outcomes. They have to market the service without neglecting the needs and concerns of the customers. Plus, they have to track and inform both clients and the management about trends that could affect the business relations.
Business Banking Relationship Manager Salary
Business banking relationship manager's salary ranges from $58,000 to $125,00 annually. Last month, Payscale recorded a median salary of $86,599 a year. That is around $7,216 a day. This could vary depending on your credentials, work experience, skills, and location.
Effective Business Banking Relationship Manager Resume Tips
To land a business banking relationship manager position, you need an effective job search tool. As mentioned earlier, this post requires skilled professionals who excel in public relations. Thus, highlighting your people skills such as communications, collaboration, leadership, problem-solving, emotional intelligence, and empathy, together with your hard skills is beneficial to your application. Aside from that, don't forget to use the right keywords for your target job. This helps your tool pass the ATS. Doing so could help potential employers weigh if you're worth giving a shot.
Business Banking Relationship Manager Resume Sample
Writing a resume could be tough, especially if you're a new graduate or new in the industry. To help you with your job search tool, check out this resume sample tailored to business banking relationship managers. You can use this as a guide in writing your resume.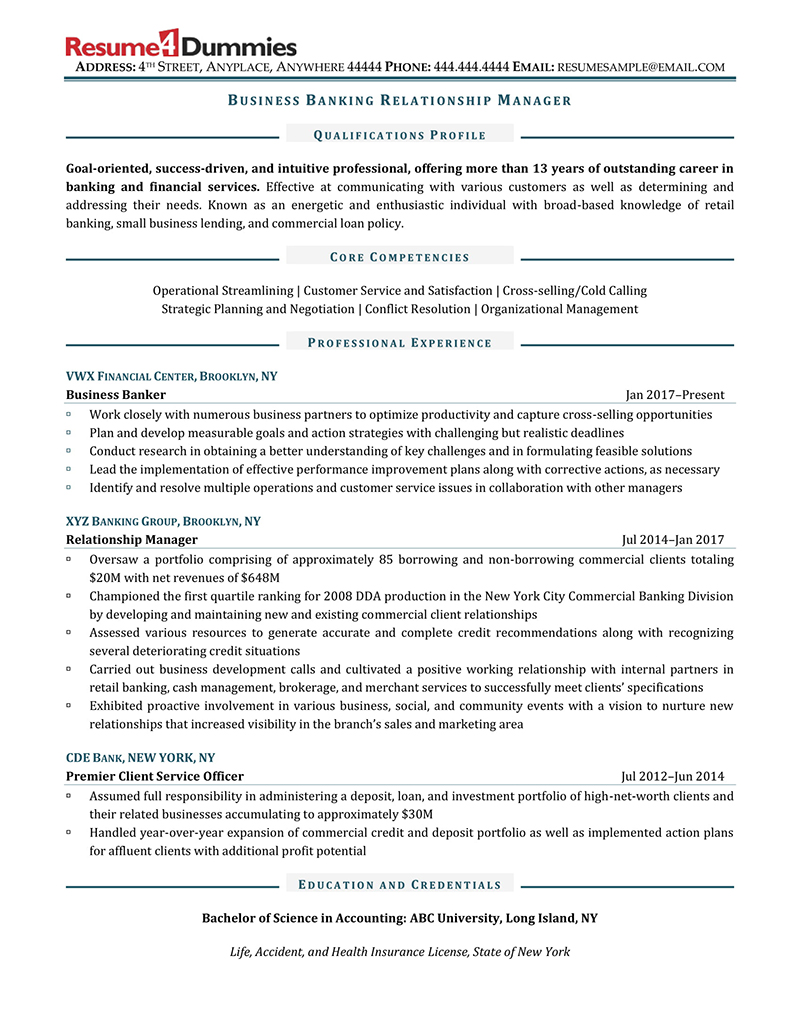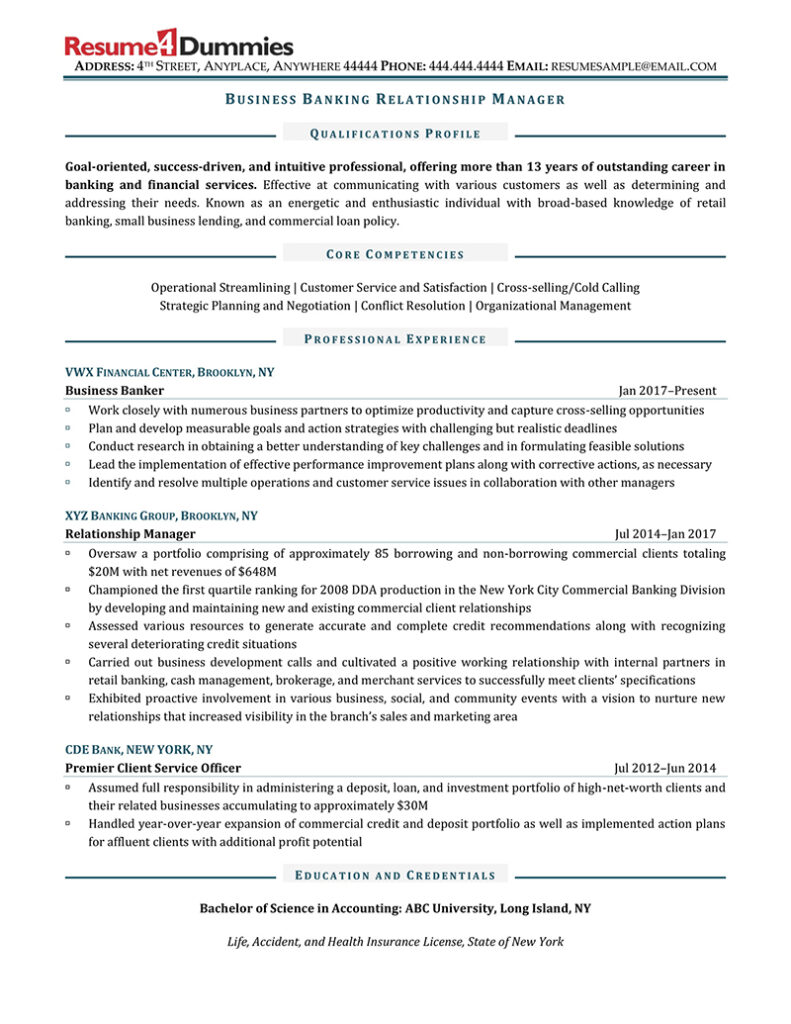 Download this sample business banking relationship manager resume PDF now.
Last Check on Your Business Banking Relationship Manager Resume
Before sending out your resume, do a final resume check through this list.
Make sure your resume contains your contact details.
Write a striking summary statement.
List your areas of expertise, skills, or core competencies to further prove why you're fit for the job.
Highlight your work history relevant to your target job.
Mention your achievements to serve as support for your work experiences.
If you're still not confident that you could write a job-winning resume, don't worry. We got your back. You can check our resume templates to give you an idea how a BRM manager resume should look like. If you want to know more, don't hesitate to reach us.