Telemarketing services are provided by companies in this field on a contract or fee basis. Call center professionals use the phone or email to advertise their clients' products or services, accept orders, solicit donations, and deliver information on their behalf. Customers of clients are served through call centers, which provide phone-based services and help.
What is a Call Center Director?
In a remote customer service facility, call center directors supervise daily operations. The key responsibilities in this position include managing all call center employees and ensuring that they meet the company's production goals. In addition, they check performance metrics such as call efficiency, low abandonment rate, high conversion rates, staffing utilization, acceptable turnover, and financial performance. Their commitment to excellence is demonstrated through continuous staff development programs enhancing employee engagement, service, knowledge, skills, and morale.
What Does a Call Center Director Do?
A call center director's job includes coordinating all activities and overseeing the operation of the call center. A professional call center director's resume outlines the following responsibilities: developing operational tactics and strategies; ensuring that high customer service standards are adhered to; monitoring calls; budgeting and resource allocation; and analyzing call center performance. With regard to the staff supervisory role, a call center director is in charge of staff recruitment and training; performance evaluation with key metrics; and report review.
Call Center Director Salary
Since a call center director has proven their success in the industry when it comes to delivering results, their expertise and experience deserves a compensation fit to their position. That said, the national average salary for a call center director is $95,382 per year in the United States.
Effective Call Center Director Resume Tips
To ensure a successful job search, another thing you need to do is create an imposing resume that can help advance your job search. Below are effective ways to write your call center director resume.
Demonstrate your strength. A resume is useful if it highlights your most important abilities. Emphasis the abilities that distinguish you from your peers. Put your greatest abilities that are related to the product manager job description at the top of your resume. This works every time.
Your purpose should be clear. Keep in mind that your main goal is to receive a return call. Therefore, omit the inappropriate details and tailor your resume to the job you want.
Pay attention to details. Your chances of winning the job will improve if you have a resume that is not just well-optimized but also visually appealing. With this, make sure your resume follows the right format.
Include industry keywords. Most companies now use Applicant Tracking System (ATS); so, make sure that the best keywords are shown in your resume.
Proofread. An error-free resume is a huge plus. When you search for an apparel product development manager resume sample, you will find that the details are clear and precise. Make sure to edit your resume before you send it.
To summarize it, leadership, customer service, teamwork, strong communication and interpersonal skills, and managerial skills are all highlighted in the best resume samples for call center directors. Although substantial formal education is not required for call center directors, most candidates have at least a bachelor's degree on their resume.
Call Center Director Resume Sample
So now you know the must-haves in making a resume. For this purpose, here's one of our call center director resume examples to guide you. Also, this has great keywords that will help you get the job.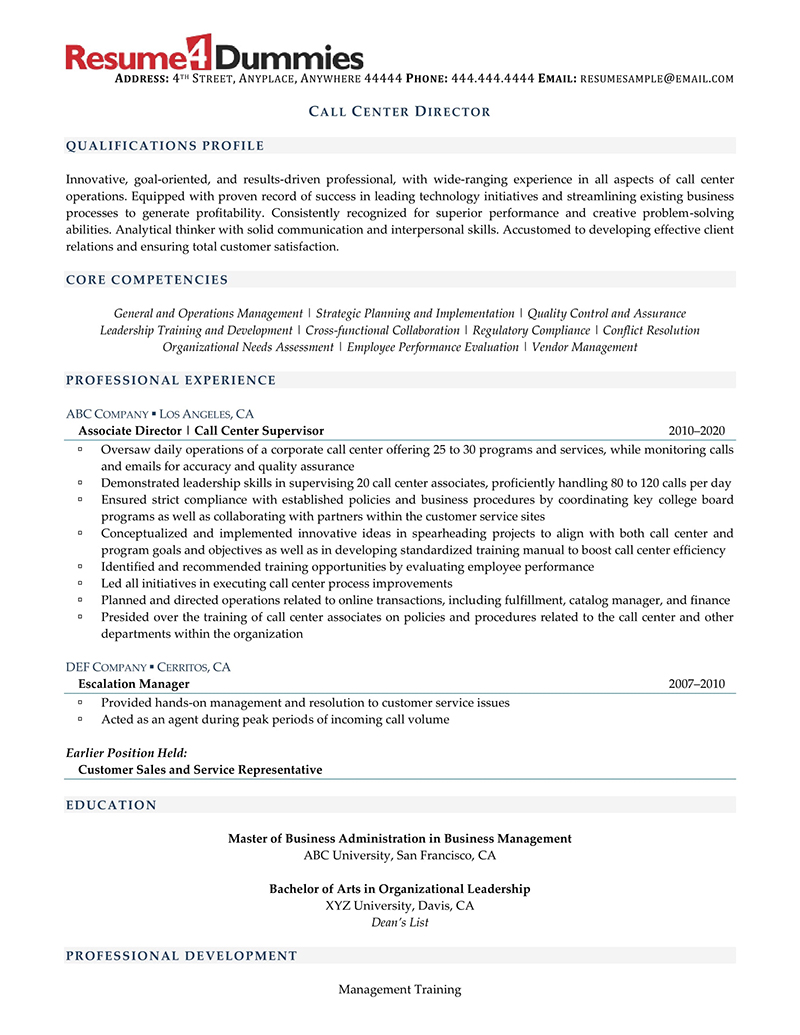 Download this call center director resume sample now.
Last Check on Your Call Center Director Resume
Before sending out your resume, do a final resume check through this list.
Make sure your resume contains your contact details.
Write a striking summary statement.
List your areas of expertise, skills, or core competencies to further prove why you're fit for the job.
Highlight your work history relevant to your target job.
Mention your achievements to serve as support for your work experiences.
You are on for a big challenge now. Start building your resume for a call center director. Don't know where to begin? Resume4Dummies is here to help. We provide the best resume writing services and the most helpful resume resources. You can also use our Resume Builder to revamp your resume. Contact us now and we'll help you right away!