This pandemic gives a high demand towards online businesses and jobs, including call center professionals. Today's situation maximizes the use of digital transactions, and this trend leads to opportunities in the call center career. But this opportunity produced a large volume of job hunters creating a tough competition in the job search. Are you one of those aspiring job hunters to land a career in a call center? Read on and advance your career with the call center professional resume example below.
What is a Call Center Professional?
A call center professional manages call center agents and is responsible for the training, hiring and supervising of employees. They set goals for the team, manage and create solutions for every problem and challenges, and they give motivation for the team members to deliver exceptional customer service. Furthermore, a call center professional leads the team for excellent results and company success.
What Does a Call Center Professional Do?
Aside from the above mentioned, a call center professional should work with the right manner and right goal. Given that, here are the duties of a call center professional that you should take note of.
Recruitment and training of qualified candidates to meet client needs.
Motivates and coaches team members to help them deal with difficult client calls.
Develop goals for the day-to-day operations of the call center.
Carry out effective resource planning to maximize resource productivity, based on people, system and other resources.
Prepare and assess reports to improve client satisfaction.
Reaching out to dissatisfied clients and finding a satisfactory solution.
Assessment of performance using key metrics (accuracy, efficiency, call wait times, etc.)
Call Center Professional Salary
In the United States, a call center professional has an average salary of $57,390 per annum. That pays around $27.59 an hour and is equivalent to $4,782 per month. Furthermore, according to the data of ZipRecruiter, the salary of a call center professional greatly varies from state to state. Generally, the range is from as low as $25,000 to as high as $96,500. Consequently, if you want a high salary, consider the place in your job search and increase your skill level.
Effective Call Center Professional Resume Tips
To ensure a successful job search, another thing you need to do is create an imposing resume that can help advance your job search. Below are effective ways to write your call center professional resume.
Demonstrate your strength. A resume is useful if it highlights your most important abilities. Emphasis the abilities that distinguish you from your peers. Put your greatest abilities that are related to the product manager job description at the top of your resume. This works every time.
Your purpose should be clear. Keep in mind that your main goal is to receive a return call. Therefore, omit the inappropriate details and tailor your resume to the job you want.
Pay attention to details. Your chances of winning the job will improve if you have a resume that is not just well-optimized but also visually appealing. With this, make sure your resume follows the right format.
Include industry keywords. Most companies now use Applicant Tracking System (ATS); so, make sure that the best keywords are shown in your resume.
Proofread. An error-free resume is a huge plus. When you search for an apparel product development manager resume sample, you will find that the details are clear and precise. Make sure to edit your resume before you send it.
Call Center Professional Resume Sample
As I previously mentioned, you need a resume that reflects your skills and qualifications. A resume is your asset that you use to impress hiring managers. It's also a way for you to demonstrate what you can bring them or offer them. To cut it out, check this call center professional resume sample and learn how to create an imposing one.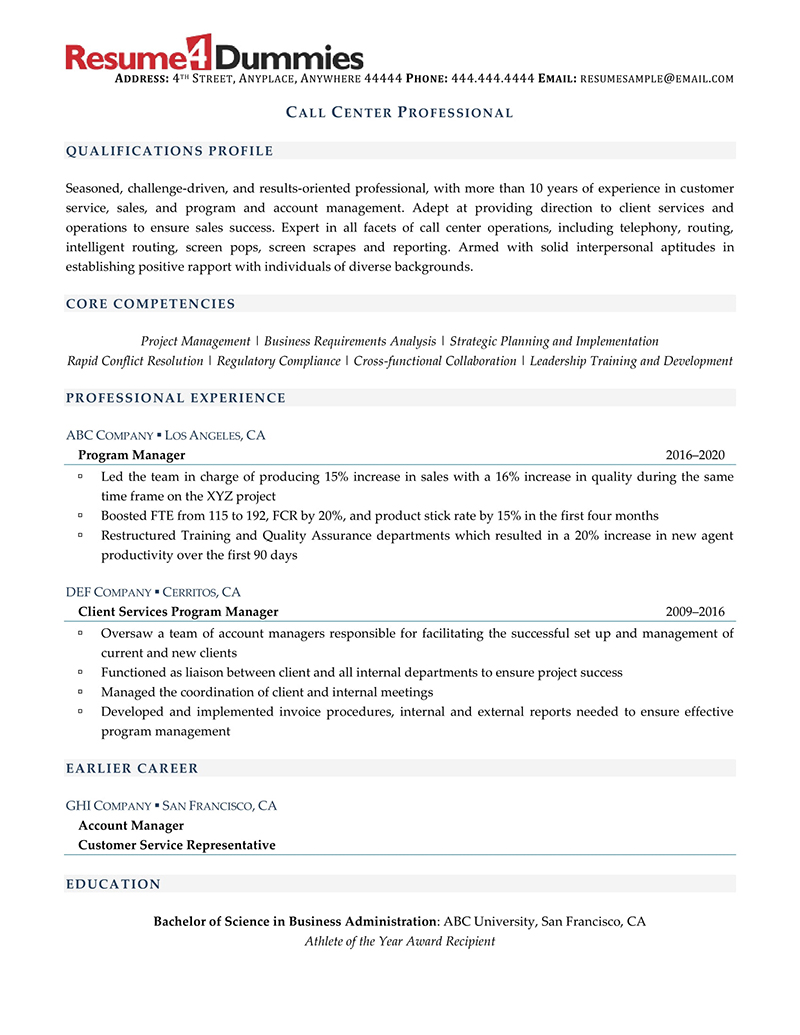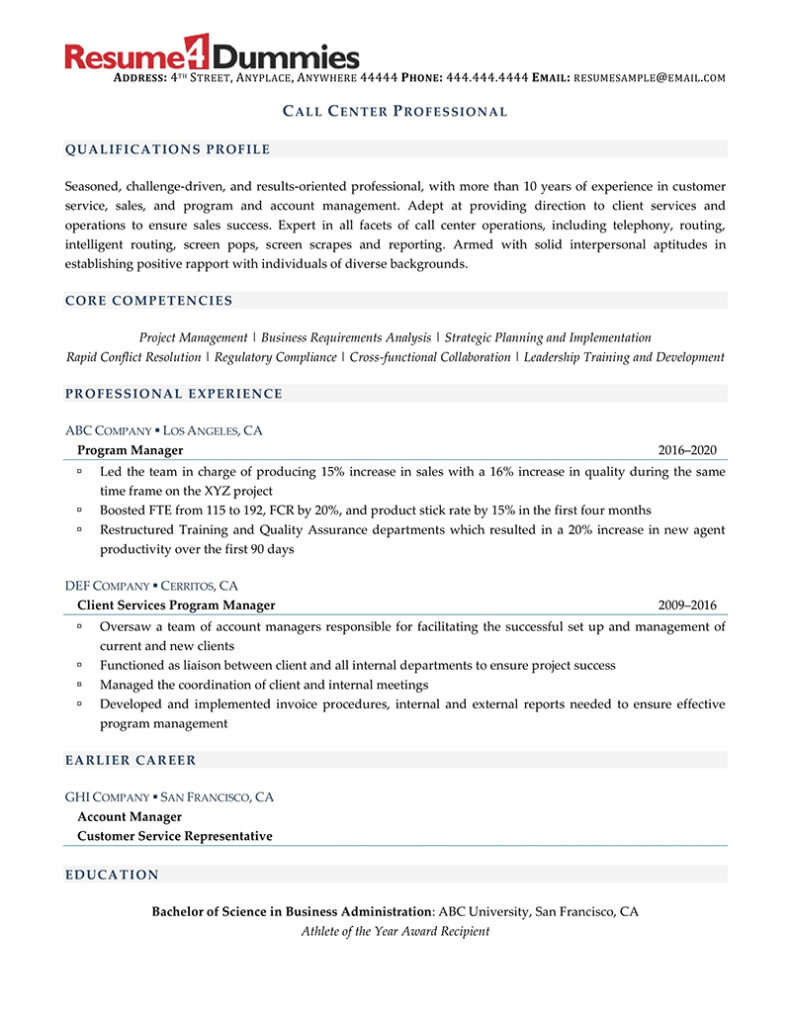 Download this call center professional resume sample now.
Last Check on Your Call Center Professional
Before sending out your resume, do a final resume check through this list.

Make sure your resume contains your contact details.

Write a striking summary statement.

List your areas of expertise, skills, or core competencies to further prove why you're fit for the job.

Highlight your work history relevant to your target job.

Mention your achievements to serve as support for your work experiences
Are you ready to build an imposing resume? You can use our resume builder to help you create a compelling one. We also have more resume templates that can give you additional tips. For more questions and concerns, feel free to contact us.