Are you interested in being part of the science field? What you need is a bachelor's degree in related sciences. Nowadays, the demand for chemists is growing. Thus, apart from having a degree in chemistry, you need the skills to take on the job.
Moreover, if you want to rise above other candidates, it would be helpful if you have the experience in the field. The most prominent branches of chemistry are biochemistry, neurochemistry, nuclear chemistry, and theoretical chemistry. Regardless of the field, you need a resume that stands out. Hence, we have prepared one of the best chemist resumes to help you.
What is a Chemist?
A chemist is a scientist who works with chemical substances, performs experiments, studies the effect of chemical compounds in different situations, and conducts research. The main goal of a chemist is to study and use chemicals to make our lives better. A dedicated professional in this field is a great help to society.
To be an effective chemist, you need to have the qualities such as being analytic, rational, logical, realistic, persistent, and independent. If you have those skills and qualifications, why don't you try this profession. However, to land this job. Make sure to highlight those skills on your resume.
What Does a Chemist Do?
One of the effective ways to secure a chemist position is to have a well-written resume. In order to do this, it's helpful to know what a chemist does. Doing this gives you an idea what to write on your resume. Hence, we have listed some of the duties of chemists.
Develop improved ways to make new plastics, drugs, and alike.
Determine structure, properties, and composition of matter.
Oversee technicians in analyzing components and other materials.
Assist in interpreting and evaluating data.
Carry out lab reports.
Prepare standards and specifications of processes and products.
Communicate well with the team and clients regarding given projects.
Chemist Salary
Chemists have the average annual salary of $56,233 in the USA. That is roughly about $27 an hour. ZipRecruiter recorded a salary as low as $30,000 to as high as $85,000. According to their data, the rate varies from state to state. Thus, if you want to take advantage of the salary increase, consider the location of the company you're applying for.
Effective Chemist Resume Tips
Aside from the location, your priority should be ensuring that your resume is well-written. Here are some of the tips you should heed in writing a chemist resume.
Striking introduction. For your resume to be impactful, use keywords relevant to your target job position. Make sure it's short and direct.
Listed areas of expertise and skills. Include relevant skills and unique qualities on your resume. This helps you optimize your resume for the applicant tracking system (ATS) which most employers use to screen resumes.
Relevant professional experience. Write related work history the way employers can pinpoint the relevance of your experiences to what the job position requires.
Emphasized achievements. Highlight your achievements and qualifications as these help you stand out from the rest vying for the same job.
Chemist Resume Sample
As mentioned earlier, you need a resume that could represent your skills and qualifications. A resume is your tool to impress hiring managers. Plus, it's your way to put out what you can bring to the table. To guide you in writing your resume, check out how our expert writers wrote one.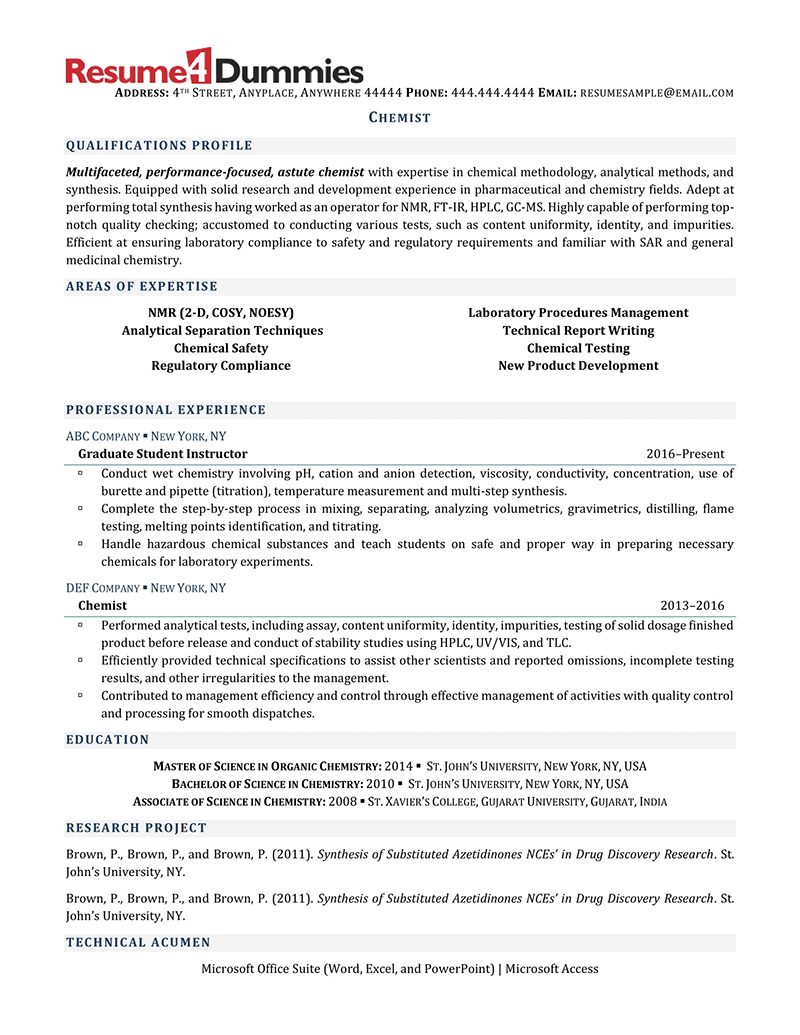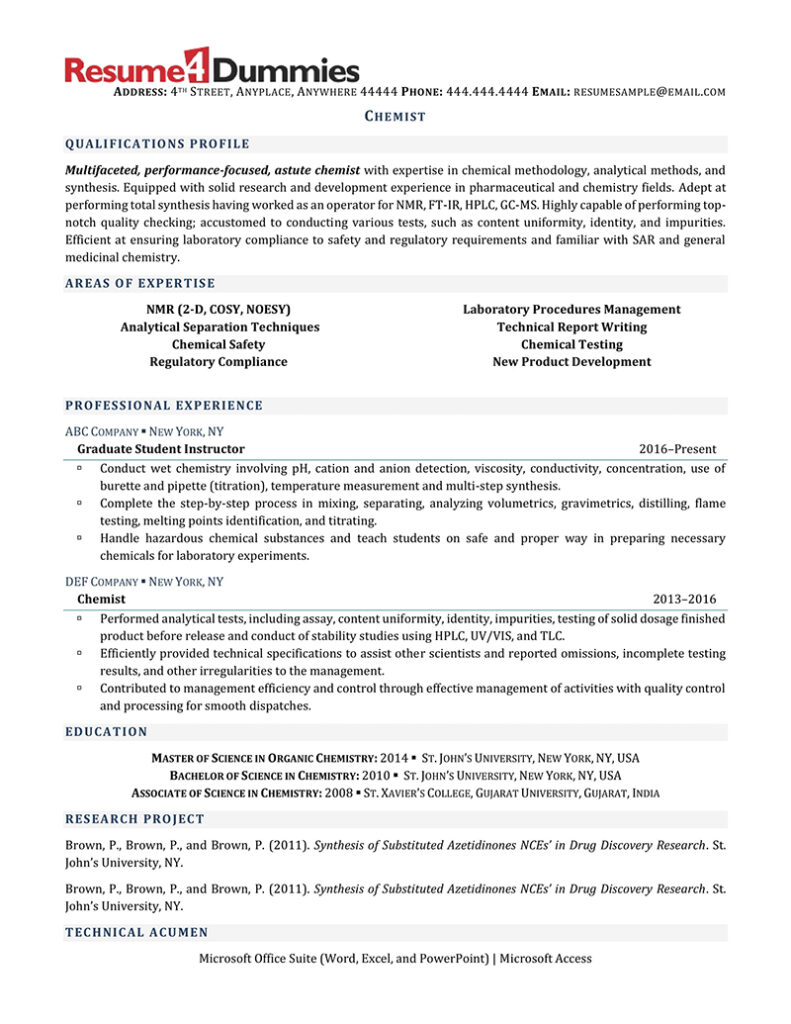 Download this chemist resume example now.
Last Check on Your Chemist Resume
Before sending out your resume, do a final resume check through this list.
Make sure your resume contains your contact details.
Write a striking summary statement.
List your areas of expertise, skills, or core competencies to further prove why you're fit for the job.
Highlight your work history relevant to your target job.
Mention your achievements to serve as support for your work experiences.
Now, it's time to write your resume. You can use our resume builder to help you with your tool. We also have more resume templates to further guide you. Need your resume right away? Seek help from the experts. Hire our best resume writing services which help job seekers receive callbacks.