Experienced in the chemical industry and want to be part of a fermentation plant? This resume example is for you. Having a resume that shows how qualified you are gives you the advantage of getting the attention of a recruiter. Moreover, it helps you get hired. To guide you to achieve that, we have prepared a fermentation supervisor resume example.
What is a Fermentation Supervisor?
This is a managerial position responsible with operations and maintenance of a fermentation plant. A fermentation supervisor is tasked to set schedules for the plant use. Additionally, directs operations while doing administrative tasks.
What Does a Fermentation Supervisor Do?
Highlighting your skills and other relevant qualifications is important to get the attention of hiring managers. Thus, it's advantageous if you know the responsibilities that you're going to take once you get the job. Here are some of the top duties of a fermentation supervisor.
Lead the development and fermentation of products.
Mentor and supervise the fermentation team.
Provide training programs to the staff.
Ensure compliance with all environmental, health, and safety and cGMP regulations.
Fermentation Supervisor Salary
As of July 5, 2021, ZipRecruiter posted that the annual median salary of a fermentation worker is $61,902. This differs depending on the job title. $100,230 for fermentation engineer, $99,567 for senior fermentation scientist, $84,778 for fermentation scientist, $79,648 for fermentation process engineer, and $76,650 for fermentation scientist a year. Considering these data, the annual rate of a fermentation supervisor is close to previously stated jobs.
Effective Fermentation Supervisor Resume Tips
It's important to read the job description carefully. This gives you the idea what skills and credentials to highlight. Other than that, here are some more tips to heed in writing a fermentation supervisor resume.
Striking introduction. For your resume to be impactful, use keywords relevant to your target job position. Make sure it's short and direct.
Listed areas of expertise and skills. Include relevant skills and unique qualities on your resume. This helps you optimize your resume for the applicant tracking system (ATS) which most employers use to screen resumes.
Relevant professional experience. Write related work history the way employers can pinpoint the relevance of your experiences to what the job position requires.
Emphasized achievements. Highlight your achievements and qualifications as these help you stand out from the rest vying for the same job.
Fermentation Supervisor Resume Sample
Let your resume speak for you. Study our resume sample to give you an idea how to effectively place your skills and experiences on your job search tool. Here's one of our best fermentation supervisor resumes.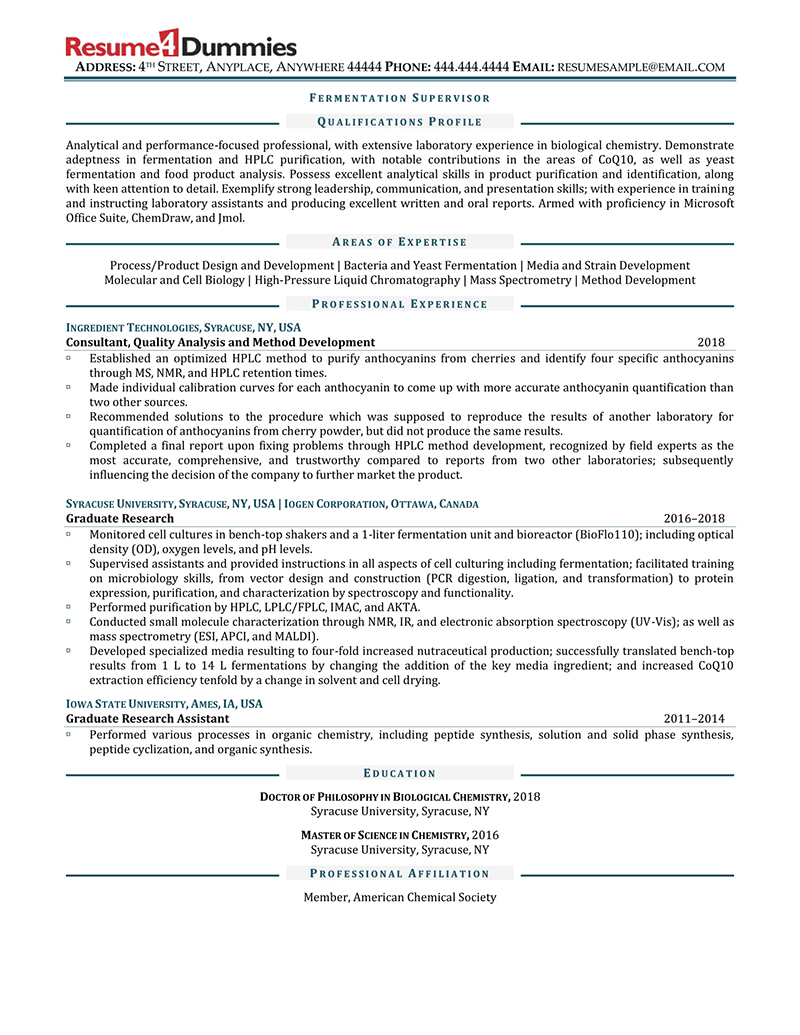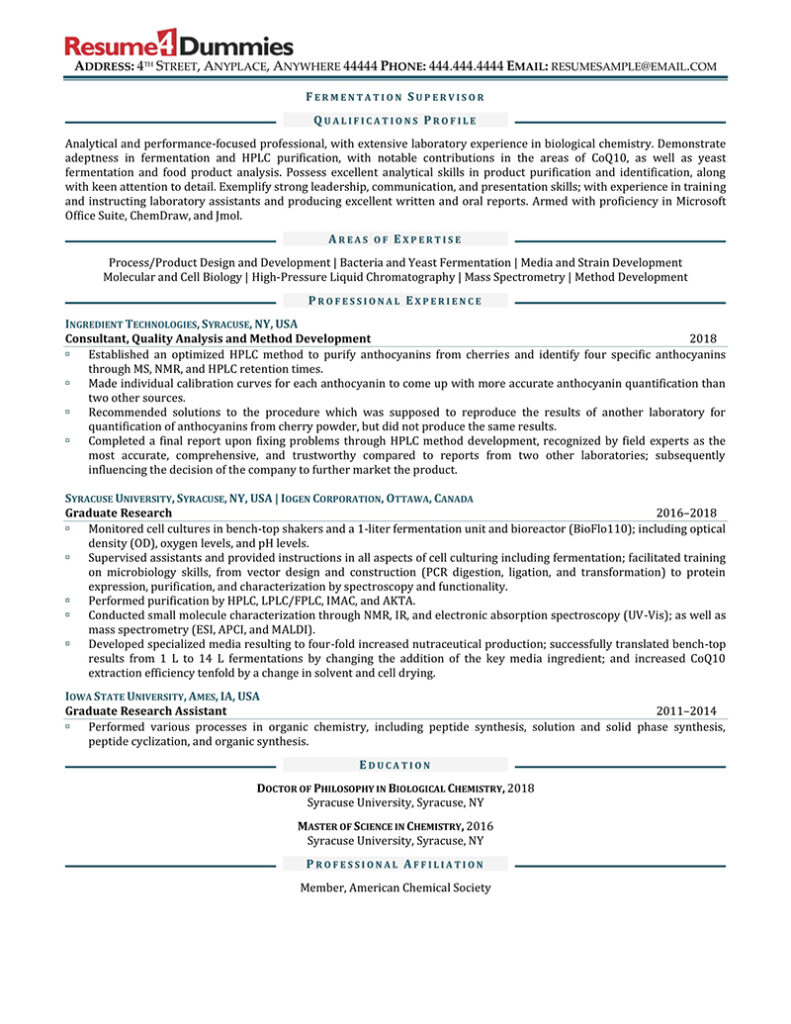 Download this fermentation supervisor resume example now.
Last Check on Your Fermentation Supervisor Resume
Before sending out your resume, do a final resume check through this list.
Make sure your resume contains your contact details.
Write a striking summary statement.
List your areas of expertise, skills, or core competencies to further prove why you're fit for the job.
Highlight your work history relevant to your target job.
Mention your achievements to serve as support for your work experiences.
Take the next step, it's time to take those tips into action. What are you waiting for? Write your resume and get ready for your next job interview. If you're still not confident with your resume, you can use our Resume Builder or better yet hire our resume writing services.