Construction project managers play a crucial part in leading the success of most site projects. But becoming one isn't easy. The job requires a lot of hard work, training, and a specific skill set. And if you want to gain an edge over your rivals, your construction project manager resume should reflect your strengths. To give an idea of how it should look, let's discuss one of our best samples below.
What is a Construction Project Manager?
Construction project managers are a vital role in the construction industry. They are the ones who ensure that everything in the plan will be executed smoothly. They oversee the flow of planning and delivery of the materials. Without a construction project manager, the construction could fail big time because they coordinate the processes to the clients, contractors, suppliers, and other people involved in the project. Thus, it's important that they know what to do and can manage the team effectively.
What Does a Construction Project Manager Do?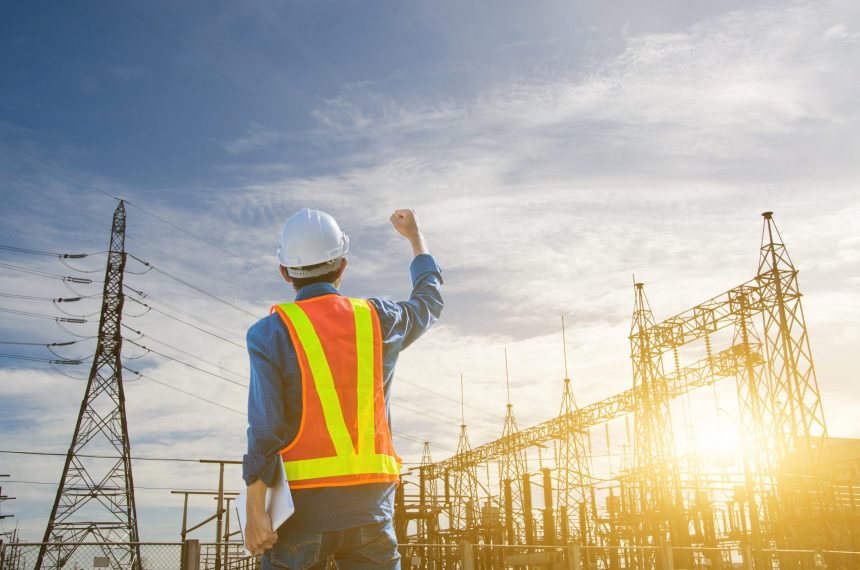 Successful project managers—especially those in the construction field— must possess and master certain skills to fulfill their duties effectively. Along with strong know-how, you are expected to be skilled in risk management, communication, leadership, delegation, teachability, and prioritization to do the duties and responsibilities excellently.
Risk Management
You can't expect the construction process to run smoothly from start to end. As the manager, you must accept and prepare for these unforeseen events. Wrong shipment, material delay, or lack of workers may happen anytime. And as the person in charge of quality control, you must always have your plans B to Z ready.
Communication
As the project manager, your communication skills must be better than good. You'll be talking to your team, suppliers, and clients most of the time, so you need to express yourself clearly to avoid misunderstanding.
Leadership
You and your resume must show the skill to lead the management team and projects at hand. You should know how to get your group on the same page, make tough decisions, keep track of project schedules, and set attainable goals.
Delegation
An effective project manager also needs to consider whom to assign a task and how to do it. Doing so gives you time to focus on keeping your team on track and ensuring all construction activities move forward as planned.
Teachability
Being a project manager doesn't mean that you already know everything. A true leader is teachable and open to feedback. Be a perpetual learner. Leave room for improvement and new knowledge.
Prioritization
Finally, as a project leader, it's also your duty to decide what things matter most. Before starting, review first the items on your to-do list. This will help you discern which task should take priority and what you can do for later.
Construction Project Manager Salary
The construction industry in the US is one of the largest markets worldwide, reaching 1.31 trillion US dollars in 2019. And to sustain the growth, this booming field needs qualified workers. However, Statista says that there is a shortage of skilled labor and difficulty in finding someone that fits the job description.
From start to finish, construction managers plan, coordinate, budget, and supervise their assigned projects. Though labor-intensive, the rewards of this job can be fulfilling. As of May 2019, the average pay of construction managers is $95,260 per year or $45.80 per hour.
Though some say this is not a high-paying job, its outlook is quite promising. In fact, the U.S. Bureau of Labor Statistics projects an 8% employment growth from 2019 to 2029—faster than the other jobs. So, are you up for this tough role?
Effective Construction Project Manager Resume Tips
As mentioned earlier, construction project managers are expected to be skillful in leading and everything related to it. Knowing the processes of construction isn't enough to get hired. You need to know how to implement those processes. Thus, your construction project manager resume must have these skills.
Your job search tool should highlight your expertise. To effectively do this, choose a skill-based resume format. Also, don't forget to write a sound summary to interest your potential employer. Additionally, emphasize credentials and experiences related to the post. Remember: This post requires organization, thus it's expected that it would reflect on the way you present yourself in your job search tool.
Construction Project Manager Resume Sample
Aside from our resume builder, we provide custom resumes for job seekers in construction who want to stand out among other job seekers. Our expert writers can help you create a job tool that highlights your strengths and feats.
Now, follow our resume tips as we dissect each section of the resume example below.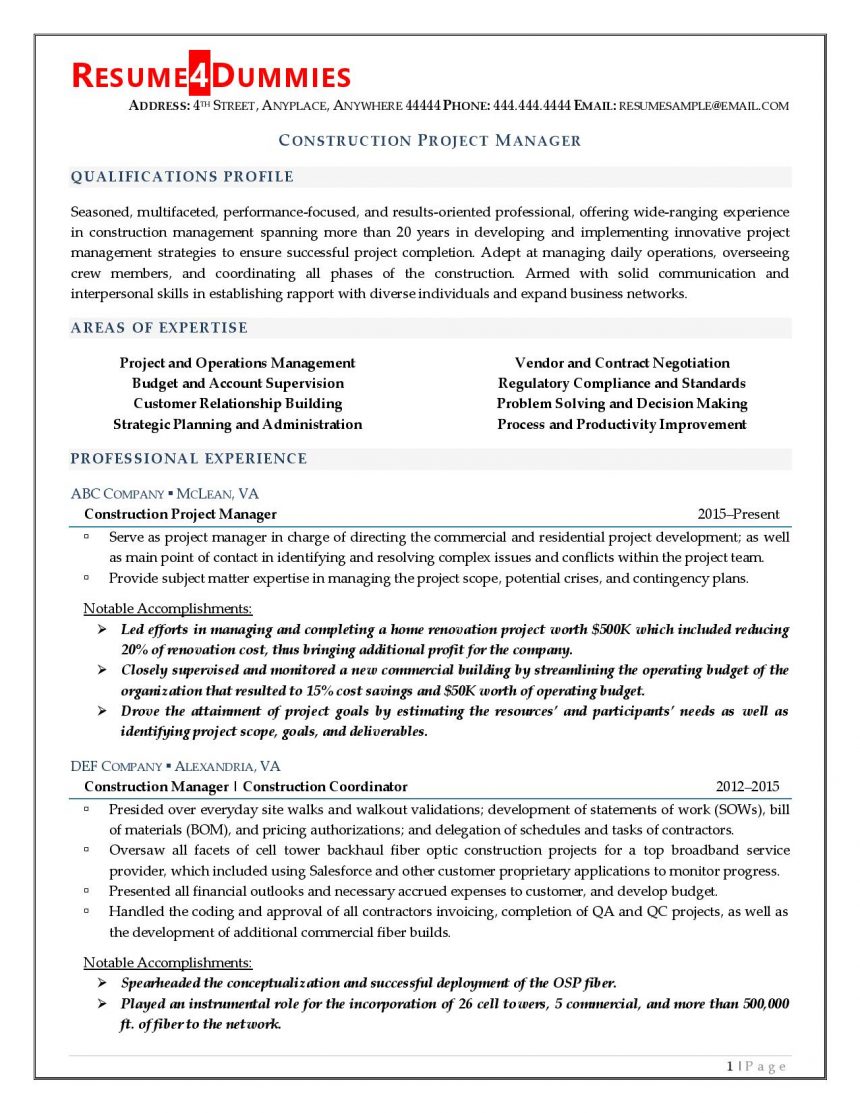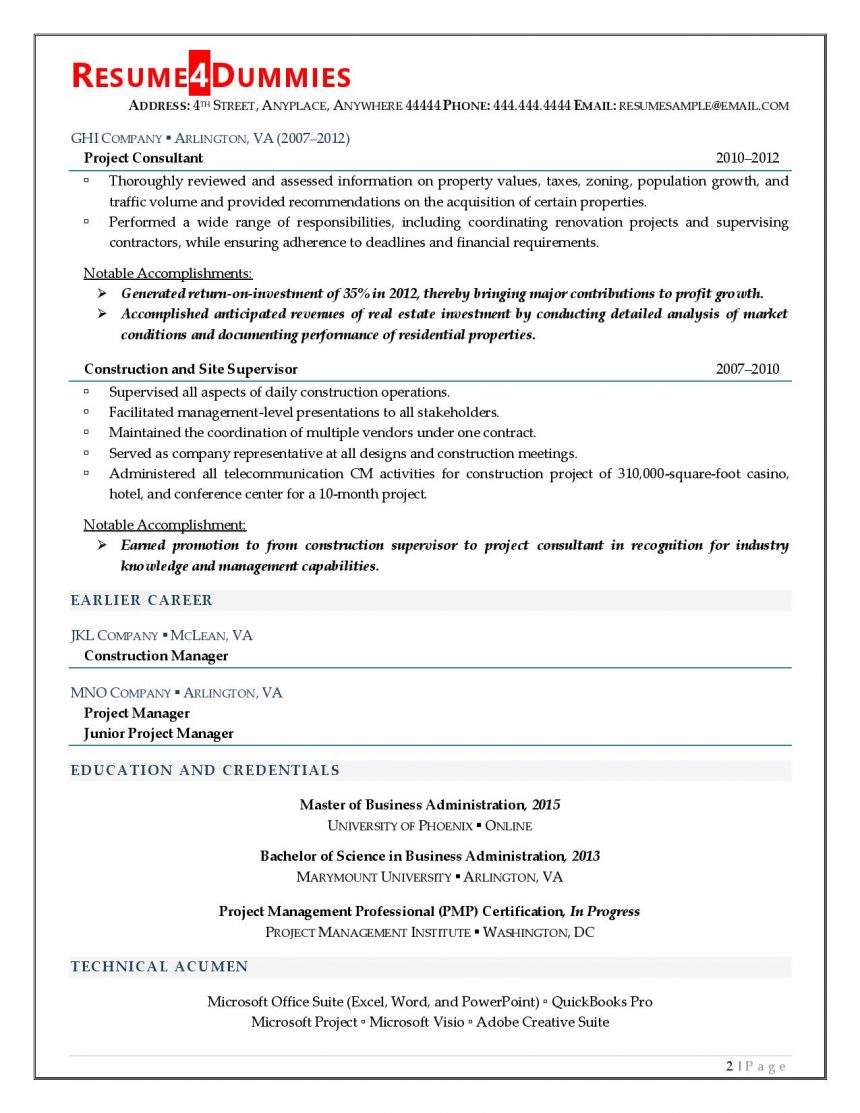 Download our Construction Project Manager Resume Example now!
Last Check on Your Construction Project Manager Resume
Before sending out your resume, do a final resume check through this list.
Make sure your resume contains your contact details.
Leave out the sales manager's resume objective since it's obsolete. Instead, write a striking summary statement.
List your areas of expertise, skills, or core competencies to further prove why you're fit for the job.
Highlight your work history relevant to your target job.
Mention your achievements to serve as support for your work experiences.
With all mentioned earlier, you can now prepare your resume and prepare for an interview invite. However, it isn't as easy as it sounds. You have to consider a lot of factors and make sure that your resume will stand out among other candidates. Thus, if you want to increase your chance of landing the job, let our expert writers help you craft the best job search tool tailored to your career goals. Contact us now and let us help you jumpstart your career.