Construction project managers play a crucial part in leading the success of most site projects. But becoming one isn't easy. The job requires a lot of hard work, training, and a specific skill set. And if you want to gain an edge over your rivals, your construction project manager resume should reflect your strengths. To give an idea of how it should look, let's discuss one of our best samples below.
Job Outlook of a Construction Project Manager
Before anything else, a quick overview: The construction industry in the US is one of the largest markets worldwide, reaching 1.31 trillion US dollars in 2019. And in order to sustain the growth, this booming field needs qualified workers. However, Statista says that there is a shortage of skilled labor and difficulty in finding someone that fits the job description.
From start to finish, construction managers plan, coordinate, budget, and supervise their assigned project. Though labor-intensive, the rewards of this job can be fulfilling. As of May 2019, the average pay of construction managers is $95,260 per year or $45.80 per hour.
Though some say this is not a high-paying job, its outlook is quite promising. In fact, the U.S. Bureau of Labor Statistics projects an 8% employment growth from 2019 to 2029—faster than the other jobs. So, are you up for this tough role?
Parts of a Construction Project Manager Resume Template
Aside from our resume builder, we provide custom resumes for job seekers in construction who want to stand out among other job seekers. Our expert writers can help you create a job tool that highlights your strengths and feats.
Now, follow our resume tips as we dissect each section of the resume example below.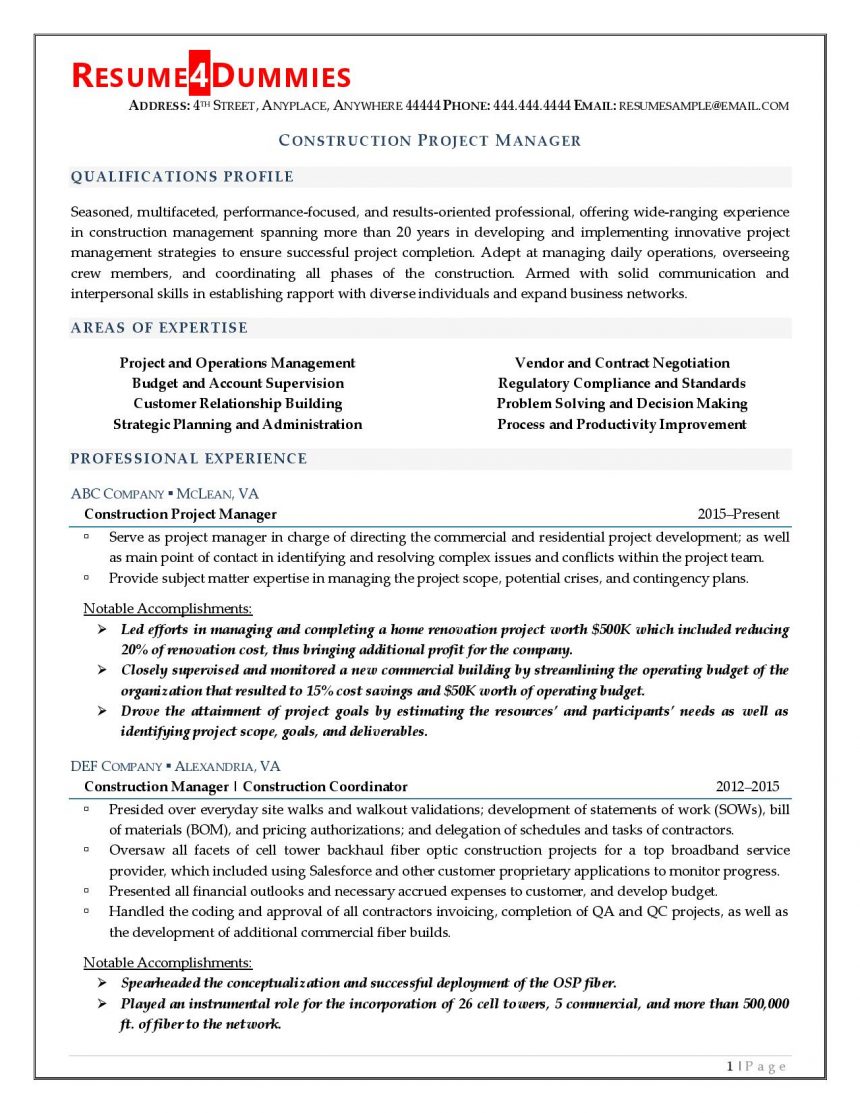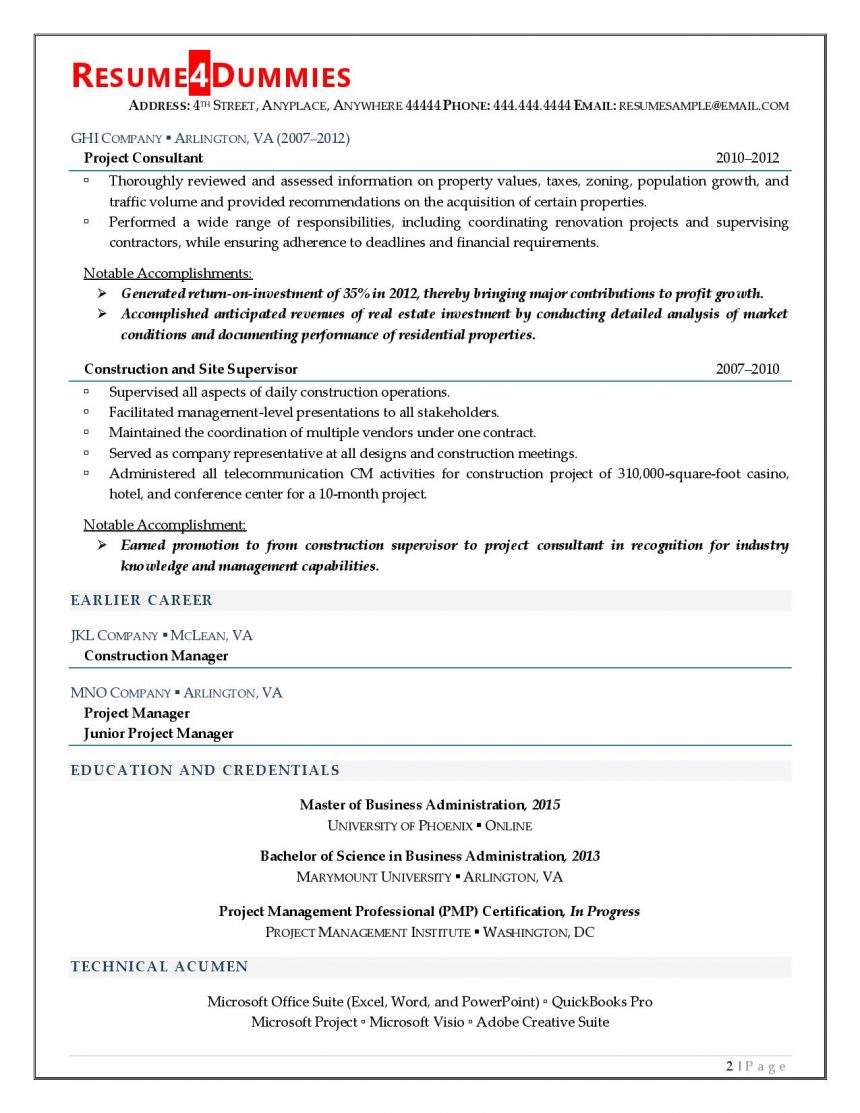 Download our Construction Project Manager Resume Example now!
1. Header
This topmost section includes your personal contact info and job title. Here, list your name, home address, phone number, and email address. Also, it would be best to add here the links of your website, portfolio, and LinkedIn profile, if you have any. This way, recruiters can easily contact and invite you for a job interview.
2. Qualifications Profile
Instead of an objective statement that is already obsolete, opt for a profile summary that focuses on your value offers. Nail this section by selling yourself using 3 to 5 sentences with strong adjectives. Just include only those that apply to your target post.
3. Areas of Expertise
This section includes the must-have skills for a construction project manager resume. Like your profile summary, prove your worth by filling this part with the tasks you do best and needed by the job offer.
4. Professional Experience
This part will be the meat of your resume. Arranged in reversed chronological order, your notable feats, work, and years of experience will be your edge among others. You may choose to remove inapt, past jobs from ten years ago and highlight those that relate to your target post.
5. Education, Credentials, and Skills
While often overlooked, this part can be as vital as the experience section. Construction firms will prefer candidates with more experience, a higher level of education, and impressive skills and certifications—especially for large scale projects.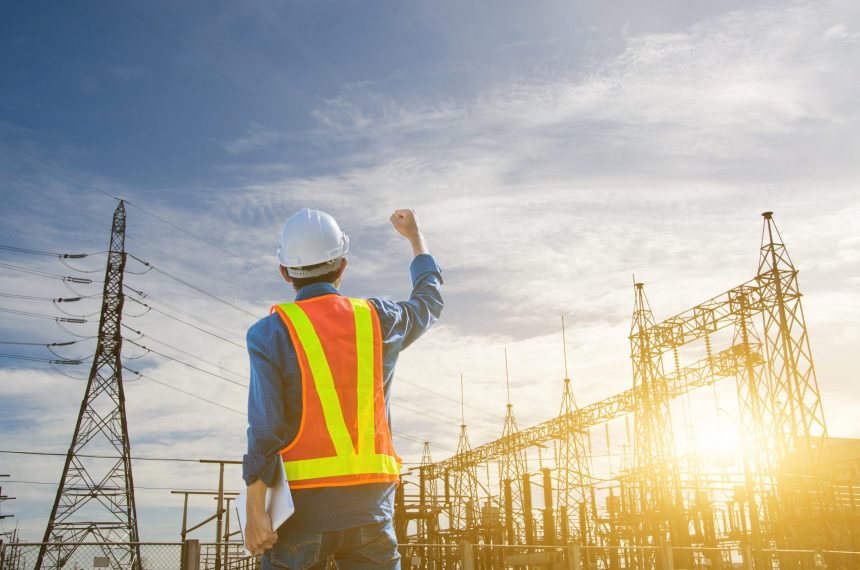 6 Skills Every Best Project Manager Resume Must Have
Successful project managers—especially those in the construction field— must possess and master certain skills to fulfill their duties effectively. Along with strong know-how, you and your construction project manager resume must have these skills.
1. Risk Management
You can't expect the construction process to run smoothly from start to end. As the manager, you must accept and prepare for these unforeseen events. Wrong shipment, material delay, or lack of workers may happen anytime. And as the person-in-charge of quality control, you must always have your plans B to Z ready.
2. Communication
As the project manager, your communication skills must be better than good. You'll be talking to your team, suppliers, and clients most of the time, so you need to express yourself clearly to avoid misunderstanding.
3. Leadership
You and your resume must show the skill to lead the management team and projects at hand. You should know how to get your group on the same page, make tough decisions, keep track of project schedules, and set attainable goals.
4. Delegation
An effective project manager also needs to consider whom to assign a task and how to do it. Doing so gives you time to focus on keeping your team on track and ensuring all construction activities move forward as planned.
5. Teachability
Being a project manager doesn't mean that you already know everything. A true leader is teachable and open to feedback. Be a perpetual learner. Leave room for improvement and new knowledge.
6. Prioritization
Finally, as a project leader, it's also your duty to decide what things matter most. Before starting, review first the items on your to-do list. This will help you discern which task should take priority and what you can do for later.
Are you now ready to pursue a construction project manager job? Don't settle comparing resume examples. Resume4Dummies is here to help you. Aside from our resume builder, our team expert resume writers provide the best resume services and construction project manager resume for you.
Not the resume example for your target position? Feel free to browse our website for more resume templates.
Sources: eSUB | Teamweek | PlanGrid, Inc. | The Muse | BLS | Statista