In the workplace, it's the employer's duty to provide their workers with a safe, clean, and conducive environment. Nonetheless, it goes without saying that apart from company safety, they must also focus on employee safety at all times. Safety teams, managers, and specialists help businesses in this aspect.
If you want to create this kind of an impact, being in the field of health and safety management might be for you. One of the most common roles in this sector is that of a safety manager. However, this post is getting more in demand than ever. Hence, you need to improve the way you do your job search to help you land this job.
Start, then, with your resume, since doing so will strongly impact your job application. In this guide, we'll walk you through some of the basics of having this role and provide a good example of a strong safety manager resume as well as tips on how you can write yours.
What is a Safety Manager?
The Occupational Safety and Health Administration (OSHA) sets out workplace and employer standards under the Occupational Safety and Health Act of 1970 (OSH Act). Its purpose is to guide businesses to comply with laws as they implement action plans and other efforts toward safe and healthful working conditions.
As stated by the US Bureau of Labor Statistics (BLS), the overall job outlook for OSH specialists is projected to grow by 7% from 2020 to 2030. This is as fast as the average for all jobs. Even so, about 9,600 jobs are expected to open each year over this period. This can be due to the need to replace workers who shift jobs or retire.
OSH specialists may climb up the career ladder to become safety managers—but what are they really? Safety managers, in simple terms, are in charge of ensuring a safe workplace for employees. Firms assign them to help in adhering to guidelines surrounding workplace safety so that day-to-day operations aren't hampered.
What Does a Safety Manager Do?
To make your application more effective and targeted, you must learn the common tasks a safety manager does and the skills involved in such a role. Here are some of the most usual duties you'll perform once you land this post: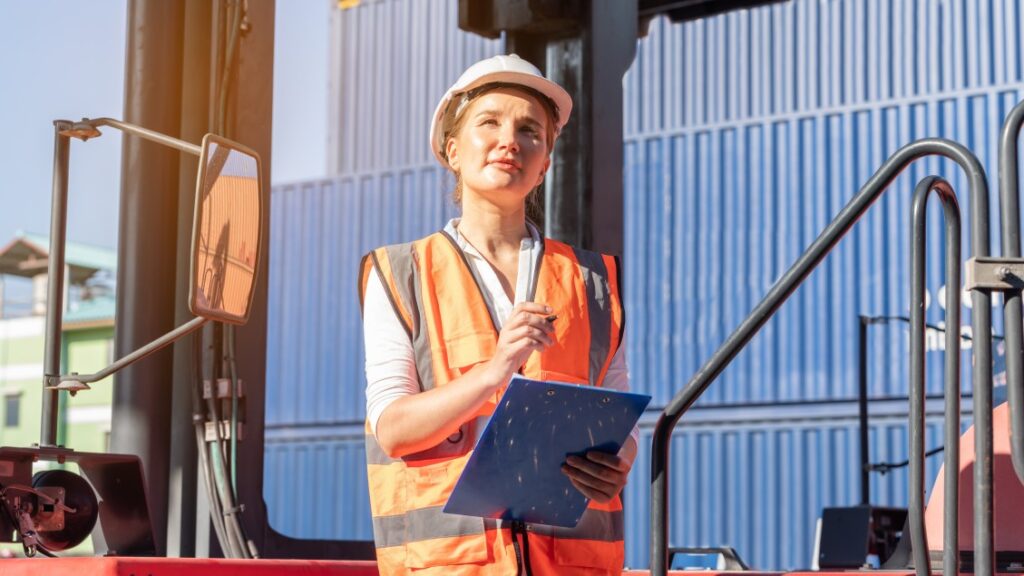 Conduct risk assessment and accident investigations
Perform site inspections
Preside over safety meetings
Create, lead, and implement safety training
Ensure safety compliance as guided by the OSHA standards
Handle tasks for the Worker's Compensation Claims Management
Moreover, a safety manager must have topnotch skills to efficiently perform these impactful tasks and duties. In your resume, you can mention your top ones by using this list of the most common safety skills. Here are some examples to guide you:
Leadership
Conflict management
Problem solving skills
Attention to detail
Safety Manager Salary
On average, safety managers commonly earn about $25.28 per hour, or $72,579 per year, as stated by PayScale. With this, it's noteworthy that those just entering the field or with less than a year of experience may earn about $57,093 yearly. On the other hand, safety managers who have 1 to 4 years of experience in the field usually earn about $63,976 per year.
In the context of mid-career safety managers, those with 5 to 9 years of work history are earning a yearly average pay of $74,694. Those with 10 to 19 years of experience, though, may expect to earn about $81,992 per year. Lastly, those in their late career with 20 years or more of being in their field usually earn a yearly average of $83,672.
Effective Safety Manager Resume Writing Tips
As you become more excited about applying for this role, it's time to focus on your resume and ensure it's well written. Check out our expert tips to further guide you:
Start with your contact details. Make sure you put in your full name and professional email address to complete this part.
Ensure an eye-catching profile. This, being the first key part of your job search tool, is crucial to catching the interest of your readers. Also, this helps you optimize your resume for the applicant tracking system (ATS), which most employers use to screen resumes.
Emphasize your skill sets, experiences, and achievements. These will help you stand out among the other job seekers vying for the same role as you.
Allot a section for your training and awards. As a safety expert, it adds to your credibility if you have a lot of key training and achievements in your field. Hence, don't forget to include those in your resume.
Safety Manager Resume Sample
One of the most helpful ways for you to better write your own job search tool is to use resume samples as your guide. This way, you'll know what a strong one must look like and thus do the same for yours. Apart from that, checking out a resume sample is key for you to put more sections and use techniques to make your tool more striking and apt for the role you're aiming for.
With that, you may refer to this safety manager resume sample as you go and craft your own.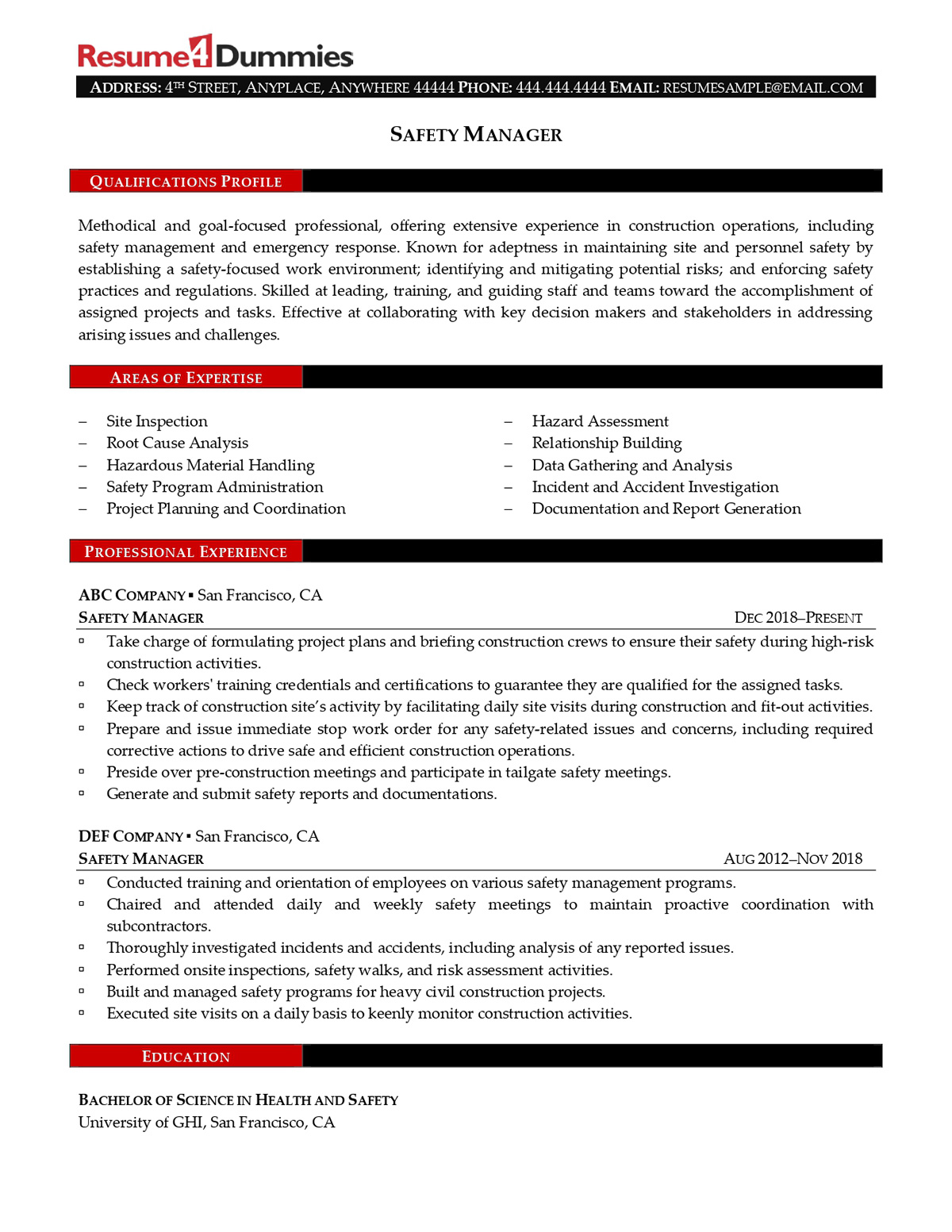 Download this safety manager resume sample now.
Last Check on Your Safety Manager Resume
Of course, you'd want to make sure that your safety manager resume is well-written before sending in your application. To guide you in doing that, use this quick checklist:
Double-check your contact info to see if it's updated.
Instead of writing an objective statement (which is already out of date), opt for a brief yet striking summary statement.
Check the list of skills, top feats, and career highlights you mentioned and omit those that aren't key to the role you're vying for.
Make sure to include your most relevant work history and the previous roles you held.
Review your key awards and achievements during your past jobs.
Secure Your Target Post with a Job-Winning Safety Manager Resume
Now that you're aware of the best resume writing tips, it's time to put them into action. Crafting yours from scratch? Resume4Dummies' has a resume builder you can easily use! You can utilize different templates to make your job search document readable and interesting.
If you don't know how and where to start, fret not, as expert help is here for you. Check out our resume writing services to learn how we can work with you on your job search tools, or contact us for more queries.