The revenue for the casino hotels business increased over the years. This led up to the current year since consumer spending has improved and more international gamblers visited the United States. Industry competition, on the other hand, has become more intense. That said, the role of the director of casino operations is all-encompassing.
What is a Director of Casino Operations?
At a casino, the director of casino operations is in charge of overseeing and coordinating the entire operations. They work hard to ensure that the casino works smoothly, generates a profit, and adheres to all gaming regulations. Aside from the overall supervision, the casino director is also in charge of marketing, staff management, customer satisfaction, and security, among other things.
What Does a Director of Casino Operations Do?
From delighting guests on the casino floor to managing financial transactions, they are the professionals in the field. Here are among the many responsibilities of the director of casino operations:
Reviewing and analyzing business processes
Implementing policies and processes that will help the company run more smoothly on a daily basis
ensuring that working conditions are suitable and safe
Overseeing the manufacturing, purchasing, and sales departments, ensuring that each is on track to meet departmental and business goals
Director of Casino Operations Salary
Being in the executive position takes skills and efforts to make it happen. In order to be in the top of the career ladder, one must be equipped with qualifications fit to the position. In line with this, the average salary of a director of casino operations is $69,221 per year.
Effective Director of Casino Operations Resume Tips
It can be difficult to know where to begin when you haven't updated your resume in a long time. What kinds of experiences and accomplishments should you put on your resume for the jobs you're interested in? To answer all your questions, heed our resume tips to write a good resume.
List what is relevant. It's not necessary to list every job you've ever had on your resume. Consider your resume to be a marketing document that sells you as the ideal candidate for the position, rather than a complete summary of your work history. You should highlight the accomplishments and talents that are most relevant to the position in each resume you send out.
Director of Casino Operations Resume Sample
Before you start your resume, take a look at our director of casino operations resume sample. It will surely help you in building your own resume.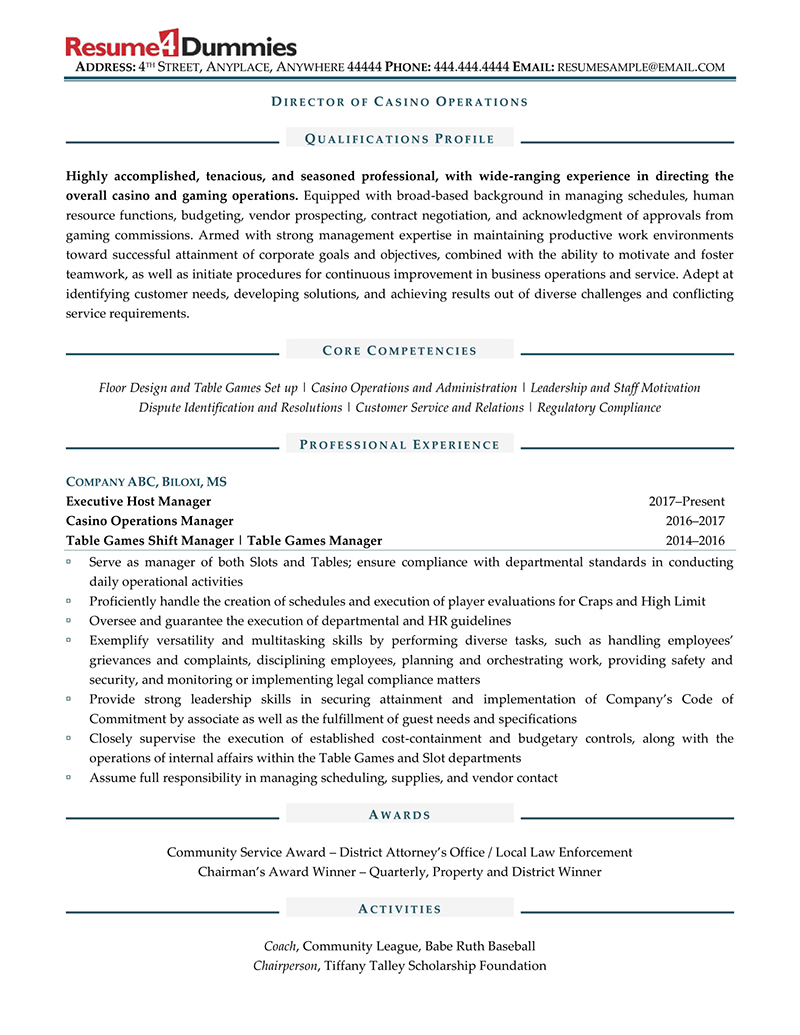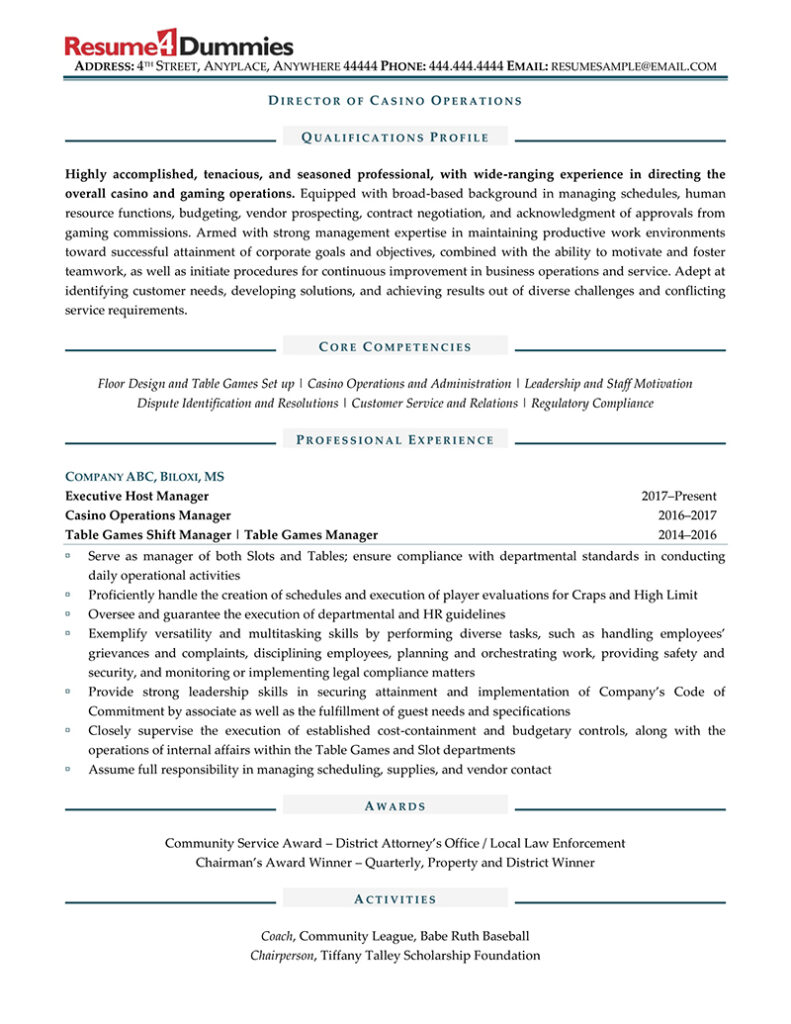 Download this director of casino operations resume sample now.
Last Check on Your Director of Casino Operations Resume
Before sending out your resume, do a final resume check through this list.
Make sure your resume contains your contact details.
Write a striking summary statement.
List your areas of expertise, skills, or core competencies to further prove why you're fit for the job.
Highlight your work history relevant to your target job.
Mention your achievements to serve as support for your work experiences.
You are on for a big challenge now. Start building your resume for a director of casino operations. Don't know where to begin? Resume4Dummies is here to help. We provide the best resume writing services and the most helpful resume resources. You can also use our Resume Builder to revamp your resume. Contact us now and we'll help you right away!