The entertainment business keeps on growing alongside technology. It reaches people through the internet and conventional channels such as television and movie theaters. This industry has been part of the lives of many people because it's an outlet to discuss societal issues and it's a means of enjoyment. Thus, entertainment directors play an important role in this industry as they ensure that it serves its purpose. Want to be an entertainment director? We have prepared some tips and a resume sample to guide you in writing your resume.
What is an Entertainment Director?
We can compare an entertainment director to a storyteller. They interpret scripts and make them come alive. In short, they determine the overall creative vision and impact of the project's outcome. Hence, if you're aiming for the director post, here are things you should note:
Be creative and innovative.
See how you will execute your plans.
Know how to maximize your artists, props, equipment, and other elements.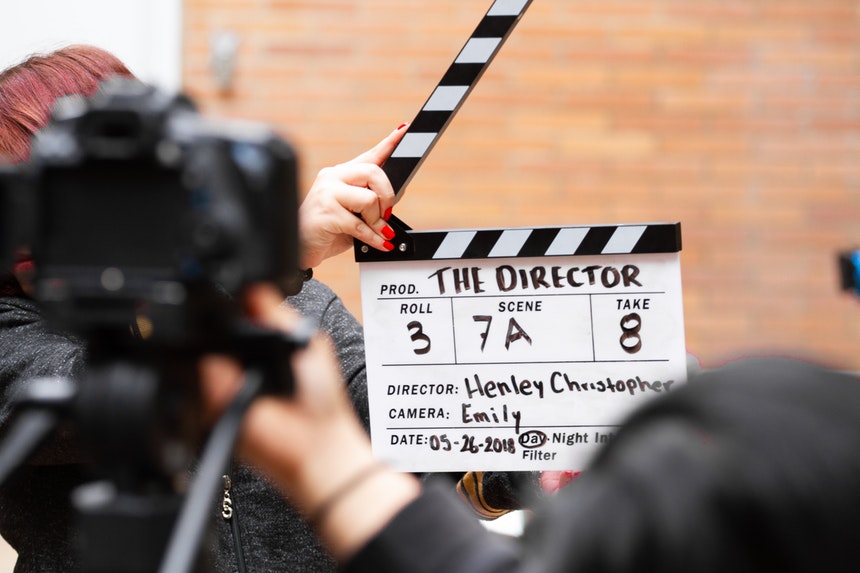 What Does an Entertainment Director Do?
Famous directors have won hundreds of awards, such as Oscars, because of their brilliant direction. However, it's not always rainbows and butterflies. They've gone through years of training and constant studying of different media trends. Likewise, entertainment directors have big duties to achieve the success of the project. Below are their tasks for each production phase (according to MasterClass).
Pre-production Phase
1. Form a team.
You need a team you can trust. You'll also need people who are responsible, so the project can run smoothly. With that, your team will need an assistant director, manager, and producer among others. Since you'll work with these people, you need to have common goals and a shared purpose. This way, you can increase your production efficiency and overall success.
2. Share your vision with your crew.
Successful projects have teams who know where they're going. So, help your team grasp what you want to happen in your project. Do this by telling them your references, 'feel' of the project, ideal color palette, locations, and other elements that can help them picture your goals for the output. Also, you can discuss your vision with each key crew member to have more clarity.
3. Choose your casts.
Last-minute changes are not for casting choices. This is the least flexible phase in terms of decision-making. Since your talents are the faces of your project, you'll need people who are fit for the role. Further, they need to be flexible and understand the story you're telling.
Production Phase
1. Lead the whole crew through scenes.
Generally, it's your job to help your crew maneuver through the production. With that, you have to help them get on the same page as you.
2. Connect with everyone as much as possible.
Though you're the director, finishing a project is still a team effort. Openness within the team is crucial, as this will make everyone comfortable speaking up or giving suggestions. Doing this will also keep your artistic vision alive as a team.
Post-production Phase
1. Guide the editor (for films or short videos).
An entertainment director guides the editor in terms of color grading, cuts, angles, and phase of the film.
2. Check the post-production team.
Now that the production phase is over, you have to make sure every material is complete. You also need to make sure every detail is in line with your goal.
Entertainment Director Salary
ZipRecruiter says the average entertainment director salary is $75,611 yearly as of May 6, 2021. It can go as high as $153,500 and as low as $21,500. Further, most directors' salaries now range from $33,000 (25th percentile) to $104,500 (75th percentile). Given these, your salary as a director will still vary depending on your experiences and skills. Sometimes, it also depends on how big your projects are.
Effective Entertainment Director Resume Tips
To have a powerful resume just like our entertainment director resume examples above, you should know the basics of how to write one. Your extensive experience as a director can be tricky to include in your resume. Likewise, it does not matter how impressive your skills and achievements are. If you don't know how to rightly list them on your resume, it would just go straight to the reject pile. Hence, here are tips on how to write an entertainment director's resume.
1. Tailor your resume.
As a director, you'd want to showcase all your achievements to increase your chances of getting hired. Some even write unrelated ones to their target job. On the contrary, you'll just make it easier for the hiring manager to overlook your resume.
Did you know that recruiters scan through resumes for only 5 to 7 seconds? If you don't have the qualities they're looking for, your resume will be ignored. For this reason, you should only include details relevant to the job description. Well, you can further explain other vital info during the job interview.
The resume sample below shows the skills and achievements that are customized to an entertainment director's job description. They're also arranged based on their importance. Further, the samples give a brief but detailed description of each achievement, making them in-depth yet comprehensible. With that, it will be easier for recruiters to assess if you're the right one for the job.
2. Include a summary or profile.
An executive profile is a short but detailed brief of attributes about a person of high position. This helps you tell recruiters your experiences and strengths. Further, this brief serves as an easier way of how recruiters can grasp the idea of your whole resume without needing to read it.
An expert profile will let recruiters know what value you can bring to the firm. You can write this in 5 to 6 lines at the top part of your resume. Write your career highlights and relate them to the firm's values and needs. Here's the key: Keep it short and concise.
3. Mind your format.
With years of experience, you've already gained enough achievements to fill in several pages of your resume. Entertainment directors' resumes are naturally text-heavy, so make it easier for recruiters to read your resume thoroughly. You can do this by separating your experiences from your skill sets. This will make your resume more readable. Also, you can highlight important texts for emphasis.
In our entertainment director resume example below, we used a chronological format. This type of format focuses on your work experience. With that, your current job and position should be listed first, proceeding in reverse chronological order throughout the rest of your work history. However, our entertainment director resume samples were classified per skill set, which made them more coherent. Also, this type of format does not need an Area of Expertise since your skills are already categorized per skill. Thus, this resume format is applicable to high-level positions with extensive experiences and quantifiable achievements.
4. Insert relevant keywords.
Many firms now use an applicant tracking system (ATS) to speed up their hiring process. Thus, include keywords relevant to your target job to beat the ATS such as events management, entertainment management, production strategies, and techniques. Doing this will help you showcase your skills better, making it easier for you to become one of the top choices for the job.
And since it's a wide-ranging field, including keywords that are under a specific aspect of the entertainment industry such as music production (audiovisual, soundproofing, music licensing) makes your resume all the more effective.
Entertainment Director Resume Sample
How do you become an entertainment director? Along with improving your skills, it's also crucial for you to improve your resume. You need to show your abilities and credentials, too. With that, below is a director of entertainment resume sample for you. They have the needed skills you need to list, along with the correct format and crucial parts you need to add to your resume.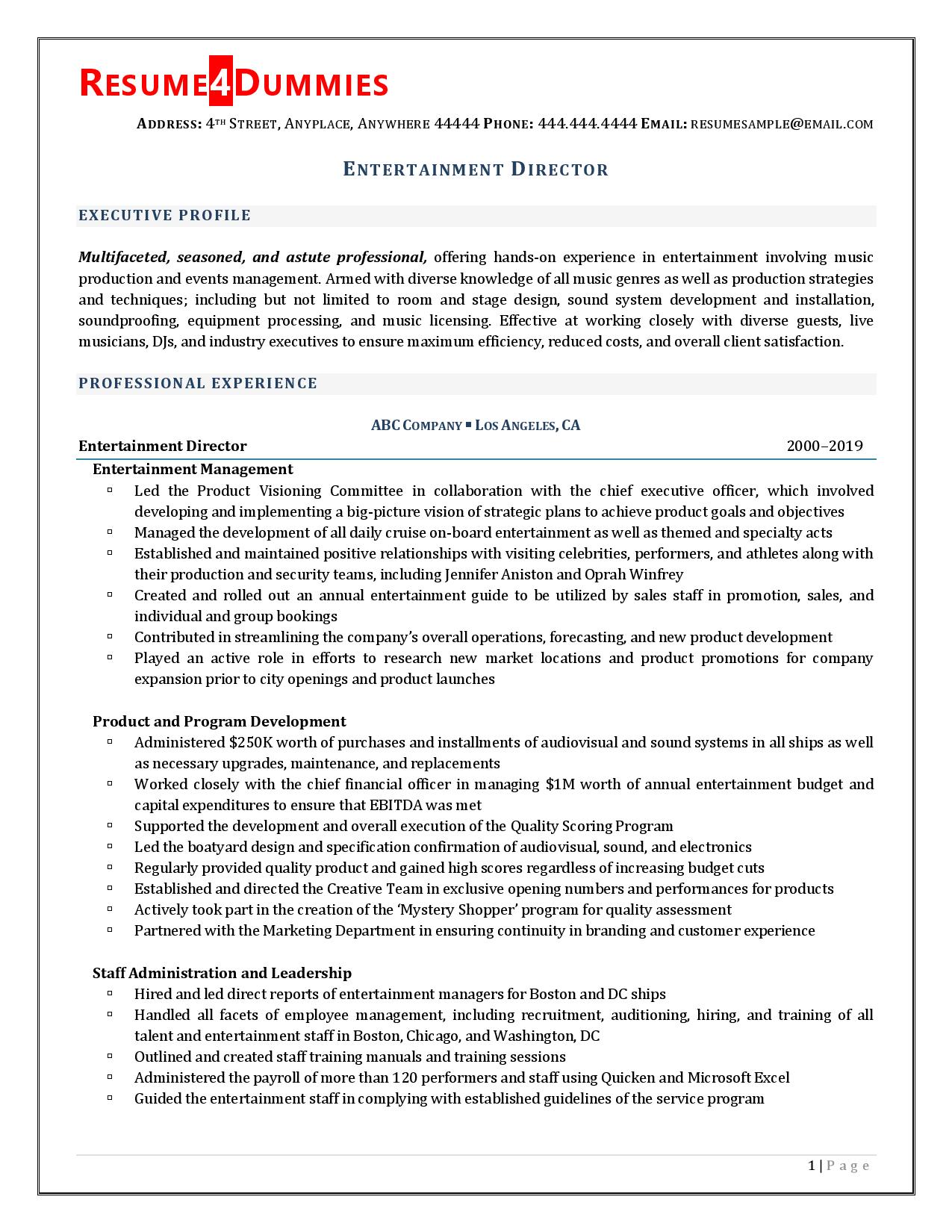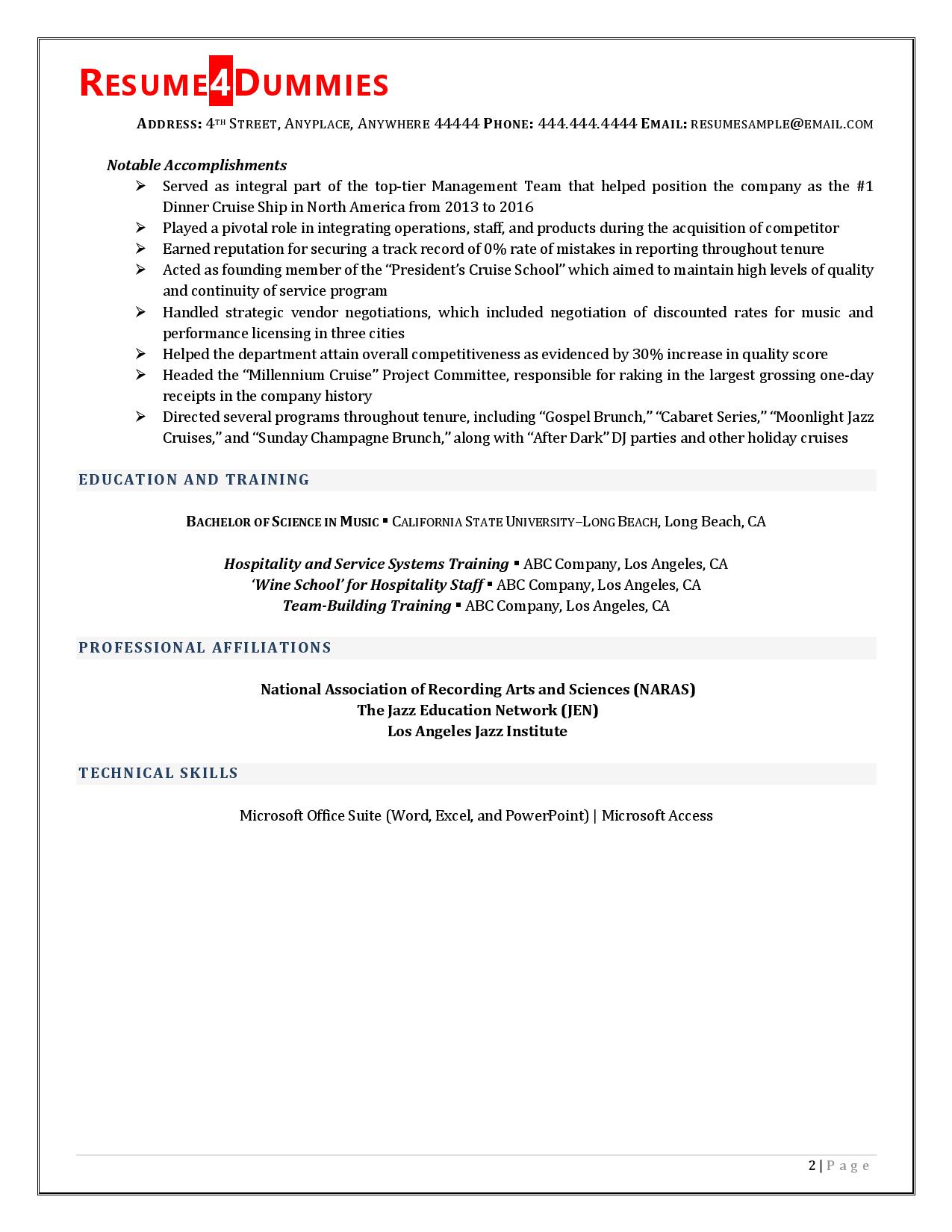 Download this entertainment director resume sample now.
Last Check on Your Entertainment Director Resume
Before sending out your resume, do a final resume check through this list.
Make sure your resume contains your contact details.
Write a striking summary statement.
List your areas of expertise, skills, or core competencies to further prove why you're fit for the job.
Highlight your work history relevant to your target job.
Mention your achievements to serve as support for your work experiences.
Do you still need help in writing your resume? Refer to our entertainment director resume example or check our resume writing services! We can help you write the best resume for you and help you get hired easily! You can also try our resume builder for free. We have several resume templates you can choose from!